Houseboat
by Mole Architects and Rebecca Granger Architects
Client Private
Awards RIBA South West Award 2017 and Stephen Lawrence Prize 2017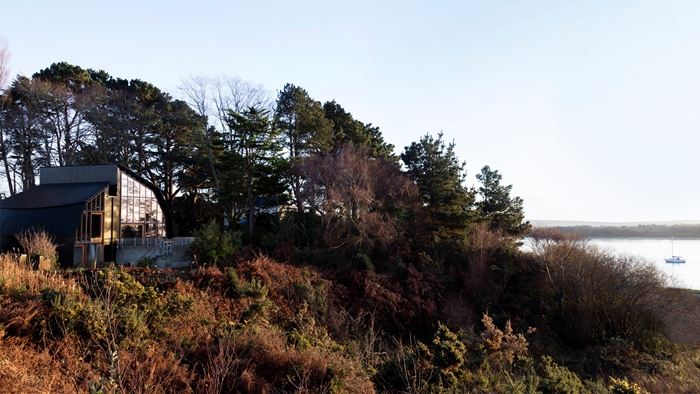 Houseboat is a new house located on a site overlooking Poole harbour. An extraordinary design in a coastal setting. The client is an architect and has employed the assistance of other architects to create the finished building.

The layout is based on an ideal of split level living developed by the client in different ways on other projects in London. Externally the black stained timber larch boards sit above the exposed concrete base. The organic form of the house, together with the staggered section and spectacular site has created a house of originality and delight.

This house is the culmination of many years of design, collaboration and implementation – the client worked in particular with Mole Architects, and with Rebecca Granger Architects as project managers - in this regard not dissimilar from boat design!

A simple concept of split level and open plan living accommodation is layered over a lower level of private and acoustically treated bedrooms. The living spaces soar under the hull like forms of the roof. This is a complex building.

A large glass wall faces west overlooking the landscape and the bay beyond this is unusually broken into 600mm wide glazing strips with a bespoke copper cover plate and douglas fir structure and works very well. The glass is made by Pilkington's' and is called 'four seasons' as it adapts to the changing solar cycles of the year.

A sculptural concrete portal frame was built first with the foundations and this forms the heart of the plan containing the main staircase and framing the entrance circulation. This concrete is left as struck from the formwork so rough in feel and appearance and appealing to the eye in contrast to the finer joinery work of the bedroom walls and other elements of the house interior. The client lives in an adjacent house which provided the building plot for the Houseboat, this original house is of note being made from parts of the interiors of the SS Mauritania and to some extent some ideas are connected in detail and concept – which demonstrates the creativity of this client/architect team. Both houses clearly embody the maritime spirit and this new addition does so in a remarkably innovative way.

This is a house for an artistic architect, a one-off that sits well in the suburban coastal landscape setting. This is a distinguished work by a mature architectural team.


Contractor The Timber Frame Company Ltd.
Stage 2 Contractor Task Artisan Builders
Landscape Architect Coe design
Structural Engineer Sinclair Johnston and Partners Limited
Quantity Surveyor/Cost Consultant Orbell Associates
Stage 4 Contractor Tekne
Internal area 220m²