​​Duncan Cottage
by James Grayley Architects
Client Private
Awards RIBA South West Award 2018, RIBA South West Small Project of the Year Award 2018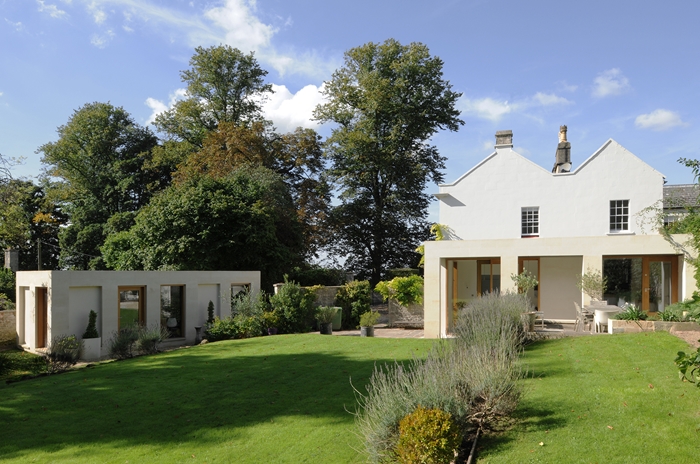 The reordering of and extension to Duncan Cottage has transformed this listed building on the northern slopes of Bath. Rigorous archive research revealed that John Palmer, original Architect of the house, had intended to add a loggia to the east elevation, now delivered as part of this project in an unashamedly contemporary style, which will serve as an exemplar of the successful juxtaposition of old and new. The addition makes the house's evolution legible, whilst echoing the quality of detail and material of the original building and removing historic accretions which had diminished the clarity of the plan, cluttered the rear court and obstructed daylight.
The loggia addresses the garden, dissolving the threshold from inside to out and effortlessly mediating the level change of the sloping site. The architect worked closely with local suppliers and contractors to deliver a beautifully crafted addition which uses tightly jointed Bath stone ashlar for internal and external walls and floors to create a timeless and innovative garden room which appears to be carved from a single block.
The internal half flight of stone steps within the loggia amplifies this illusion of homogeneity, delivered by stone masons who whole-heartedly engaged with the architect's vision, to create a space where wall meets floor and seamlessly folds into stair – the quality of construction is a testament to the skill and tenacity of all involved.

Stripping away of back extensions has exposed a courtyard to the rear, revealing openings which flood the central stair with daylight. Where original detail had endured, it is celebrated, whilst new interventions are generally differentiated.
A state of the art kitchen is elegantly inserted into one of the historic spaces, and a series of bathrooms, previously located in the extensions, are unobtrusively threaded into the existing house.

Duncan Cottage demonstrates the value that architecture adds to even the most modest development, updating and transforming an eighteenth century listed home to meet twenty first century requirements.
Contractor Emerys of Bath Ltd
Structural Engineers Momentum Consulting Engineers