​Pengwynver
by Stan Bolt Architect
Client Private client
Awards RIBA South West Award 2018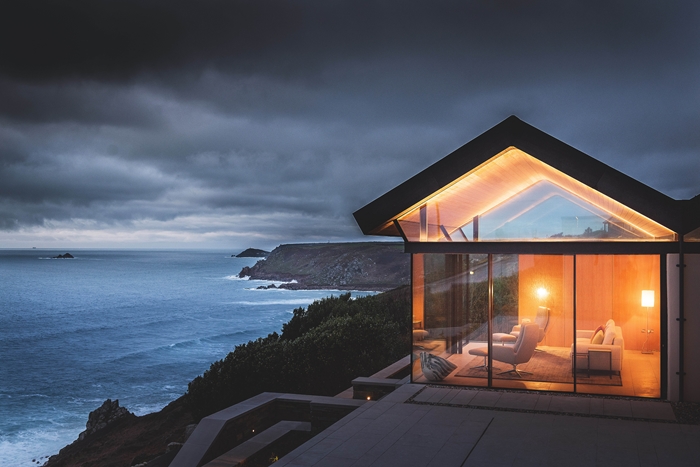 This single storey extension to a simple 1920s granite cottage located on a hillside above Sennen Cove has transformed the house, removing several unsightly mid-century accretions to reveal a simple and robust shell. The extension is conceived as a rippling wave, comprising three pitches with ridges parallel to the existing house. The single storey form is spaced off the existing cottage by a flat roofed entrance zone. To the rear of the site, utility spaces sit beneath a roof garden planted with indigenous species, cut into the hillside. From the road, the slate roofed extension sits modestly, subservient in scale to the two storey cottage.
Entered via a walled courtyard set into the hillside, the new front door is recessed and shielded by a blue, bull-nose around which the courtyard steps radiate. On entry, the link between old and new frames a first view of the sea.
Internally the timber-lined wave form roof hovers over a deep kitchen/living room bounded by slate walls to the north; full height, west facing glazing gives mesmerising views over Sennen Cove whilst unbroken glazing into the roof pitches creates the illusion of separation of roof and walls.
Within the new space each pitch defines a separate zone, mitigating the impact of the scale. The western most pitch is inset from the north (the result of negotiation with a neighbour) – this subtle inflection actually enhances the space, creating a clearer distinction between internal zones. The old cottage has been simply restored, allowing the evolution of the site to read clearly.
Viewed from Sennen, Pengwnver respects its context – the glass and slate of the extension disappear into the hillside unlike so many jarring contemporary interventions in coastal settings.
This building sets an excellent benchmark for the adaptation and extension of existing buildings, allowing the addition of spaces and services which meet contemporary requirements without denying the quality and character of a structure which has endured the best part of a century in this incredibly exposed setting.
Contractor EaseManage LLP
Structural Engineers Airey and Coles
Project Management EaseManage LLP
Interior Design Jill Stein Interior Design
Environmental / M&E Engineers Davey & Gilbert
Garden Design Chris Green Garden Design