The-Green-House
by David Sheppard Architects
Client Private
Awards RIBA South West Award 2019
This project was shortlisted for RIBA House of the Year 2019.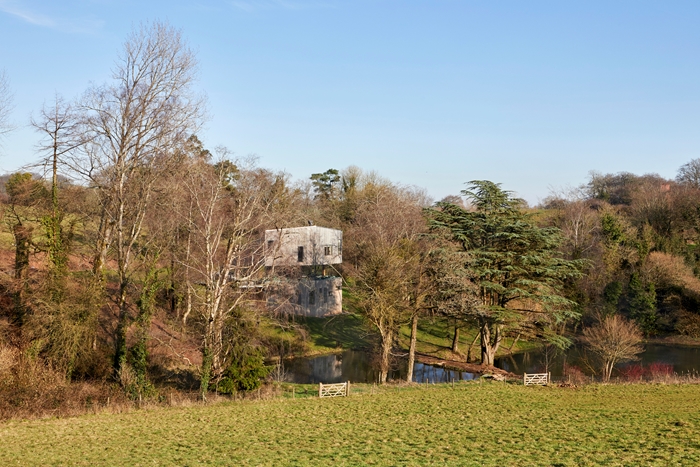 This is a crafted building created by an intuitive mind. It appears on the landscape as an organism that has molded itself to its environment. It rests upon the topography to dramatic effect. This is a wholly original house.
The first sight of the building is of a triangular wedge placed on a very steep slope, on approach the dramatic green roof sweeps down seemingly to offer a welcoming hand. A discreet opening on the side of the larch clad walls allows entry into an unexpected dramatic high space within, with vistas and shapes in many directions. The space draws you in.
This main living space of the house has slid down the hill to reach for the trees, where the catkins brushes against the glass. This piano noble has wrap round full height glazing with deep window seats perched at branch level looking down onto the swimming ponds below and out across the distant fields.
The plan and roof form is freed from the rectilinear, and the flow of space up the staircase to a library window seat is delightful. The use of fine plaster and ply veneer is restrained and balanced, highlighted with spalted wood stairs and dining table from timbers from the estate. The bedrooms are arranged for privacy, with simple thoughtful joinery detailing.
The external experience of the house changes as you move around it, there being no attributable front or back. It makes an intriguing bent shape on plan, and together with its falling roof makes it impossible to pin down. It is at the same time dynamic and in repose. A restrained palette of materials, of larch boarding from the estate and glazing in dark window frames, brings out the forms to good effect.
From below at lake level, it is a tall tower house standing with the trees whilst from uphill it is lower than eye level. Bat boxes are integrated on the side. This house abounds with character and personality. A masterful play of shaping with land, trees and water that might well prove to be timeless.
Internal area 232 m²
Contractor Self build, managed by former employees of Sherwell Valley Builders
Structural Engineers Ballantine Arnold
Quantity Surveyor / Cost Consultant HartQS
Lighting Design Light House Designs
Interior Design Pringle & Pringle
Project Management Self build, managed by former employees of Sherwell Valley Builders