Creek House
By Seth Stein Architects Ltd
Client Private client
Awards RIBA South West Award 2022 and RIBA National Award 2022 (sponsored by Forterra)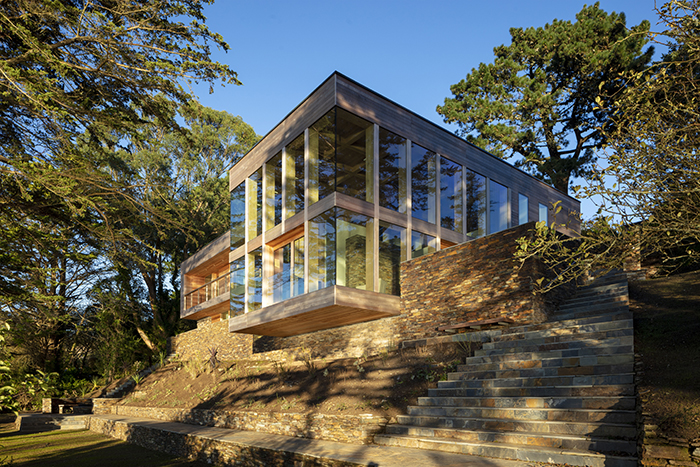 Creek House is a simple, elegant, and meticulously delivered family home looking west from Feock overlooking the creek. The house intelligently hides the hard-working requirements of a family home and provides a serene environment for occupants and visitors. Despite the extensive footprint, the scale works within the landscape, aided by the scale of the trees, natural tones of the Cornish slate and western red cedar cladding and through the positioning of the principal volumes into the bank.
The siting of the building is such that the massing and volume is largely hidden from the approach, with only a modest pebble roof visible from above. A deliberate separation of parking from the building and landscape has returned much of the plot to green landscaping and garden. The orientation and positioning retains the mature, protected trees and creates a balance of expansive and framed views towards the creek and into the surrounding gardens.
A balance is achieved between the verticality and volume of the living/dining space with the more modest and horizontally emphasised accommodation wing. Natural light is played with throughout, including top-lit bathrooms, frosted glazed corridors with only the shadows of bamboo dancing against the glazing and dappled light through the trees and reflecting from the water. Internally, the limited palette of materials, principally oak, plaster and glass, result in calm, well-proportioned spaces with minimalist detailing. The quality of the finishes and detailing is excellent.
Overall, this is a sophisticated, minimalist house optimising the coastal location, views and light, which has been meticulously detailed and delivered.
Contractor Symons Construction Limited
Structural Engineers MBA Consulting
Environmental / M&E Engineers Will Potter Partnership
Quantity Surveyor / Cost Consultant W M G Weller & Son Ltd
Environmental/ Ecology / Landscape Consultant Cornwall Environmental Consultants Ltd
Arboriculture Consultant Evolve Tree Consultancy
Client Representative Pegasus Property Asset Management