The Cowshed
By Crawshaw Architects LLP
Client Private client
Awards RIBA South West Award 2022, RIBA South West Small Project of the Year Award 2022 (sponsored by Gaggenau)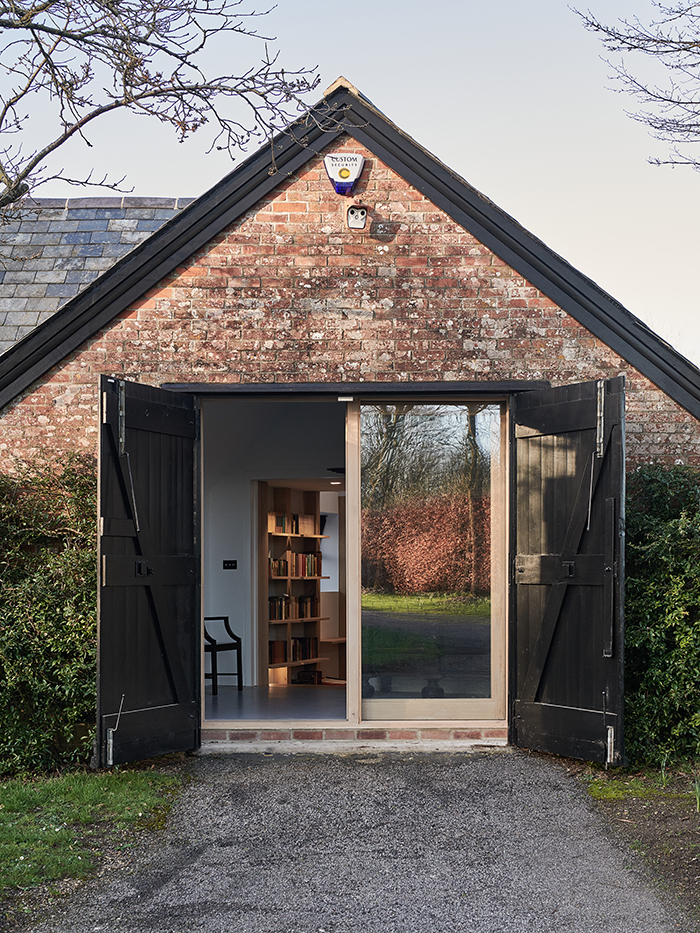 The Cowshed is a delicate jewel of a project, beautifully and sensitively inserted into an old cattle shed. Externally the project is quiet and modest, with little change from the last 40 years, when it was used to store farm machinery. A modest exterior disguises the inventive use of space and light within. This previously unloved building also now houses a kitchen, office and bathroom.
The architect has retained a memory of the history of the building through introducing a series of curved oak frames running the length of the library, this new setting out creating a calm and order to the space, balancing natural light and order while providing a beautiful and simple celebration of the books within. The timber frames subtly reference the cattle stalls and further meaning, and allegory is imbued through the multiple skins of the building, including the books with their leather hides and inner skin of the building, lining the rough brick walls. The oak joinery creates a tactile and domestic-feeling environment which continues through to the kitchen and bathroom.
In plan, the barn is ordered by a central high nave and pair of aisles in the form of a classical library. Three rooflights interrupt the central barrel vault, while the oak frames provide a flexible framework for tables and benches to perch, while a sofa converts to a pull-out double bed, also within the central 2m nave space. This flexibility allowed the library to be used as an isolation space during the pandemic.
Construction techniques of farm carpentry and metalwork are used throughout but have a refinement worthy of the collection, including a section on Palladian architecture. There is a simple environmental approach, connecting to the wider estate's biomass boiler and using natural ventilation. The client monitors relative humidity and temperature for the collection, but the heavy masonry and inner ventilated lining creates a stable environment.
This project clearly benefitted from a long-term architect/ client working relationship and slow gestation. The result is a paired back project full of delight, detail and intelligent resolution.
Contractor Cando Constructions
Structural Engineers Hardman Structural Engineers