UWE Bristol School of Engineering
by AHR
Client University of the West of England (UWE)
Awards RIBA South West Award 2022 and RIBA South West Project Architect of the Year Award 2022 for Hira Silverthorne-Teirney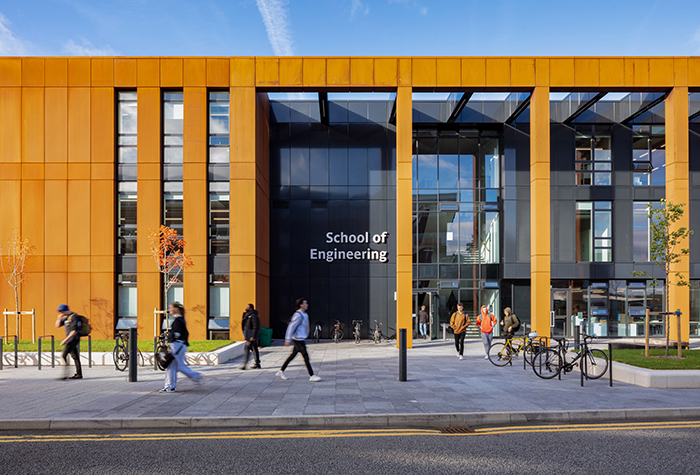 An extensive and complex brief brings together many previously disparate engineering disciplines under one roof. An efficient plan brings performance benefits and a new identity within the wider campus. The placement has a generous civic presence thanks to the inset entrances, exaggerated loggia and views into the workshops. Finishes are robust and durable and the building is set out on a 1m structural grid with cores spaced around the perimeter of the atrium. This allows flexibility and future adaption for the 4000 users.
 
The brief called for interaction between departments and spaces which promoted collaboration between students, staff and visitors in order to more closely reflect how modern engineering, research and problem-solving are tackled in industry. The nearly square plan and simple, legible organisational diagram successfully achieve this ambition. The layout reflects the pedagogical and philosophical drivers, including broadening access to engineering and promoting inclusivity. The whole building can be read from the central atrium space with direct views into the heavy workshops, 'maker space' on the ground floor, specialist laboratories, teaching and breakout spaces. The central void gets wider as you move up the three floors, with each one benefitting from 'Social Learning' balconies.
The success of this project is in the quiet, background architecture, legibility and connection to the learning and research, resulting in a bustling environment full of inspiration from the activities within. As with many of the most successful education buildings, the design reflects the current pedagogical thinking while allowing for future adaption.
Project architect of the year
Hira Silverthorne-Teirney, AHR for UWE Bristol School of Engineering
Hira (and Adam Spall) worked tirelessly to realise the clients vision and to bring together the diverse user groups through multiple stakeholder engagements, precedent visits and presentations. The tight programme on site and budgetary constraints have not detracted from the robust building and delighted clients and students. Hira was involved in every aspect of the delivery on site and clearly forged good relationships with the client and wider design team.
Contractor BAM
Landscape Architects AHR
Interior Design AHR
Structural Engineers Hydrock
Quantity Surveyor / Cost Consultant Mace
Project Management GL Hearn
Services Engineer Hydrock