Winsford Cottage Hospital
By benjamin+beauchamp architects 
Client Landmark Trust
Awards RIBA South West Award 2022, RIBA South West Conservation Award 2022, RIBA South West Client of the Year Award 2022 for Landmark Trust and RIBA National Award 2022 (sponsored by Forterra)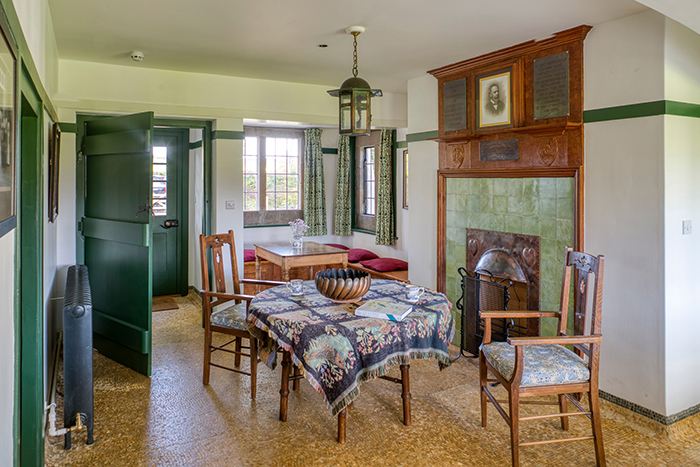 Winsford Cottage Hospital was designed by C F A Voysey and served the community for most of the 20th century, telling the story of evolving health provision from the treatment of soldiers wounded in the First World War through to the formation of the NHS in 1948. 
 
Despite being a much-loved community resource, the building had suffered unsympathetic adaptions along with suffering many years of driving rain off the nearby Atlantic coast. Much of the building's fabric needed renewal, especially the roof, while much of the building's integrity had been lost through the addition of a day room, internal partitions and the layering of finishes such as vinyl flooring overlays.  
 
A deep understanding of the building's heritage significance was developed through archival research and an invasive condition survey. A detailed and sensitive restoration has been achieved, largely due to the architect's involvement from the outset, the knowledge and experience of the Landmark Trust, and a committed and passionate local community group's involvement. The result is a thorough and beautiful conservation project which has restored the soul of the original building.  

Great care was taken recording the position of every roof tile before it was lifted, repaired, insulated and re-installed. Many of the original arts and crafts details have been refurbished or replicas made, such as casting fire surrounds. The community were heavily involved, especially in the stripping, cleaning and repair of the beautiful sienna marble mosaic floor. The building contract supported several local apprenticeships.  
 
This fine and handsome building has been sensitively and intelligently brought back to life thanks to a committed architect, experienced client, skilled contractors and dedicated local community. Winsford Cottage Hospital's future should be safeguarded by the Landmark Trust for future generations to enjoy.   

Special notes on conservation
The Cottage Hospital has been beautifully restored, and it is hard to tell what has been repaired, replaced or restored. However, the whole process is well documented and significant care, attention and community and client involvement has gone into making this an exceptionally well finished conservation project.  

Client of the Year
This project came about through the experience, dedication and time of both the Landmark Trust and local community. Many of the community dedicated their free time to restoring the original floors and working on this project. The hybrid of Landmark Trust accommodation and community facilities now complement one another, retaining public access to a well-loved building.
Contractor JE Stacey and Co Ltd
Quantity Surveyor / Cost Consultant Stenning & Co
CDM Advisors Health and Safety Associates
Environmental / M&E Engineers BJP Consulting
Structural Engineers Sand Engineering