​Hope View House
by Warren Benbow Architects
Client Mr & Mrs Roman and Tracey Iwanczuk
Awards RIBA West Midlands Award 2018, RIBA Sustainability Award 2018 - sponsored by Geberit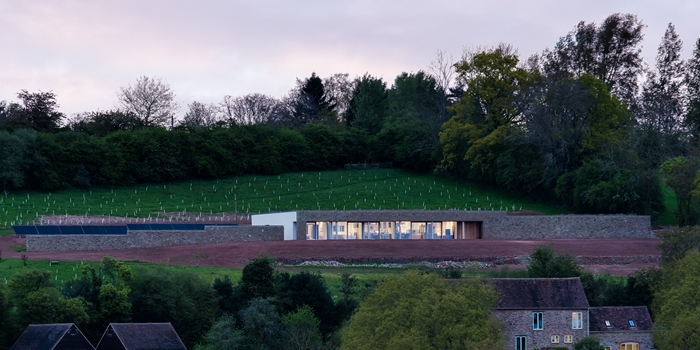 As its name suggests, the special quality of Hope View House is the way it concentrates one's perception and appreciation of its panoramic view over the Malvern hills. To the challenges of achieving planning permission on a steeply sloping hill in an area of outstanding natural beauty were added the clients' ambition to achieve the very onerous sustainability Passivhaus standard.
Seen from below, the house reads as a long dry stone retaining wall with a single glazed aperture set within it - a simple concept that echoes the stone walls typical of the area and allows the house to nestle into the contours. A meadow grass roof completes the impression that the house is not so much 'on the hill' as 'of the hill'.

Arrival from the road above is down a steeply sloping drive that leads to a three-sided entrance courtyard. This artfully conceals the view downhill, delaying the 'reveal' until one enters the house's main living space. Here the full-height window wall immediately draws one's eye to the southerly panorama, a vista that the owners say is a constant source of delight as the landscape changes in different lights and seasons, so much so that they have foregone any blinds on this side.

Internally the logic of the concept is followed through with straightforward rigour, placing all principal rooms on the south side and continuing the full-height windows. These slide open, allowing the rooms to flow out onto the grass terrace in good weather, but the house's sophisticated environmental system means that they will never need to be opened for 'fresh' air; in fact the system runs more efficiently if they remain closed. A small plantroom on the north side contains an engineering array that controls the flow of air and carefully balances the house's energy demands, drawing on a combination of ground source heat pumps and photovoltaic panels.

Heating is supplied underfloor but the owners report that the house is so well insulated that even in this year's severe winter they have scarcely needed to turn the heating on.

Though modern in its internal layout and finishes and state-of-the-art in terms of energy-saving, Hope View House is very much of its place, an impressive example of architect and client in harmony with each other and with the special qualities of their site.
Architect Warren Benbow Architects
Client Mr & Mrs Roman and Tracey Iwanczuk
Contractor Covenhope Construction Ltd
Structural Engineer Allan Pearce
Landscape Architect Mackley Davies
Environmental / M&E Engineer Elemental Solutions
Environmental / M&E Engineer Alan Clarke