​​Royal Birmingham Conservatoire
by Feilden Clegg Bradley Studios
Client Birmingham City University
Awards RIBA West Midlands Award 2018, RIBA West Midlands Building of the Year 2018 sponsored by Artifice and RIBA National Award 2018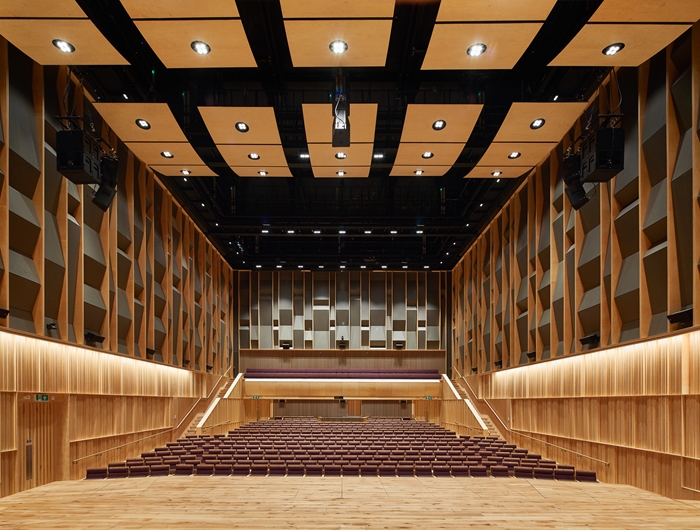 The first purpose-built music college built in the UK since 1987, the new Conservatoire represented not only a rare opportunity to create a state-of-the-art facility fit for the digital era but also to anchor Birmingham City University's expanding City Centre Campus with a building of civic stature.
Specialist institutions of this type sometimes discourage public access but here, with the client's positive endorsement, the architects strove to make the building feel as accessible as possible.

This is evident immediately upon entering the three-level foyer which connects entrances on the north and south sides of the building. If externally the building's brickwork carapace lends it the air, in the words of the architect, of an 'urban castle', defending the delicate music-making from traffic noise, the split-level foyer with its timber lining is a warm, welcoming space for students, staff and public to mingle. A café, looking out onto campus gardens, reinforces the informal, convivial atmosphere. With its generous processional stair, reminiscent in a less formal way of a grand opera house staircase, the foyer links together the Conservatoire's signature performance spaces: a 500-seat orchestral concert hall, a smaller recital hall, organ studio, 'black box' experimental room and the Eastside Jazz Club.
The technical challenges posed by these spaces were significant, particularly within the finite constraints of the site's relatively small footprint and the University's budget. Each of them required a different acoustic treatment to suit their size and intended programme of music, which in turn influenced all aspects of the design, necessitating an exceptional level of architectural, environmental and acoustic integration. The client is delighted with the quality of these spaces and the flexibility they provide both for public performances and the Conservatoire's day-to-day teaching and recording activities. Pride of place is given to the orchestral hall, where in common with the other venues and the foyer, a delicately detailed timber panel system, developed with the acoustic consultant, was adopted. Higher up, the corrugated timber gives way to an alternating rhythm of timber verticals and black geometric ripples, again determined by acoustic considerations, producing an aesthetically pleasing pattern that gives the hall a serene gravitas.
Upper floors, the more private realm of students and staff, accommodate practice rooms, sound laboratories, classrooms and recording studios, a finer grain of spaces that had to be carefully reconciled with the large volume of the concert hall extending upwards from below.

The architectural choreography of the Conservatoire's complex brief and its range of different spaces has been handled with a deft touch - clear testimony to the close collaboration of architect and client team, producing a building that not only enhances the school's educational reputation but is surely destined to become one of Birmingham's most actively used and cherished public venues.
Architect Feilden Clegg Bradley Studios
Client Birmingham City University
Contractor Galliford Try
Structural Engineer WYG
Civil Engineer White Young Green
Landscape Architect Planit-ie Ltd
Quantity Surveyor / Cost Consultant Faithful & Gould
Environmental / M&E Engineer Hoare Lea
Acoustic Engineers Hoare Lea
Theatre Consultant Charcoalblue
Communication Design Consultant Thomas Matthews
Planning Consultant Brooke Smith Planning
Catering Consultant Keith Winton Design
CDM Faithful & Gould