Squirrel Works
by Sjölander da Cruz Architects
Client Liv Projekt
Awards RIBA West Midlands Award 2019 and RIBA West Midlands Conservation Award 2019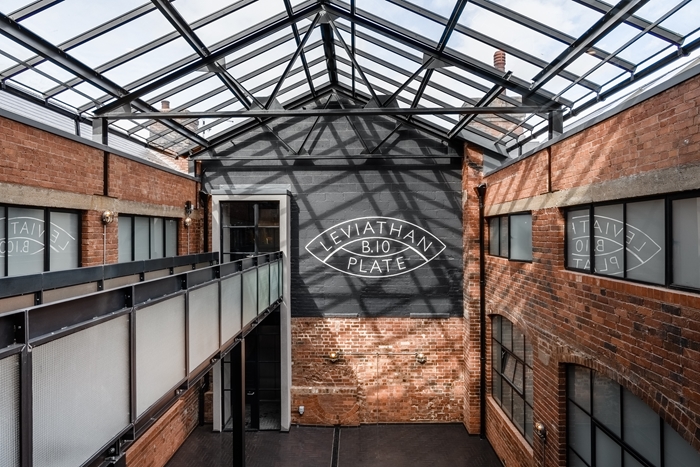 Squirrel Works is a sensitive and imaginative repurposing of a Grade II listed former silver factory within the Birmingham's Jewellery Quarter conservation area. The careful uncovering of the original building to deliver a series of apartments topped off with an understated and well detailed roof top penthouse has been delivered in a thoughtful and intelligent way. It retains the patina of history that the building has experienced but has been layered with a clean and well-mannered architectural approach that provides a great partner to the original building.

The original Edwardian building has been given a new lease of life by stripping away the layers of unsympathetic adaptation, to reveal the original fabric in a frank and honest way and with little sentiment.

The circulation has been imaginatively re-interpreted by re-opening the central courtyard and providing a covered outside space which is crossed at first floor by a glass and steel bridge which has been neatly detailed to sit within the industrial setting. The apartments are gathered around this space and form the focal point of a building that has already achieved a strong social and community feel.

Details are simple and well resolved while the materials are predominantly industrial. The resultant units are generous with clear planning minimising subdivision. Working with the original structure larger spaces are retained ensuring the original structure and fabric remains visible and contrasted with contemporary glass, steel and timber. The generosity of space, even in the smaller units, is commendable and the developers should be praised for such an approach.

The architects have carefully researched the history of the building referring to original drawings for inspiration and have thoughtfully restored the building. Their approach has retained the layers of history and the raw architectural character is very much evident. Brickwork surfaces have been revealed internally, including patched areas, infilled doorways and redundant concrete structure all of which add to the industrial aesthetic of the development. It is an honest and sensitive approach that then allows the buildings history to live alongside the new interventions.

The roof top extension, that replaced an earlier structure, makes full use of the panoramic views across the city while delivering a strong but understated architectural addition that acknowledges the industrial heritage of the building.

Th architects have brought a sensitive approach to ensuring a sustainable approach was followed. While the original brickwork has been revealed in many places this has not been achieved at the expense of energy performance. The roof and floors have been super insulated and MVHR has been provided, via well detailed exposed ductwork, to all flats while secondary glazing has been used where original metal windows were retained. On the front facade new double-glazed timber windows were installed replicating those of the original building.

The approach that has been taken on this project and the results they have achieved should act as an exemplar for projects of this nature in both conservation and imaginative re-purposing.
Internal area 1,430 m²
Contractor Key Construction
Structural Engineers Webb Yates Engineers
Quantity Surveyor / Cost Consultant Carl Dean Associates
Environmental / M&E Engineers Jonathan Richard Associates