The Ghost House
by BPN Architects
Client Private
Awards RIBA West Midlands Award 2019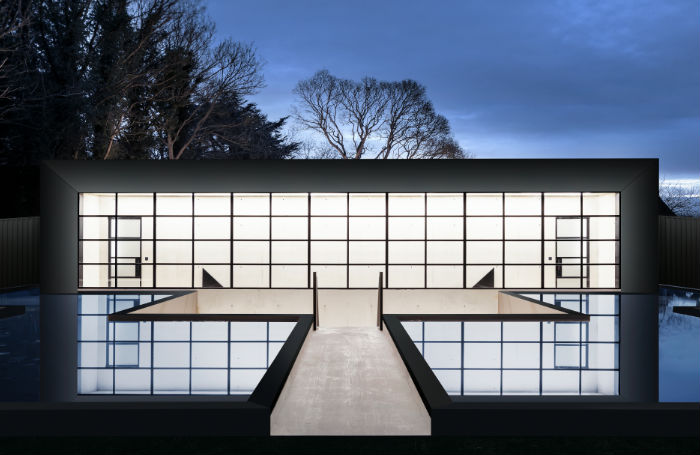 The Ghost house is an exceptional house delivered under a Para 55 application that has come to fruition through the dogged determination of the client. Heavily inspired by the work of Tado Ando the client has designed, alongside his architect, a truely unique and uncompromising home. The simple palette of materials of the in situ concrete and the black detailing has been delivered consistently to produce dynamic and brutal spaces that challenge the very essence of a house.
Built in the grounds of a now demolished country house, the Ghost House has been cleverly constructed within the original sunken garden. This means that the majority of the house is below ground level and lit by a series of different sized courtyards.
This approach creates a very private house, with the main room at the lower level providing a completely column free space running the full width of the house. A wall of glazing along the entire length of the room opens out onto a large courtyard containing small reflecting pools set into the concrete floor, while two cherry trees in the space bring nature back into the starkly minimal interior.
The layout provides a simple symmetrical plan, while the two black steel staircases leading to the main bedroom are reminiscent of the staircases of country houses that swept up from the hall to the piano noble. In this instance the first floor is the master bedroom, again constructed entirely of concrete and lit only by roof lights.
The house celebrates an uncompromisingly simple palette of materials and celebrates the honesty of their properties. The in situ concrete building has been carefully detailed to cast in all the sockets and light fittings, as well as consider the formwork setting out, and the end result is a startling interior. The careful consideration of the sand for the concrete mix has given the finish a surprising warmth that does actually make the spaces feel like a home. The delivery is a delightful mix of architecture and engineering to deliver some wonderful spaces that challenge the very notion of house.
This an intensely personal house that has been designed around the desires of a specific client, but at the same time it provides a series of spaces that are clearly a home: even if they challenge the conventional understanding of what this means.
Internal area 435 m²
Contractor Jon Johnstone Construction
Structural Engineers Webb Yates