Jaguar Land Rover, Advanced Product Creation Centre
by Bennetts Associates
Client Jaguar Land Rover
Award RIBA West Midlands Award 2021 and RIBA National Award 2021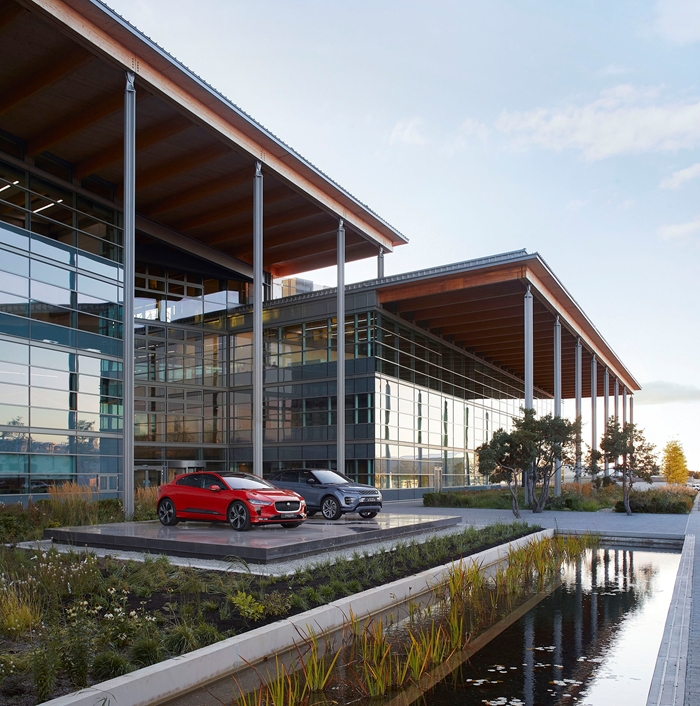 The JLR Advanced Product Creation Centre pulls together three different operations under one roof, it is a significant project for Jaguar Land Rover in delivering industry-leading facilities.
The project is part of a wider landscaping scheme that connects the new building to the rest of the JLR site, with waterways and a new park providing natural amenities for use by JLR's employees. The materials used in the hard landscaping visually link to the ground floor communal spaces in the building, reinforcing the building's connection to its surroundings.
The building is of such a scale that it is described in urban design terms, with internal streets, bridge links and courtyards. The main entrance and atrium space is a huge top-lit volume animated with walkways at multiple levels, a variety of open plan workspaces at the upper levels and cars, engines, and other Jaguar products at eye level. One can easily imagine this space animated with workers and visitors during a product launch or similar event.
Timber brings a natural warmth to the space through the flooring, the walkways and the vast roof that spans all three parts of the building. The detailing reflects the precise engineering of JLRs product, with many details being repeated on an industrial scale.
As this building consolidates three of JLRs businesses, more focus was placed on communal spaces, where staff can meet and work informally. These spaces are spread throughout the building both internally and externally and reached via the network of walkways and stairs. A voluminous canteen space has a fully glazed wall providing wonderful views out to the countryside and a perfect place to take a break from desks and screens.
The building has achieved a high sustainability standard, maximizing natural light and offsetting high occupancy loads in the offices using a Thermally Active Building System to provide radiant cooling in the most energy efficient manner.
The client stated that attracting and retaining a talented workforce in this rural location has been an issue in the past for Jaguar Land Rover. This building and its surrounding landscape will address this issue and provide a workplace that has the potential to improve the lives of its workforce.
Internal area 58,952.00 m²
Contractor Laing O'Rourke
Structural Engineer Buro Happold

Environmental / M&E Engineer Buro Happold
Quantity Surveyor / Cost Consultant Thomas and Adamson
Landscape Architect Grant Associates
Interior Design Bennetts Associates