​Jaguar Land Rover Engine Manufacturing Centre
by Arup Associates
Client Jaguar Land Rover Ltd
Awards RIBA West Midlands Regional Award 2017 and RIBA West Midlands Sustainability Award 2017 - sponsored by Geberit.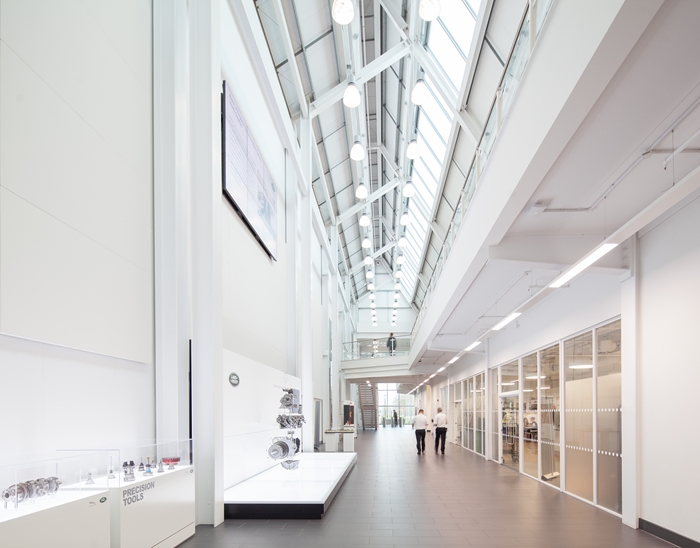 How do you make an industrial building which is 'big and functional' also 'big a beautiful'? Surely by remembering that architecture and good design apply not only to great public buildings or bespoke houses but also certainly that there is room for quality design in the 'prosaic' too. The proposal for the new Jaguar Land Rover manufacturing facilities proves just that.

The factory building is huge - acres and acres of the light metal-clad solid façade. The design team has paid careful attention to the proportion, reveals and junction details of the façade modules. Repeated many times over, this simple and well expressed element of the design has generated a powerful architectural impression. Modules are based on the structural grid and each contains a north rooflight, which when put together creates a modern version of the familiar factory skyline. A continuous strip of glass along the ground floor allows this new age industrial ship stay afloat especially when approaching the site from a distance and allows views into the production lines from outside.

The entrance is clear and is sized to address the large scale of the factory. The reception area looks more like a science museum or a discovery centre than a gritty factory space. Corporate white reigns: walls, painted streel and exhibition podiums. The space is generous, crisp and filled with daylight. Glazed screens offer views out into nearby woods on one side and back into the robotic assembly hall on the other. A stair leads to the viewing gallery and an open plan office occupied by the administration group. This integration of the offices puts white collar staff in juxtaposition with the machinery - a connection not commonly found in the industrial environment and emphasised even more by the cross interlacing of views.

The assembly halls are also light and airy with great views to the outside. Engineering services are exposed and become a part of the visual expression. Staff social areas painted white including all the ductwork giving them a slight spaceship quality. There is after all, a discovery centre in the building - a dedicate provision for schools, which overlooks the assembly hall and is certainly high on 'cool' appeal with funky chairs, interactive digital tables, screens and exhibits.

Everything about this scheme is well-considered, practical yet aesthetically balanced and works well even at a macro scale. If one is to describe the development in a single word it should probably be 'positive'. 'Positive' is also a key word when assessing its environmental impact. Sustainable measures applied at this scale become record-breaking achievements: the largest PV installation in UK and almost in the whole of Europe, plus zero operational waste, extensive grey water recycling, day-lit spaces, naturally ventilated offices and a pioneering 'solar cladding' façade system. The client's commitment to sustainable agenda is supported by Arup's ability to provide a fully coordinated design and integrated management system while introducing innovative low energy solutions.
Contractor Interserve
Quantity Surveyor/Cost Consultant Davis Langdon
Environmental/M&E Engineer Arup
Fire Engineering Arup
Lighting Design Arup
Acoustic Engineers Arup
Transport Engineering Arup
Façades Arup
Security Arup
Geotechnics Arup
Project Management Stace
Planning Ancer Spa
Access and Maintenance Design Arup
Landscape Architecture Arup
Internal area 100,000.00 m²