​​Remembrance Centre, National Memorial Arboretum
by Glenn Howells Architects
Client National Memorial Arboretum
Awards RIBA West Midlands Regional Award 2017 and RIBA West Midlands Building of the Year Award 2017 - sponsored by Marley Eternit and RIBA National Award 2017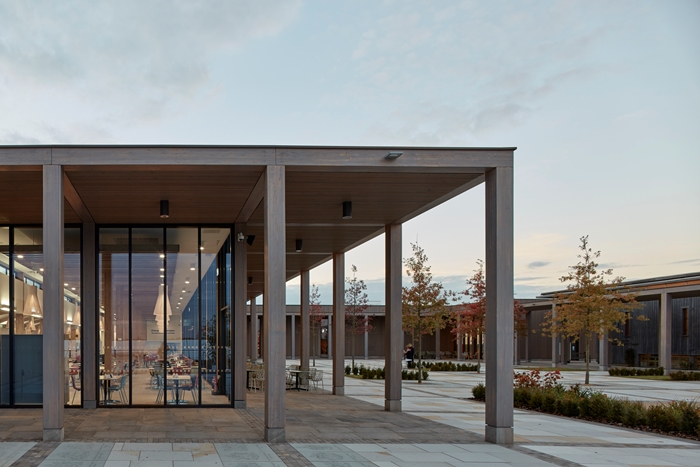 A strong sense of anticipation precedes some projects just because of their very special nature and the Remembrance Centre at the National Memorial Arboretum does not disappoint.
A well-proportioned, neo-classical façade projects the appropriate level of gravitas associated with a building of such importance. The client preferred to use timber as the main material and it does indeed add a softness and human scale to an otherwise relentless colonnade. The colonnade does however create an allusion to military order and formality, where every member is equal in the face of the ultimate.

A continuous projecting roof edge along the main façade is both elegant and practical. It separates the building from car park and creates a strong physically and metaphorically sense of movement from light to dark – to a space filled with memories and reminiscence.

The building rises to the challenge of unifying an existing chapel, a former visitor centre and external spaces and gardens. It addresses the Armed Forces Memorial in a powerful way. Visitors must digress from the processional axis of the memorial into the landscape before stepping into the formal approach to the arboretum. The experience becomes more gradual and thoughtful.

The palette of materials is coherent and the harmony of tones and textures is consistent throughout. Filled with light and air, the internal spaces flow freely as a counterpoise to the regularity of structure. At the same time the rectilinear geometry of the ceiling soffits exercise a calming influence over the expected busyness of the exhibition spaces, café and shop.

Details and joints, both internal and external, are so well executed that they become 'unnoticeable'. It helps to retain a classical edge and a sense of significance avoiding a risk of an impermanent feel. This level of design discipline requires a lot of skill and knowledge and a thorough understanding of materials, which is so evident throughout the proposal.

The retention of the original pavilion structure offers a commendable sense of site history. It did however present the architects with the challenge of making the curved beams of the pavilion work with the new rectilinear geometry. Questionable at first, it does look settled once the building is experienced in full: the curved geometry adds an unexpected breath of softness and corresponds with the new reception.

The quality of daylight is sublime. A narrow strip of internal clerestory glazing turns into a gap between the roof and the external walls, allowing beams of light into both the courtyard and interior. The new colonnade casts beautiful and regular shadows on the chapel's facade adding extra depth and tranquility to the existing building.

The project leaves an imposing but not intimidating impression. Every member of the judging panel was visibly moved by the experience of the building.
Contractor Stepnell

Structural Engineer Techniker
Landscape Architect Fira
Quantity Surveyor Edmund Shipway
Project Management Edmund Shipway
Environmental/M&E Engineer YES Engineering
Interior Design Glenn Howells Architects
Interpretation Design Real Studios
Planning Consultant Nathaniel Lichfield and Partners
CDM Coordinator Edmund Shipway

Catering Consultant Boyd-Thorpe Associates
Catering Design JoH Design
Internal area 2,799.00 m²