​The Compound
by BPN Architects
Client Javelin Block
Awards RIBA West Midlands Regional Award 2017, RIBA West Midlands Conservation Award 2017 and RIBA West Midlands Client of the Year 2017 - sponsored by Tobermore and Stephen Lawrence Prize shortlist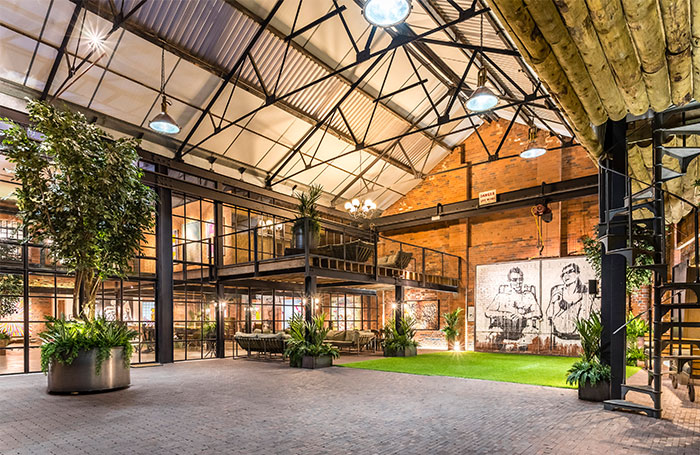 How often does the architect's client also act as a project designer? Not very often. Perhaps when developing a set for a filming company or a stage design for a theatre production. There is certainly an air of a theatre and cinematography in the Compound projects – a former textile factory turned into an art venue, a workshop and a client's home.
The governing design principle is to bring old spaces back in use with minimal intervention by mixing original textures with modern elements and contemporary art. Following this principle, the external façade is left unchanged - even down to a hand-painted house number on the original door. Nothing on a street frontage tells you what is to happen inside. A small doorway in the corner of a blank facade leads into a generous double-height space, day-lit from the top. Stepping across the threshold is like stepping into an unexpected emporium - a visually intense world filled with objet d'art and industrial heritage.

The client is a collector of modern art and is an artist himself with a passion for finding old objects in scrap yards and upcycling them in most unpredictable ways. A modern painting is caged in an old rusted hoist. Reclaimed copper lights from a decommissioned submarine are used in a home cinema to a charming effect. Old prison doors installed in the bedrooms are turned into beautiful objects in a new setting. The art collection itself is elevated to a different level by the owner's unorthodox way of exhibiting it. It is indeed the client's creative energy and ingenuity that enthuses and informs the scheme.

The architectural elements are more than mere back drop. The spaces are modelled to create physical and visual connections and to showcase the art pieces. A simple mesh for the balustrades and open timber flooring for a mezzanine, not only reproduce the industrial aesthetic but also allow day light to penetrate throughout the space. Private and more intimate areas within the open plan living accommodate the family needs and add domestic warmth.
There is no shortage of bespoke furniture and fixings. The kitchen units are inspired by a welder's bench design. Old-fashion electrical switches are produced locally for this and other clients' developments. This client's other great passion is fulfilled here - to support local craftsmanship and skills including metalwork, upholstery and even door hanging.

A strong partnership between the architect and the client is evident in this stimulating project that turns abandoned spaces into a chic environment. The client's enthusiasm is infectious and the architects have shared his passion for seeing the beauty in industrial heritage and unlocking it through the design. The architects have since applied these principles on other projects with different clients.
For ability to inspire others, for a unique vision and for the genuine support of the local skills we give a Client of the Year Award to Javelin Block.

The project demonstrates a keen understanding and a lively interpretation of the history of the local area and its industrial heritage. It gets under the skin of 'making things' and celebrates craftsmanship and a beauty of honest and purposeful spaces and objects. On this basis the Conservation Project of the Year also goes to the Compound.
Contractor Springworth