​Victoria Gate Arcades
by ACME
Client Hammerson PLC
Awards RIBA Yorkshire Award 2017 and RIBA Yorkshire Building of the Year 2017 - Sponsored by Marley Eternit and RIBA National Award 2017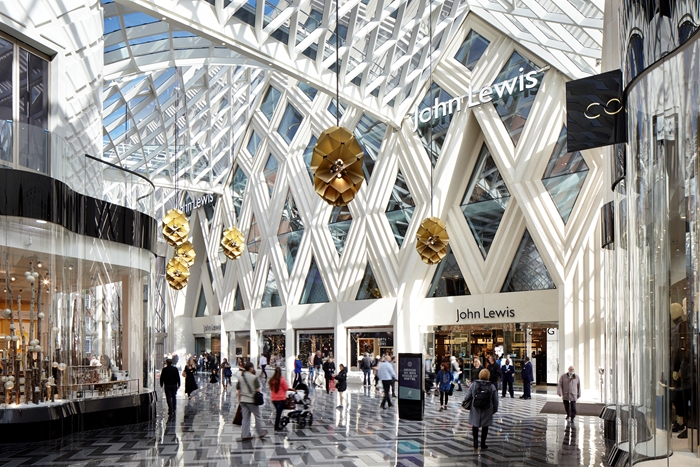 Leeds is one of the major cities in West Yorkshire, rich in its history of trade and commerce. Initially defined by the woollen cloth trade during the 18th century, it is now set to become one of the prominent cities of the north, rich in commerce and educational institutes.

Victoria Gate is located at the east end of the main artery The Headrow, in Leeds city centre, and forms a natural extension of the Victoria Quarter and Leeds retail district. The main activity of this area is defined by the retail quarter and the Victorian arcades which are believed to be some of the finest examples of this kind.

The proposed Victoria Gate builds upon this legacy of quality arcade, with its rich, ornate approach, with a contemporary interpretation of layering decorative motifs generated through geometric patterns as found in the surrounding arcades. This is a celebration of the opulent 'glitter' of consumer society with its 'cathedral' like scale, structural complexities, grand vistas and promenades linking the city through from West to East and completing what was once seen as an undefined edge to the city.

Given the nature and the complexity of the events, and diversity of clients, likely to occupy the spaces, specific detailed spatial arrangements would prove to be difficult to control. However the general choreography of the public spaces demonstrates a consistency of detailed resolution and confirms the design team's key objective: ensuring the integration of the new Victoria Gate centre provides a staged transition from the Victorian brick and terracotta clad building to the new edge defined by the contemporary pleated façade of the car park. The design weaves in a number of narratives relating to 19th century arcades, with the theme of the 'Woven' façade of John Lewis, with reference to the early history of the wool trade through contemporary geometric patterns.

Victoria Gate responds to the challenges of delivering a successful large scale building with a consistency of crafted feel which uses contemporary methods in developing design through to production, extending the architectural discourse on design and production of architecture in the digital age.


Contractor Sir Robert McAlpine
Structural Engineer Waterman Structures
Quantity Surveyor Gardiner & Theobald
M&E Engineer Hoare Lea & Waterman Structures
Acoustic Engineers Hoare Lea & Waterman Structures
Access Consultant Bevans Chartered Surveyors
Project Management Gardiner & Theobald
Landscape Architects ACME
Interior Design ACME
Lighting Design Hoare Lea & ACME