​​Scarborough Market Hall
by Group Ginger
Client Scarborough Borough Council
Awards RIBA Yorkshire Award 2018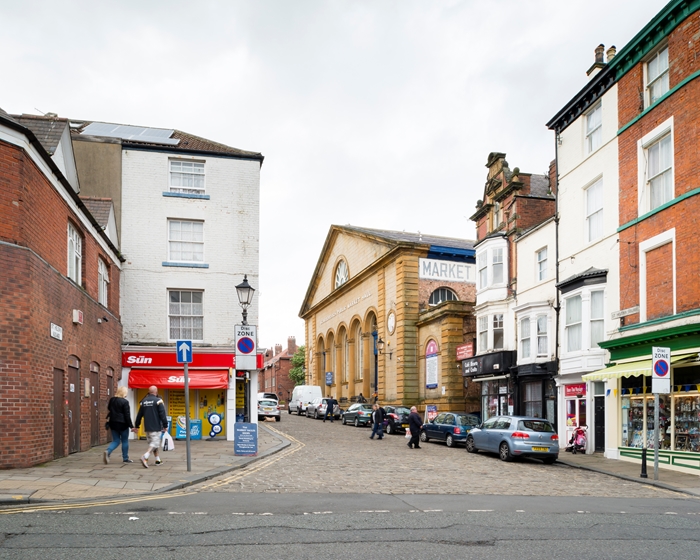 Scarborough Market Hall was first opened in 1852. It has been revitalised with a £2.0 million project to repair the building fabric and the addition of a new mezzanine. On the ground floor we found traditional market stalls offering an excellent range of locally sourced meat, fruit and vegetables, as well as a café and deli selling freshly cooked snacks. The pasties especially were welcomed by the Jury after a long drive from York (fully paid for). Photographs identified that 'pop-up' stalls could be reorganised to provide a flexible activity and entertainment venue and these events had proved remarkably successful.
Market stall holders are renowned for their opinions and Group Ginger carried out extreme consultation with longstanding existing traders, customers and new start-ups to understand their operational needs.

The new mezzanine offers timber clad retail units and dining areas with great views up to Scarborough Castle or the bustling market below. All new steel columns to support this new deck, were positioned over existing vault columns and brought an irregularity that Group Ginger worked with and embraced. During the strip-out phase key historic and architectural features were retained in-situ or sensitively removed for re-use later in the project.

The external appearance of the Market Hall remains largely unchanged apart from sensitive accessibility improvements. But the Market has been transformed, becoming a much visited destination and to reclaim it's position at the heart of civic life in Scarborough.

Contractor Vine House Construction
Structural Engineer Rodrigues Associates
Environmental/M&E Engineer Integration