​​Square Chapel Arts Centre
by Evans Vettori
Client Square Chapel Arts Centre
Awards RIBA Yorkshire Award 2018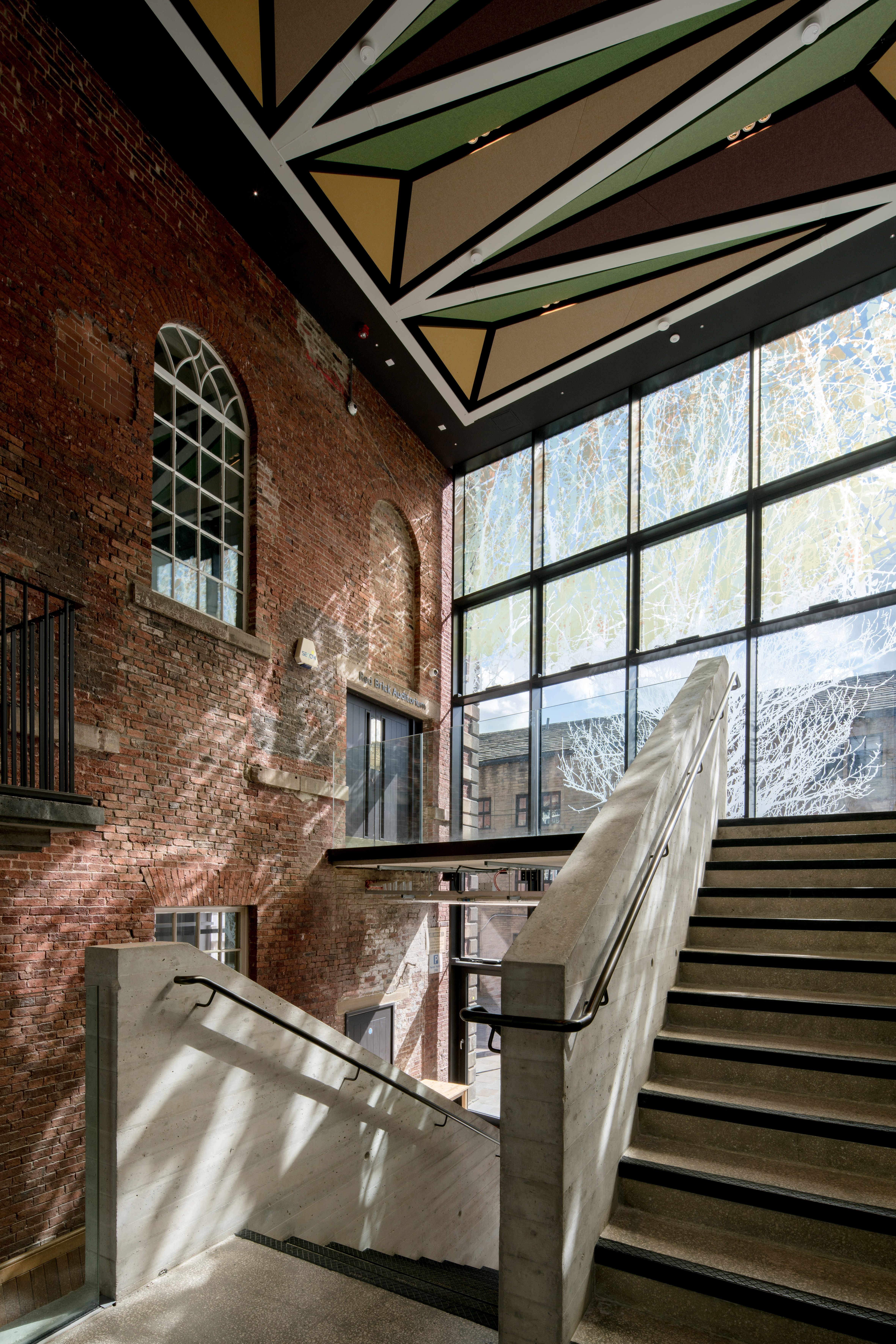 This is a gem of a project neatly connected to the adjoining Grade I listed Piece Hall.
The Square Chapel is a red brick (unusual for Halifax) Grade II* listed chapel which was passionately converted in the late 1980's into a thriving, but cramped community arts centre. The client brief in 2005 for a national competition, won by Evans Vettori was to enhance the facilities with:
Large foyer space
Multi-use performance and workspace
Step-free access
Re-organise the chapel layout
Add a new link to the Piece Hall
The design knits these elements with a bold triangular 'prism' which reconciles the various geometry's and levels. The foyer uses steel branched columns which replaced trees previously there and is conceived as a woodland glade. When viewed from one side the coloured ceiling panel reflects Spring while the opposite view represents Autumn.
A new multi-purpose auditorium provides a second hall for rehearsal and regular film showings and performance events.
The building provides a new raised enhanced terrace, described by the architects as a 'piazetta' which links to the newly refurbished Piece Hall and creates a welcoming event off a narrow-cobbled street.
The triangular form bridges what was previously a small underused space and provides physical link between the Piece Hall and Chapel and introduces a copper box sitting on a York stone plinth. Internally there is bold use of board marked white concrete. These new materials subtly contrast with both stone and brick of the two exceptionally important listed buildings.
This proposal comprises an uncompromisingly modern building which all the Jury found immensely satisfying. During our visit the bar, foyer and chapel were all being actively used for a variety of events. Square Chapel is closely linked to it's community and the open nature of the centre reflects the organisations ethos that the arts should be accessible to all
Structural Engineers Arup
Quantity Surveyor/Cost Consultant BWA
Environmental/M&E Engineer Arup
Project Management Kier
Acoustic Engineers ADP
Landscape Architects Re-Form
Conservation Architect Jessica Sutcliffe
Access Consultant Alison Grant