​​The Hide
by Group Ginger
Client Yorkshire Water
Awards RIBA Yorkshire Award 2018 and RIBA Client of the Year Award 2018 - sponsored by Tobermore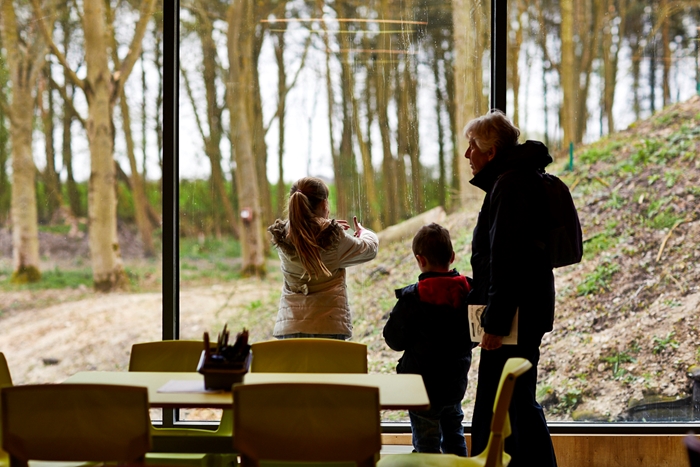 Directions to the site were quite simple. "When you think you are lost….. just keep going". It is 4 miles down a single track road, past Tophill Water Treatment works where 370 million gallons of water in two reservoirs ('D' and 'O' named after their shape) supply Hull. It is one of Yorkshire's best locations for bird watching, claiming over 265 species of birds since 1959 with an extensive resident bird population and many migrants attracted to use the coast and River Humber as flight way to and from Europe and further afield. The reservoir and nature reserve are recognised as a site of special scientific interest (SSSI) yet there has been limited visitor facilities, with little space for interpretation and education and poor step free access.
Reserve Warden Richard Hampshire met the Jury and explained he had been in post for ten years. His first five years had been getting to know the place and the nuances of the various bird watchers, many of whom had been there for over 30 years. The new Bird Hide provides a centre piece to the reserve, combining a public viewing gallery, a classroom and a 24 hour twitcher's hide for the dedicated ornithologist. Each user group has been treated with specific space that carefully considers individual requirements and aspirations.

The steel frame is chunky in parts which reinforces the engineering background of the client's organisation. Yet the careful choice of cladding softens the building, including cedar shingles on the roof and cantilevered cedar board wall cladding with large picture window offering amazing views over the reservoir. Specialist manifestation on the glazing mitigates against bird strikes.

The lower floor is clad with cementitious board giving the impression of a solid base embedded into the landscape. Here a new dipping pond has been created as flood mitigation and wildlife habitat as an educational resource for visiting school groups.

Environmental considerations have influenced the design throughout, from choice of materials to the use of a wood burning store which uses materials salvaged from the reserve. Step free access has been provided with a new earth ramp built by volunteers which has been located at an angle not visible from the reservoir to avoid disturbing the birds.

Contractor Geo. Houlton & Sons Ltd
Structural Engineers Mason Clark Associates
Quantity Surveyor/Cost Consultant Mason Clark Associates
Environmental/M&E Engineers Mc William Associates
Project Management Mason Clark Associates
Lighting Design Deltalight