Mercia School
by Bond Bryan Architects
Client Sheffield City Council
Award RIBA Yorkshire Award 2019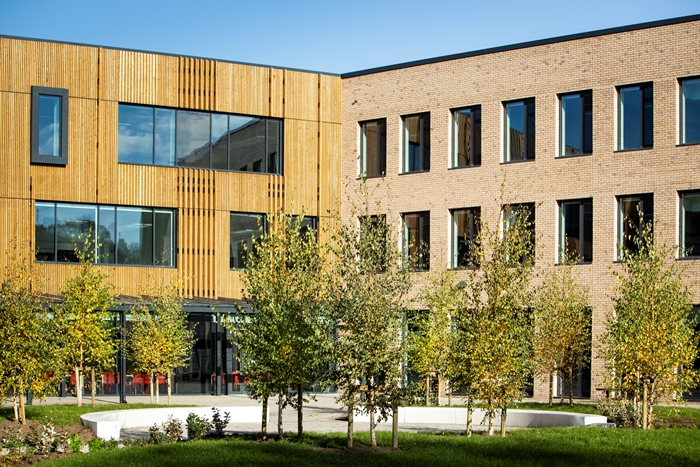 Mercia School is built on a former landfill site. This new secondary school has been funded through the local authority. It closely follows the prescriptive design guidance from Department for Education DfE with a slight uplift on the minimum area allowance.


Using a restrained palette of buff brick, and a regular grid of windows, the school exudes a confident solidity and gravitas. It is enhanced by subtle but significant design gestures. A slight break in the geometry of the front elevation and the introduction of a large area of glazing naturally signal the front entrance. Areas of vertical timber cladding are used on the courtyard elevation to the communal spaces, and the large sports block provide contrast. These are further animated by the simple device of varied timber spacing. These gestures lend a level of sophistication to the building.

The building closely follows one of the established school typologies, with wings of teaching accommodation feeding into a block accommodating the school's large shared communal areas. The scheme's plan very successfully creates a calm, ordered environment that is clearly organised and easy to navigate. Circulation spaces are day-lit by narrow voids that drop light through to the interior. A triple height void above the dining area provides welcome visual connectivity through all levels.

Sitting comfortably on its generous site, the school wraps around a sunny, south-facing landscaped courtyard. This forms the main social space and will be a pleasant place for the pupils all year round. The school has been configured to allow easy community access out of hours, and provides well-designed facilities that will be a hub for the local community. To limit building services, the school is naturally ventilated wherever possible, with opening windows cross-ventilating classrooms using the stack effect via the voids/lightwells in the corridors.

Although schools are inherently complicated buildings, their plan diagrams have been tried and tested. Whilst Mercia School has followed a standard model it has done so in an intelligent and carefully considered way. It is clearly a well-made and robust building. Delivered through a Design & Build contract, the Council's own internal team has been closely involved monitoring the detailed design and development and has reaped rewards in the quality of the built project. The finished scheme represents good value for its budget.

The school has closely followed the guidance provided by the DfE, utilising natural ventilation, thermal mass and high levels of daylight. The 30% energy saving on the target emission rate is an excellent achievement. Overall this project is an impressive example of quality spaces and places for delivering education.
Contract value £23,100,000
Internal area 9,725 m²
Cost per m² £2,375 / m²
Contractor company name BAM Construction
Structural Engineers Mott MacDonald
Environmental / M&E Engineers BAM Design
Environmental / M&E Engineers Mott MacDonald
Quantity Surveyor / Cost Consultant Sheffield City Council Capital Delivery Service
Project Management Sheffield City Council Capital Delivery Service
Acoustic Engineers SRL Technical Services
Acoustic Engineers Mott MacDonald
Landscape Architects Dally Henderson Landscape Architects
Landscape Architects Sheffield City Council Urban and Environmental Design
Lighting Design Arup
Fire Engineer Mott MacDonald
BREEAM Assessor Mott MacDonald
Civil Engineer Mott MacDonald