Merrion House
by BDP
Client TCS
Awards RIBA Yorkshire Award 2019 and RIBA Yorkshire Sustainability Award 2019 – sponsored by Michelmersh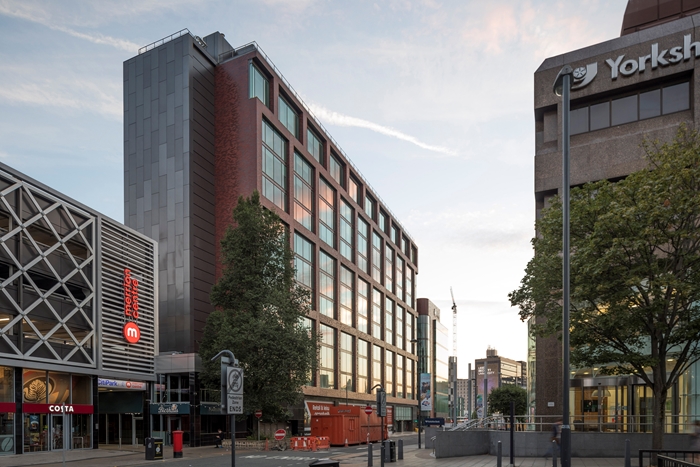 BDP's remodelling and extension of Merrion House office block is an exemplar of sustainable refurbishment. Originally completed in 1974 the building was designed to accommodate Leeds City Council's office based staff. In a drive to improve its efficiency the Council is seeking to consolidate its estate from thirteen to four buildings and to reduce its carbon footprint by 80% by 2050. The council also needed to present a more accessible and welcome face to the public. As the most prominent of the council's central locations this building was seen as a key driver in delivering these changes.

In front of the building space occupied by a disused underpass created the opportunity for expansion. The addition of a highly glazed wing, on this space, has transformed the building's appearance providing a modern, open, image for the council. Between the new extension and the face of the original building a four storey top lit atrium has been created. Separate public and staff entrances at either end of this street address the storey level change across the site. This street is where the public access the council's services through a fully accessible "One Stop" shop. The design succeeds in creating a public space that is calm and simple to navigate. The sculptural form of the public stairs, rising through from the fully open access at the ground floor to the more private appointment areas, animates the atrium. Views from bridges connecting the old and new building across the atrium symbolically focus on the iconic tower of the council's Town Hall.

A "changing the workplace" initiative has been instigated by the council, adapting to changing working patterns. Flexible office environments, created in both the new and refurbished elements of the building, fully support this. Providing modern and efficient working spaces within the constricted floor heights of a 70's building is challenging. The design team has achieved this by developing a fully integrated services strategy requiring minimal headroom. Significant additional floor area has also been provided by pushing the building's envelope out.

Externally the ground floor has been set back to create a noticeably more generous public realm and route to the public entrance. The existing building envelope has been re-clad in off-site assembled brick panels and full height glazing. This has been cleverly manipulated replacing repetitive bands of ribbon windows with a more considered and composed elevation. The building was procured through a D&B contract and required value engineering to stay within budget but this has not diminished its overall architectural objectives.
Contract value £46,343,000
Internal area 21,803 m²
Cost per m² £2,126 / m²
Contractor company name BAM
Project Management Richard Boothroyd & Associates
Quantity Surveyor / Cost Consultant Gleeds
Structural Engineers BDP
Landscape Architects BDP
Environmental / M&E Engineers Hoare Lea