The Weston, Yorkshire Sculpture Park
by Feilden Fowles Architects
Client Yorkshire Sculpture Park
Award RIBA Yorkshire Award 2019, RIBA Yorkshire Client of the Year Award 2019, RIBA Yorkshire Building of the Year Award 2019 and RIBA National Award 2019
This project was shortlisted for the RIBA Stirling Prize 2019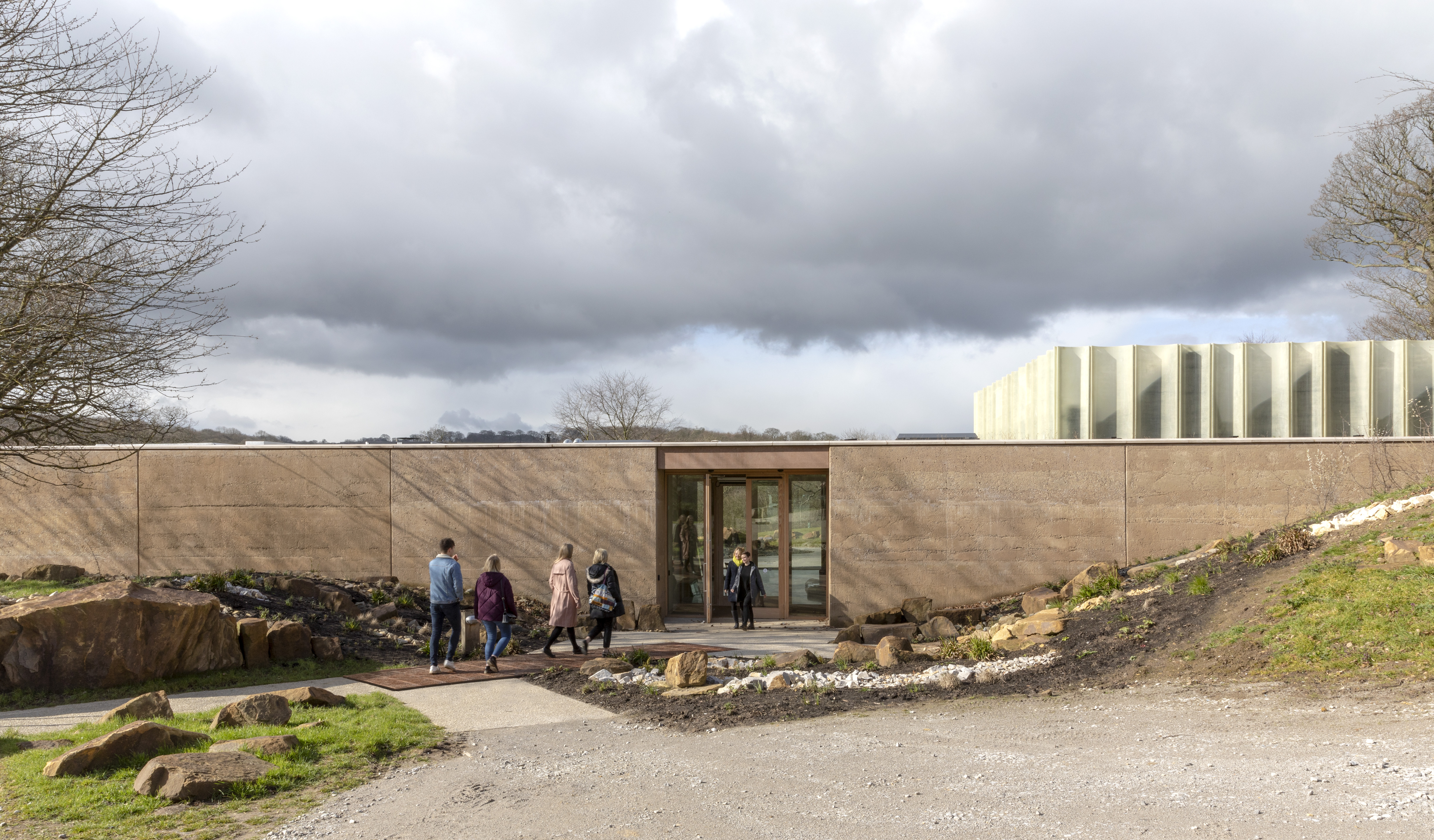 The Yorkshire Sculpture Park sits in the grounds of Bretton Hall, an 18th century country park estate. Since its opening in 1977 the Sculpture Park has developed a series of indoor exhibition spaces that complement the sculpture arranged across the landscape.

The Weston is the latest addition, providing a visitor centre and gallery. It sits on the eastern boundary of the park, closest to the arrival route for many visitors from the nearby M1.

Establishing a close relationship between the buildings and the landscape is the key driver for the client in all its buildings. At The Weston, the architect has fully embraced this aspiration. The building is truly of its landscape.

The building sits on the site of a former millstone grit quarry. On approach, a monolithic, 50m long wall, appears semi buried in the landscape, punctuated only by a single opening which forms the entrance. This concrete wall uses a variety of exposed local aggregates to produces a strata-like effect. It is almost as though the building has been hewn from the ground. This wall acts as a buffer, shielding the inside from constant nearby road noise. The effect of this is immediately noticeable on entering the calm internal space. The wall itself returns around the northern end of the building to shelter and protect the gallery space. To the west the building becomes a glazed timber-framed pavilion giving panoramic views across the park.

The design vision has been carried through with great consistency to the extent that the building's form feels almost inevitable.

The new building has significantly improved its immediate environment, providing a sunny west-facing terrace and giving visitors an opportunity to look across the park from its panoramic glazed wall that gently curves to embrace the landscape. The timber structure creates a warm, almost domestic, feel to the interior of the café and visitor centre. Services installations are discreetly hidden from view and well-integrated into the building structure.

There is a strong relationship between the client and the architect, with a well-articulated common purpose. The project was won through a competitive process and the client was brave enough to appoint a relatively young practice. They have been rewarded with a building that is inventive and fully realises their aspirations. The traditional procurement route has benefited the project in allowing experimentation to achieve the precise finishes required for the innovative forms of construction. The beautifully made board-marked shuttering to the roof monitors in the gallery are sculptures in their own right.

The project includes sustainable features including green roofs and an unusual passive humidity buffer. The client has been prepared to reduce the environmental exacting standards required in gallery space to accept this more sustainable approach. This is a project that has achieved an excellent outcome through the close collaboration between the client and the architect.
Contract value £3,600,000
Internal area 673 m²
Cost per m² £3,150 / m²
Contractor William Birch
Landscapes Architects Jonathan Cook Landscape Architects
Structural Engineers Engineers HRW
Environmental / M&E Engineers Skelly & Couch
Project Management Turner & Townsend
Quantity Surveyor / Cost Consultant BWA (Europe) Limited