Leeds Playhouse
by Page\Park Architects
Client Leeds City Council
Awards RIBA Yorkshire Award 2021 and RIBA Yorkshire Sustainability Award 2021 (sponsored by Michelmersh)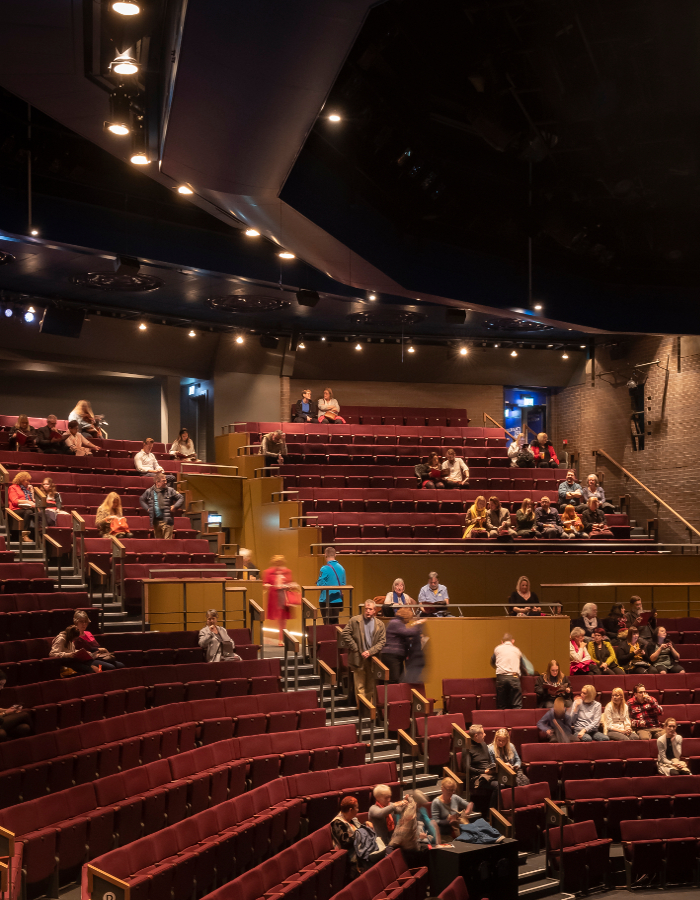 Leeds Playhouse was originally built following a RIBA Competition in the 1980s and has since suffered from a lack of connection with the city centre with no clear entry point. The brief was to reorientate the entrance to the building, connect the building to the city centre and provide easy pedestrian access. The new arrival experience off St Peters Street is much better with a café at ground floor level and new stairs and lifts to help customers navigate their route to the upper levels. The upper levels contain more hospitality space and give views down into the new entry foyer, as well as across to the city centre beyond.

Externally, the new extension to the rear of the site covers up what was the original plain brick service façade and is now clad in bright terracotta panels set into pre-cast concrete frames. There is a theatrical narrative to support the designs of these panels which are then capped by clear lettering that acts as a good wayfinding device for pedestrians coming from the city centre. The setting of the building on this elevation is altogether much more user friendly and benefits from some good new external landscaping to the western boundary called Playhouse Gardens. The northern façade has been reclad in bronze aluminium in places to freshen up the entrances and external appearance.
Internally, the building has been reconfigured to provide better DDA access to the two main Quarry and Courtyard theatre spaces. A new flexible performance space called the Bramall Rock Void created below the building, which was previously an undercroft and basement area, seems to be popular. The shift from the northern elevation being the original entry point has allowed the centre of the building to become the heart of the theatre and incorporates a new foyer space providing better access into the Quarry theatre. The reconfiguration of the circulation of the existing building has dramatically improved how the building operates and is far easier to navigate, as well as opening up accommodation that was previously underused. This all helps to drive the flexibility for other uses, potential income and generally encourages more of the public to use the theatre throughout the day.

The overall budget for the project was £13.5 million which equates to around £2,000/m2, providing good value for a highly serviced public building refurbishment.

A comprehensive sustainability assessment was carried out by the design team at RIBA Stage 2 and encouraged the use of natural ventilation, reduction of energy by installing new plant, improving the envelope's performance, reducing water consumption and expanding the engagement with the local community.

It is commendable that the design intent and sustainability strategy has been maintained, despite working with a tight budget on an existing public building, this makes it a worthy winner of the Sustainability Award.
Location Leeds
Contract value £13,400,000.00
Internal area 6,450.00 m²
Cost per m² £2,078.00 / m²
Contractor company name BAM Construction
Structural Engineers Arup
Environmental / M&E Engineers Max Fordham
Acoustic Engineers Sandy Brown
Quantity Surveyor / Cost Consultant Rex Procter and Partners
Project Management Turner & Townsend
Lighting Design Max Fordham
Landscape Architects Re-Form Landscape Architects
Theatre Consultant Charcoal Blue
Access Consultant Jane Toplis Associates Ltd