Manor Ridge Barns
by TAS Architects
Client Private client
Awards RIBA Yorkshire Award 2021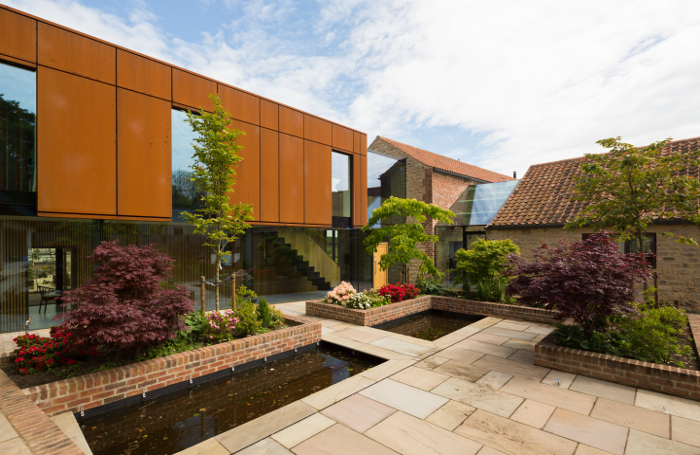 The client and his family have relocated from London to create a new family home in the area in which they grew up close by in Beverley. Their brief was to build a new home where all their extended family could come and stay as well as provide accommodation for them to work from home.

The scheme incorporates a range of historic agricultural buildings which were derelict and uses contemporary new infill buildings to link them all together, creating a large family dwelling set within the countryside. The site incorporates a large newly planted orchard and additional trees to help support the biomass heating.

The massing of the existing and new infill building sits well together and there is a clear distinction between old and new, with the new buildings clad in corten and incorporating large areas of glazing to give easy access and view into the gardens. The attention to detail shows great collaboration between all parties and junctions are handled simply between the old and the new. The existing buildings have been insulated and drylined, with the brick left exposed internally and timber lintels visible over openings. At high level, the roof structure has been clearly expressed. The new master bedroom is within the existing building at first floor level and is set away, floating in front of the existing wall and letting the double-height barn spaces read honestly. The new buildings contain a kitchen, breakfast area, and playroom with a new staircase to the children's bedrooms above. The new staircase appears to float off the ground floor and looks fantastic as you enter the building through the main entrance.
This complex of old and new buildings working together is a great showcase of what can be done when you have great collaboration between the client, design team, and skilled contractor. The overall construction period was lengthy which allowed for the evolution of the design to take place and to make sure things are correct. The client and contractor are related which helped relationships when construction projects take longer than originally expected. Local materials were sourced and the brickwork has a good colour and finish which works well with the context. Some of the other external buildings are used for support space such as offices or guest accommodation. The client is still building on the site with a small new building to store their harvested trees for biomass and is refurbishing some of the smaller buildings to bring them back into use. This project looks like it will continue to evolve as the family needs change and it's proved a fabulous place to live and work from during the pandemic.
Location Yorkshire
Internal area 716.00 m²
Contractor company name Saggers and Gold Ltd
Structural Engineers Maltech (UK) Ltd
Landscape Architects The Landscape Design Company