The Old School
by ArkleBoyce Architects
Client Private client
Awards RIBA Yorkshire Award 2021 and RIBA Yorkshire Small Project Award 2021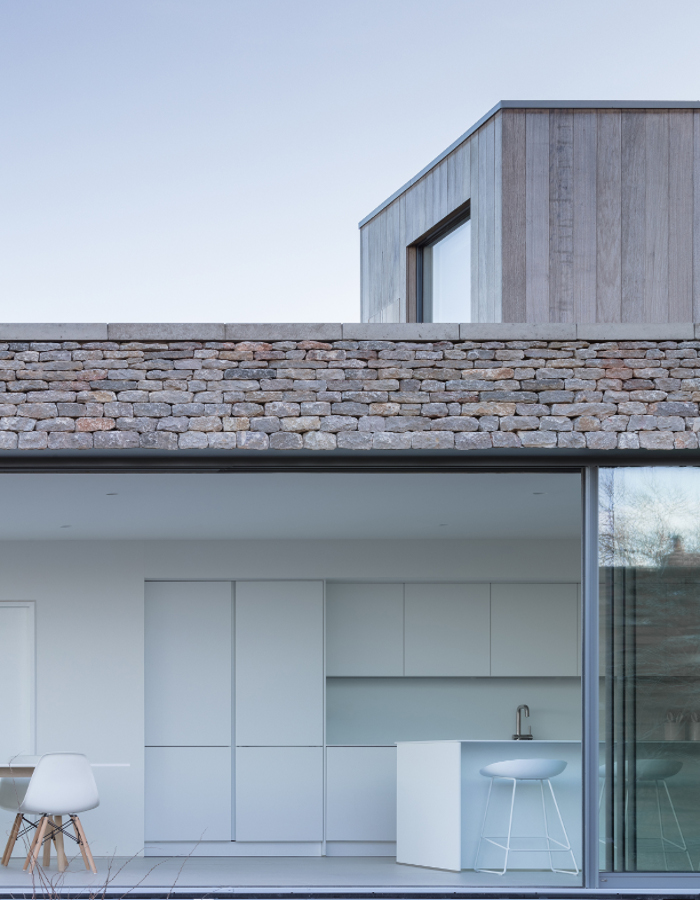 The Old School house is a Grade II Listed former school in a small village close to Malton. The building had been extended previously on the rear elevation when the client had bought the property and their proposed scheme looked to modify this and extend the building further. The existing former schoolhouse remains much the same externally when viewed from the road and is accessed at the side of the building. This lets the school element function as a main family room at ground floor level, which is double height in places. The existing spiral staircase provides access to the upper levels for the new extension via a new glazed link which works well.

The new extension is contemporary and at ground floor level extends the building considerably to the southern elevation and into the garden. This contains a kitchen/diner and small living space with lots of storage running along one wall. The main walls facing the garden incorporate large sliding glass doors which give easy access into the garden. The steel structure helps keep the space free of columns and supports the drystone wall facet that clads the ground floor structure. This is beautifully made with coursed stonework that appears dry jointed and continues the use of stone on the external façade of the original school. The extension creates a fantastic viewing platform to the south of the site, looking out over fields.

At upper levels, a smaller contemporary wooden extension is built to create an additional bedroom and ensuite. This is clad in a timber called Frake which is weathering well and has a consistent silver grey finish. The bedroom has a large fixed glazed window giving views over the countryside and a smaller window for ventilation. The roof to the remaining ground floor structure has a green sedum roof to help the home's sustainability credentials, which also include a biomass boiler located within the new extension.

This project cost was of great value, creating a simple new extension that has no impact on the existing listed building or village when viewed from the main road. It is clear that the client, who is an architect, had a good working relationship with the contractor and the workmanship on the new extension is testimony to this. Improving access to move freely from inside to outside, provides a great quality of life for the young family and their pets. Overall, this is a scheme that should continue to age well due to the choice of materials and good detailing on the façade.

Adding contemporary modifications to listed buildings can be challenging when bringing them back into use. The Old School does this perfectly and wins our Small Project Award. They employed a great design team and created a clever new dwelling.

Location York
Internal area 195.00 m²
Contractor company name Fairways Contracts Ltd
Structural Engineers Alan Wood & Partners
Environmental / M&E Engineers Award Energy Consultants
Approved Inspector Clarke Banks