The Alice Hawthorn
by De Matos Ryan
Client Mr and Mrs Richard Harpin
Award RIBA Yorkshire Award 2022, RIBA Yorkshire Client of the Year 2022, RIBA Yorkshire Sustainability Award 2022 (sponsored by Michelmersh) and RIBA National Award 2022 (sponsored by Forterra)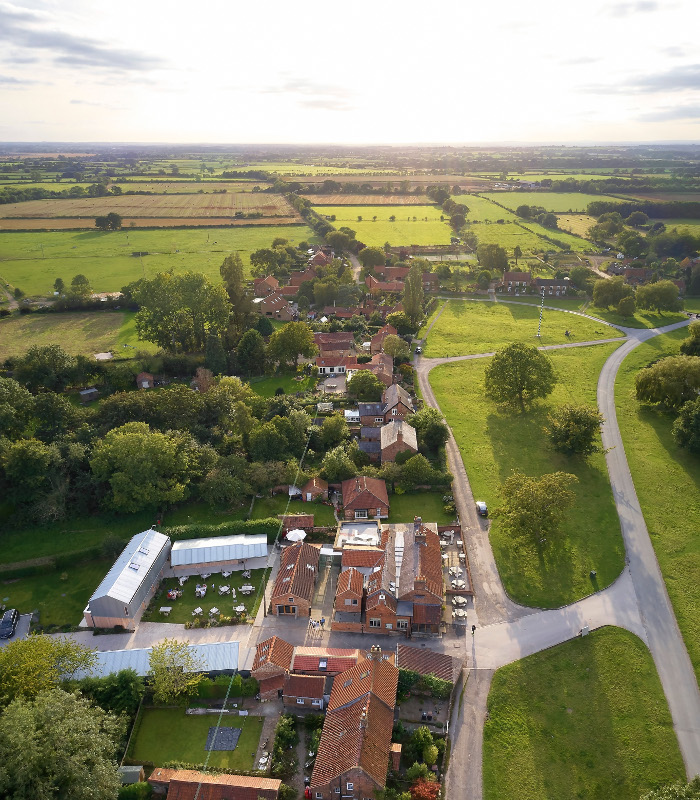 The Alice Hawthorn public house is nestled to the south of the central village green within the north Yorkshire village of Nun Monkton, it is the only remaining pub in the village. 
Bought in 2013 by the client, the pub had seen better days, suffering from a lack of ongoing investment both to its retail offer and to the architecture of a Grade II listed building. 
With a stage by stage approach, the new owners set about reinvigorating the pub as a vital community asset, repairing and refurbishing the existing building, creating a reputation for a high quality pub and restaurant.
Their ultimate vision to secure the pub's sustainability was realised in 2020 with the addition of 12 guest bedrooms, four within the existing building and eight within a new courtyard development on the former car park to the rear. 
Using inspiration from the farmyards or 'garths' commonly found to the backland areas of North Yorkshire villages, the courtyard format provides a well-proportioned collection of timber framed buildings that are very much at ease with their rural setting and in turn, provide a handsome backdrop to the listed pub. 
Careful use of a restricted palette of robust, agricultural materials, such as larch timber, wire brushed concrete, and corrugated steel cladding are deftly handled, exposing the British grown Douglas fir frame, providing an honesty of construction that resonates very clearly with the simplicity of local farmstead buildings. 
The positioning of the displaced customer car parking to the rear, allows the courtyard to be grassed, providing a softness that is welcomed by guests with young families allowing children to let off steam, whilst also creating a space for outdoor summer dining. 
The rooms themselves are designed with the same rigor and consistency of the exterior, with a beautiful balance of natural exposed timbers, Douglas fir and poplar faced ply, complimented by carefully chosen soft furnishings and fittings which vary slightly from room to room making each room warm and inviting. The use of carefully framed artwork from the local primary schoolchildren is a particularly nice touch.
The use of sustainably sourced timber, a ground source heat pump for heating and hot water, and airtightness levels and insulation standards, all in excess of Building Regulation standards, resulting in an EPC 'A' rating. Combined with the wider aspects of retaining an existing building for long term use, it was felt appropriate to award the project the RIBA Yorkshire Sustainability Award for 2022. 
Making a significant financial investment and working closely with a talented architectural practice, the client has managed to realise their vision of a viable long term community asset that provides more than food and drink and a place to stay. Together, they have created a project which exudes quality but in a simple, unfussy and robust way, fit for our times. For this, they are to be congratulated. 
Project city/town York
Gross internal area 905.00 m²
Net internal area 638.00 m²
Contractor company name Gem Construction
Structural Engineers Price Myers llp
Project Management R Pickering ltd
Quantity Surveyor / Cost Consultant Aspect 4 ltd
Acoustic Engineers GSA Acoustics
Environmental / M&E Engineers P3r