Galeri Caernarfon Cinema Extension
by Richard Murphy Architects
Client Galeri Caernarfon Cyf
Awards Welsh Architecture Award 2019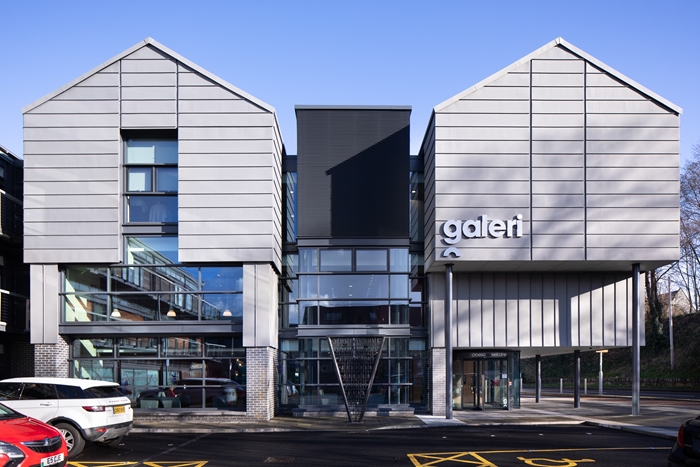 The original aim of Galeri Creative Enterprise Centre in Caernarfon was to generate a resurgence of the creative industries in the area, together with provisions for contemporary, flexible and medium sized performance space in the town. The original building, completed in 2005, is a mix of theatre / rehearsal spaces and small office units aimed at young creative companies. It successfully brought together studio spaces for creative industries with theatre spaces, fusing an intensely used building - critically, all day and evening - with an animated central core and community within.
Internally, the marriage between the existing building's busy core of public and community spaces, the hubs and the streets, to the new entrance and cinema provisions, have been integral to safeguarding the building's continued dynamic and intensive use. Key to the extension's success in extending the original building has been the architect's ability to carve a continuing enfilade of public spaces between both interfaces, whilst also offering effective new residential spaces for the client. The new extension connects through to the existing building circulation on all three levels internally, with the form of the extension externally continuing with a series of parallel, pitched roof volumes.
Providing a new extension to an already successful building, without distracting from, or competing with, its original distinctive warehouse-shed aesthetic, or compromising on its day to day continuous enjoyment by the public, is not an insignificant achievement here.
Yet the new extension manages incredibly to weave itself cleverly into a small complex site, and successfully handles the busy array of circulation and external public relationships with demonstrable ease to provide an even better public offer and improved entrance.
The architect has paid homage to the original building form, proportions, pitches and design signatures, but has been equally generous to provide the site with something new again, yet with a strict and controlled delivery. The use of zinc materials and forms provides a fresh statement for the site's new and developing phase of being, yet complements and does not overwhelm the site or original building.
A happy client returning to an architect for 'more again' with any public building is always a good sign of a successful relationship, of a valued delivery, and of a well-received and integrated building within its community and region. This building extension is no exception and provides a seamless signature on the site; it is an excellent contextual response well versed in the client's evolving brief.
Internal area 1,169 m²
Contractor R. L. Davies & Son
Structural Engineers Create Engineering
Environmental / M&E Engineers Hulley & Kirkwood
Quantity Surveyor / Cost Consultant CPC Project Services
Project Management CPC Project Services
Acoustic Engineers Sandy Brown Associates
Fire Consultant Atelier Ten