Gweithdy, St Fagans National Museum of History
by Feilden Clegg Bradley Studios
Client National Museum Wales
Awards Welsh Architecture Award 2019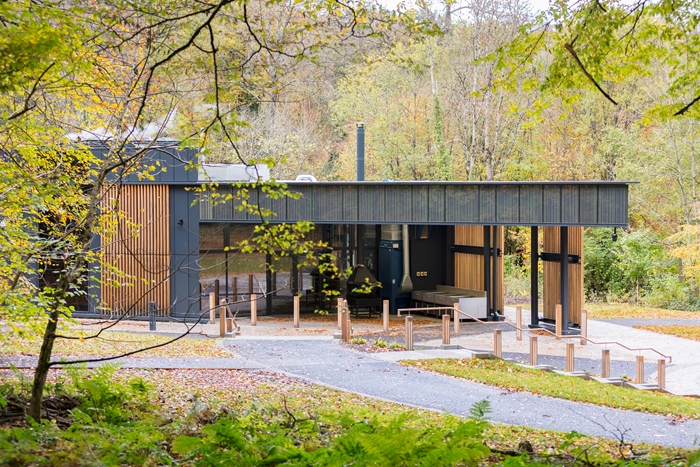 'Gweithdy' is the Welsh word for 'workshop' - and this pavilion, set within the 19th Century woodland landscape of St Fagans open air museum, acts as a focal point for visitors and draws more people further into the museum park, in its location at a key crossing-point of paths on the site.
The building promises to celebrate the culture, heritage, and skills of Welsh craft in a new gallery, workshop, and visitor hub; including a new coffee shop and visitor toilets.
It provides flexible workshop and demonstration spaces for over 500 items from the craft and archaeology collections of the National Museum of History, with a real focus on the tangible and 'hands-on' exhibition opportunities, both inside and outside.
A built-in forge under cover of the building canopy is used for metalwork demonstrations and other heavy crafts activities. The generous layout and provision of spaces internally, coupled with large clear span openings, serve the building users and visitors well.
The building is eloquently and calmly set out through a very simple triangular plan and longitudinal form. The client's wishes were to avoid a Design & Build Contract, so that the details could be fully controlled on site. The use of repetitive patterns and timber signatures to help screen and camouflage the glazing, the provisions of a subdued pallette, and use of natural materials, all help integrate the building in its woodland setting with great sophistication.
Internally, the main exhibition space includes large open spans and big structural openings, and the visible glulam structure contrasts with the hands-on, highly carved, and tactile displays on the floor directly below. The judging panel thought hard about whether this roof structure may have been better with a more hands-on, hand-made approach; but agreed ultimately that the clear spans and clear contrast in material use better complemented the current use of the building.
The building's more generous budget is influenced by some heavily serviced areas and strict environmental control provisions required from the brief provisions; and these are generally well integrated and hidden within the simple form, both internally and externally. The building has been designed to be a simple, but environmentally responsive form, and it does not fail to deliver this ambition in its calm, simple, and sustainable execution.
Internal area 1,150 m²
Contractor Kier Construction (Western and Wales)
Structural Engineers Arup
Environmental / M&E Engineers Arup
Civil Engineers Arup
BREEAM Assessor Arup
Quantity Surveyor / Cost Consultant Focus Consultants
Project Management Focus Consultants
Landscape Architects TEP
Access Consultant Vision Sense
Exhibition Designer Event Communications
Planning Consultant Lichfields
Client Design Reviewer Design Commission for Wales