Ysgol Trimsaran
by Architype
Client Carmarthenshire County Council
Awards Welsh Architecture Award 2019 and RSAW Sustainability Award 2019 - sponsored by Michelmersh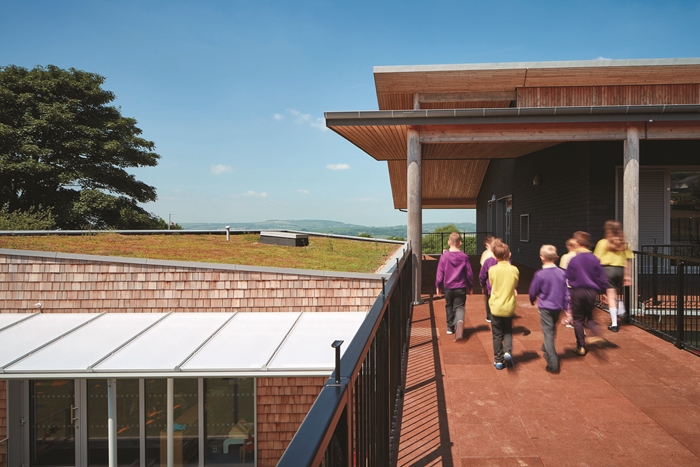 This project reflects again on the successful delivery of Burry Port Community Primary School, designed jointly with Carmarthenshire County Council in 2015. This was the first Passivhaus school building in Wales.
In this respect, Ysgol Trimsaran continues to demonstrate Architype's commitment to raising the bar in providing sensitive and well considered schemes, with the wellbeing of Wales' children as their central focus through effective Passivhaus design. And yet Trimsaran strives for more again.
Disregarding the compromised finishes in some areas (most notably the main entrance landscaping, which we acknowledge was lost within the mechanism of Design & Build contract delivery, as costs were managed), this building focuses on setting a truly momentous sea change for the schools of the future in Wales.
Burry Port school provided an exemplar educational environment for the pupils and staff, with an imaginative layout and design including its 'pod' layout. At Trimsaran, the architect's brief for working for the contractor, under a Design & Build Contract, was to deliver the costs at £1,600/msq. And so the interest lies more acutely in the collective ambitions and successful collaboration of the architects, contractor, and council as client. They have worked tirelessly to deliver an environmentally and sustainably considered school, with absolutely no detrimental impact on costs by delivering to Passivhaus standards in comparison.
A Passivhaus strategy underpins the new school's excellent building performance, and renewable low-tech construction techniques are utilised as standard throughout the scheme, paralleled with excellent sustainability credentials. The architects also managed a challenging re-ordering of an existing brownfield site, including a complex phased delivery and hand-over of an existing school in occupation during the build, while working to develop and deliver a highly detailed brief.
Generous and sensitive thought has been given to how the spaces interact internally. The result is to create calm environments for learning. Careful prioritisation of costs was considered, and balanced alongside the detailed development of the Design & Build Contract, to ensure the school delivers the highest possible standards and achieves Passivhaus accreditation without compromise. As a result, teachers have noted that the children enjoy the spaces, demonstrate improved focus, and - remarkably - now work through afternoon playtime without the need for rest and fresh air.
The project pushes further again Architype's agenda and reputation for anchoring low cost Passivhaus design in schools as a standardised and entirely achievable model. Trimsaran School should be positively recognised for its significant contribution to helping Wales achieve its sustainability goals – both for the immediate future and for future generations.
Internal area 1,767 m²
Contractor Dawnus Construction
Landscape Architect The Urbanists
Structural Engineer WSP
Environmental / M&E Engineer WSP
Timber Frame Subcontractor Cygnum Timber Frame