Tŷ Pawb
by Featherstone Young
Client Wrexham County Borough Council
Award RSAW Welsh Architecture Award 2021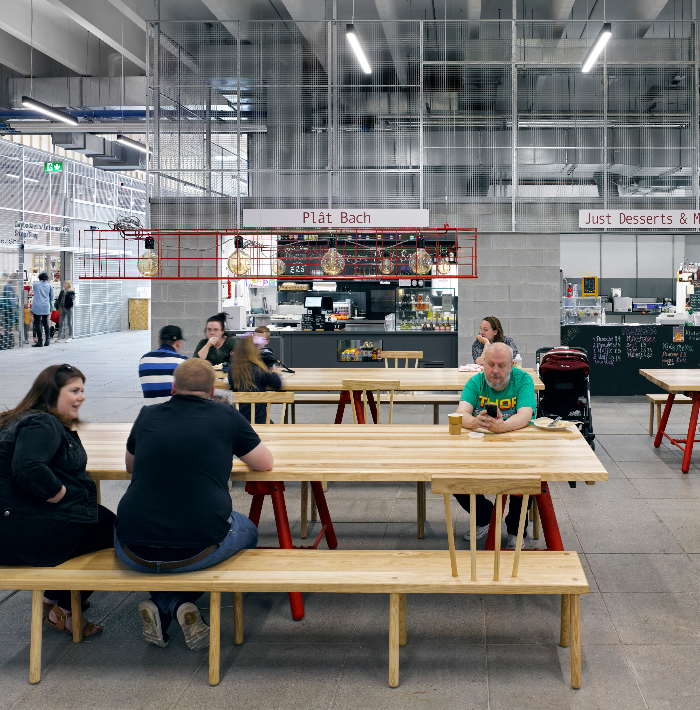 Formerly an unloved and under-used 1990s 'post-modern' market hall and multi-storey car park, the previously named People's Market has been imaginatively and courageously repurposed as a Lottery-funded community and arts venue while also retaining its former functions.
The architect, Sarah Featherstone of Featherstone Young, became involved via a competitive procurement exercise following a feasibility study by Wrexham County Borough Council and others that determined the building choice and mixed-use brief.
The brief envisaged an arts facility with three traditional gallery spaces separated from the existing market stalls, an aspiration that raised local concerns of potential conflict between two seemingly unlikely bedfellows.
Recognising potential benefits that each could bring to the other, the architects began by successfully challenging the brief, proposing instead a single dedicated gallery space together with a series of looser, less defined spaces shared by both the market and arts centre.
In consultation with the local authority, funders and the local community, this looser approach - described by Featherstone Young as their 'baggy space' concept - was agreed upon. It's a solution that allows flexibility in the use of space, providing a framework within which stalls, food outlets, exhibitions and programming of the arts operate.
This approach has proven fortuitous as the project has evolved and established itself; always likely given the brief's ambitious original vision and necessary responses to the tightening of local government coffers.
Recent events have, in particular, shown the benefit of this approach and, following its inevitable COVID-induced closure during 2020, Ty Pawb has re-opened with some minor remodelling to respond and successfully adapt to the current restrictions.
The strength of this project undoubtedly lies in what it seeks to achieve through reuse and repurposing of town centre building stock rather than the pursuit of an architectural statement. While there is a quality in the spaces created, the architecture serves as a backdrop and facilitator, rather than pushing itself to the forefront. Materials are robust, austere almost - steel, concrete, ply, hanging plastic screens, exposed ductwork and services - and functional.
The choice of materials in some instances makes them feel temporary, all of which makes ongoing adaptation and flexibility appropriate and something to be expected rather than resisted.
The existing stallholders were relocated elsewhere during works, allocated space in the town's other markets. Some elected to stay in their new environments, while others returned. This has led to an interesting mix of new and older businesses at Ty Pawb and a vibrancy that might not have been achieved had the stallholders been curated for their arts connections.
There are nice touches. Maintaining a visual connection between the ground and first floor spaces by introducing cuts in the original walls and floors introduces light into the deep plan and overcomes the low first floor soffit heights while allowing casual observance and minimising the need for formal supervision.
The use of an internal street and market squares seeks to extend the surrounding street pattern, with a large central performance and milling space conceived at Sqwar y Bobl (People's Square), complete with street and directional signage.
Loose furniture in the food hall and elsewhere links to typical Welsh domestic designs - each unique - and was made in conjunction with local people by artist Tim Denton, all of which adds to the community's sense of ownership.
Ty Pawb ('Everyone's House') takes a new look at the provision of facilities for the arts, seeking to make it accessible to all and inject relevance into the everyday lives of those who wouldn't otherwise be attracted to a traditional gallery.
In doing so, it provides a loose-fit solution that allows flexible and adaptable use, showing how the least likely of redundant public buildings can be imaginatively re-purposed to serve once more as vibrant community assets.
Internal Area 3,540.00 m2
Contractor Wynne Construction
Structural Engineers Civic Julian Broster
Environmental / M&E Engineers Ingine Nick Walker
Quantity Surveyor / Cost Consultant Stockdale Greg Franklin
Sustainability consultant Hoare Lea Elliot