House at Lough Beg
By McGonigle McGrath
Client Private Client
Awards RSUA Design Award, RSUA Client of the Year, RIBA National Award Winner 2022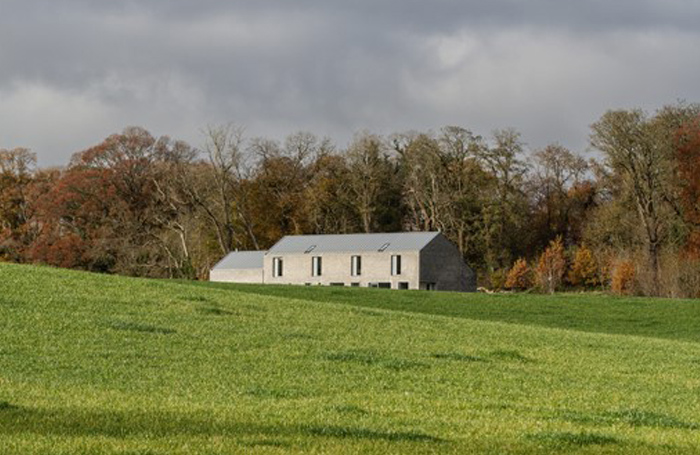 House at Lough Beg is located within the part walled demesne of Ballyscullion Park, on the shores of Lough Beg in mid Ulster. The park was established in the late 18th Century for a dwelling which was never completed, a later house by Lanyon in the 1840's now commands the demesne, overlooking the lough, with distant views beyond.
The client for this project bought an area of listed parkland and set about commissioning a house. The process has taken ten years to complete, five years of which was dedicated to the meticulous self-build.
The clients did not want a conspicuous house and the architect has delivered. This home is deferential to the big house of the demesne and to its natural surroundings. It takes the form of the agricultural out-buildings and for a relatively large home it nestles effortlessly into the landscape. Hand made bricks in hues of grey and the zinc roof help the dwelling harmonise with the dark trees beyond.
The absence of formal manicured gardens gives the sense of the house embracing the parkland, almost being enveloped by it. The relationship works both ways. Inside, at every turn, there is a sense of connection to the outdoors –a glimpse here, a framed view there, a waving branch overhead. Simultaneously there is a robustness and permanence to this house.
The house has generous circulation which is filled with light. What could be viewed as a little austere from the outside has a wonderful warmth on the inside.
The building is beautifully detailed. The main reception room has a low long window. This is in the sitting room and it is not until you sit down that you get the benefit of the fantastic view. The building's impact on the environment is offset with the planting of 6000 indigenous trees to both restock the existing woodland and to establish a new woodland.
The client's commitment to this project has produced a very high quality piece of domestic architecture for a low construction cost. It is a fitting home for a custodian of the land.
Internal Area 560m2
Structural Engineers Design ID
Landscape Concept Henry Shaw