House in the Glebe
By Marshall McCann Architects
Client Private Client
Awards RSUA Design Award, RSUA Small Project of the Year Award 2022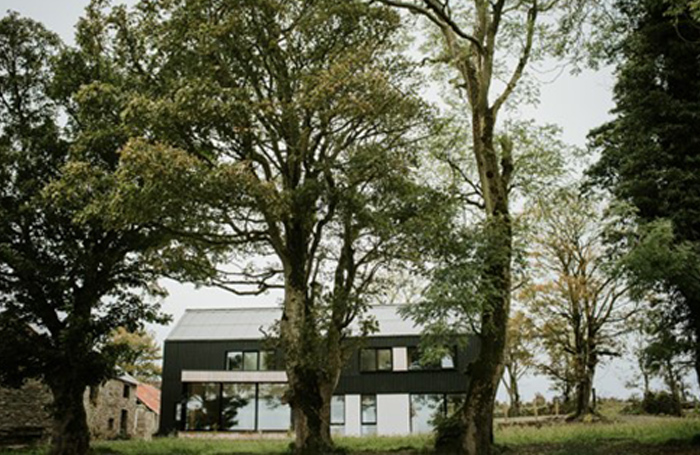 As the need to address climate change is accepted as the pre-eminent challenge of our time, this four bedroom family home goes a long way towards providing a model for rural dwellings in the region. House in the Glebe cost-effecively delivers excellent energy efficiency whilst creating a piece of architecture which is sympathetic to its surroundings and a pleasure to be in.
The new house is hidden from the road by an old stone barn and a dilapidated vernacular cottage with a rusty red corrugated roof. The clachan-like gathering of buildings creates a distinct sense that the new addition belongs where it is. The relationship between the old and the new is an easy one. The clients are to be applauded for retaining the existing structures and bit-by-bit bringing them back into use.
The new home is in the style of an Irish Long House. Its placement on the site and its projections have been carefully considered to open up majestic views over Lough Foyle and the Binevenagh Mountains. There is a humility to the architecture as it bows to the unrivalled beauty of nature.
Internally the feel is relaxed and homely. The beautifully crafted plywood stairs, cladding and kitchen cupboards bring a cosiness to the open plan living area which basks in natural light from every angle. The decision to make an incision in the house to provide a double height space is a striking success. It enhances the quality of light in the kitchen, gives a strong visual connection to the mature trees adjacent to the house and allows a peek down from the second floor to see if dinner is ready.
Embodied carbon in the building was kept low through the use of an FSC timber structure. Operational carbon emissions were minimised through a 'fabric first' approach. With photovoltaic panels more recently added the energy consumption is expected to be 28kWh/
Internal area 232.50 m²
Contractor Setanta
Structural Engineers JSC Consulting