Áras Uí Chonghaile
By McGurk Architects
Client Fáilte Feirste Thiar
Awards RSUA Design Award, RSUA Liam McCormick Prize for Building of the Year, RSUA Project Architect of the Year and the RSUA Integration of Art Award 2022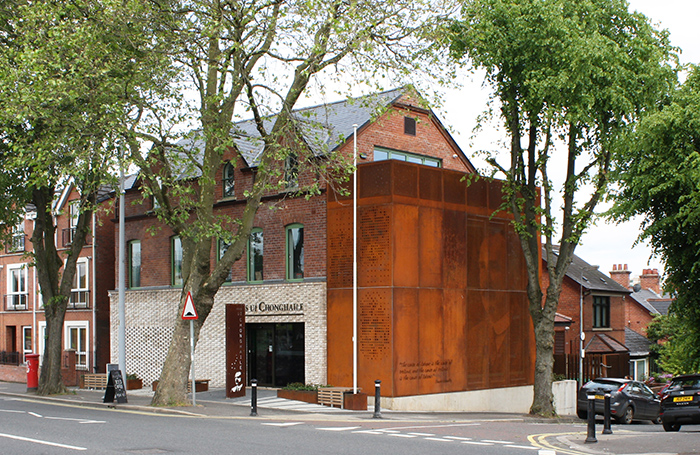 Áras Uí Chonghaile is the new James Connolly Visitor Centre on the Falls Road in west Belfast. Connolly was an Irish republican, socialist and trade union leader who lived for a spell in a house yards away from where the new centre is located.
The centre is a community building that aims to deliver the legacy of James Connolly through a varied learning experience for local people and international visitors.
The project entails the adaptation and extension of a Victorian twin end-terrace building that had undergone many modifications since its original use as housing. It had fallen into disrepair.
This is an excellent example of re-use of an existing building. It is not a case of hiding what was there previously to make it feel new but working with the existing structure and accommodating its nuances. Internal wall finishes and concrete in-situ slabs were left exposed. This decision allowed funds to be diverted to elements of the building including a bespoke perforated corten steel clad extension, voided and extruded brick skin and stairwell detailing.
The intricate perforation of the corten steel reveals the image of Connolly's face. The use of the gable wall for murals is a common sight in Belfast and this continues that tradition in a creative and subtle way. Connolly's face has been returned to the Fall's Road permanently on a large scale without dominating the area. The steel itself references the maritime and industrial heritage of Belfast where Connolly's campaigning helped to improve the labour conditions of exploited workers.
The additions to the building do give it prominence in the area as well as the material choices and treatment are respectful of the surrounding buildings and the neighbourhood -eye-catching but not craving attention.
Internally the architects have done a remarkable job of packing so much into to a relatively small space without making it feel squashed. There's a bilingual museum, café, library, office and a space for meeting, learning or exhibiting.
Key to the sense of space is three moves which bring light in: the double height glazing in the extension; the stacked light well which also provides a visual connection across the three floors, and; the balcony terrace on the roof of the side extension. The dappled light in the café creates a delightful atmosphere.
The most important carbon saving step in this project was the decision to work with the disjointed existing building, accepting all the challenges that brings. Beyond that, steps were taken to enhance levels of thermal insulation, minimize cold bridging and maximise air tightness in the building to meet or better modern building control standards.
With a construction and fitout budget of £550k, Áras Uí Chonghaile is a fine demonstration of what can be achieved through re-use. The result is a cohesive project, a characterful building and crafted addition to the local community.
Internal area 476.00 m²
Contractor Conlon Construction
Structural Engineers MWL Consulting Engineers Ltd.
Environmental/ M&E Engineers Cogan & Shackleton
Quantity Surveyor/Cost Consultant Diamond Surveyors
Exhibition Designer Redhead Exhibitions