RIBA Wren Insurance Association scholars
The RIBA Wren Insurance Association Scholarships have been awarded annually since 2013 to students in the final year of their Part 2 course. The recipients are outstanding Part 2 students who have the potential to make a significant contribution to architecture.
Recipients may use the scholarship in a variety of ways, from elaborating on an existing research interest to looking at how they might develop new ideas or enabling time to scope different mechanisms and philosophies.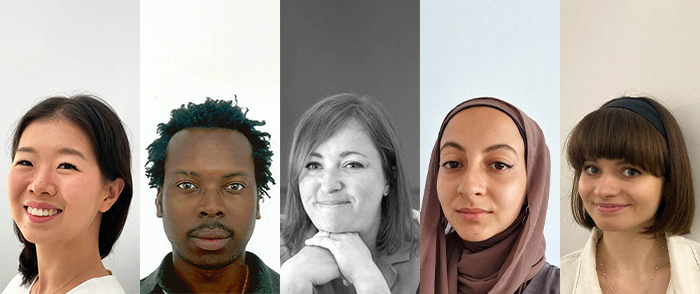 2022 winners
Chloe Shang - Royal College of Art
"I am so happy to be selected as one of this year's RIBA Wren Scholars, and excited to continue my research into the architecture of healing with the mentorship of the Wren. My research aims to elevate our spaces of healing, challenging the presumption that healthcare architecture must be bland and apathetic, and opposing the usual use of carbon-intensive and toxic materials in its construction.
I hope that the Scholarship will enable me to engage more with those in practice, to rewrite the characters of patient and hospital in the eyes of my profession and develop an architecture that is far more sustainable and humane."
Oluwademilade Oyeyinka - Architectural Association
"I am sincerely grateful to have been chosen as a recipient of the RIBA Wren Scholarship as it is a significant resource in supporting my final year at the Architectural Association. It is indeed a relief to know that I have the support of the RIBA to achieve the best I can, without finances being a limitation.
The Scholarship has already facilitated a level of rigour in my field research, allowing me access to a breadth of archival information, and insight in my case studies. I hope to use this year to experiment in a range of different media including 1:1 interventions and detailed model making; I'm sure that this Scholarship will help a great deal in order to achieve this."
Rebecca Smith - RIBA Studio
"I am extremely honoured to be one of this year's Scholarship recipients and I wholeheartedly believe it will have an immensely positive effect on both my academic and professional work. It will afford me an opportunity to undertake exciting explorative work for my final design project, where I will be exploring seaweed bioplastics and the potential for its use in alternative architectural applications through 1:1 testing and making.
Seaweed is a carbon sequestering powerhouse and has the potential to unlock a more sustainable way of building. I am deeply passionate about our responsibility as designers to actively seek out new ways to reduce our carbon footprint, and I believe this can be done by championing innovative and sustainable technologies and materials."
Sarah Daoudi - University of Westminster
"I am absolutely delighted to receive the RIBA Wren Scholarship this year, especially as it is my final year of master's study. This Scholarship means that I can get the most out of my education and focus my time on studio work instead of work to finance my studies. This year I hope to create a rich and creative portfolio of work where I have experimented with new modelling techniques and made the most of my university's fabrication lab. I hope to graduate and land a Part 2 placement where I can gain solid long-term experience in a practice."
Gabriella Watkins - University of Cambridge
"I consider this Scholarship a huge privilege and opportunity. It will support my fieldwork, design research, and continued interest in equitable design. The mentorship will enable me to learn from an established architecture studio, from design reviews and tutorials, to following live sustainable projects focussing on material re-use.
The application and interview process were a challenging yet positive experience for me; I especially enjoyed the opportunity to consider the role of the architect in future sustainable and participatory spatial practice. I hope the Scholarship will help me to remain critical yet optimistic as I continue my architectural education and practice."
If you have any questions about the RIBA Wren Insurance Association Scholarships, please contact Gillian Harrison.
Previous scholars:
2021
Lou Elena Bouey – University of Cambridge
Amy Crellin – University of Sheffield
Minh Le Pham Duc – Architectural Association School of Architecture
Lara Miller – University of Bath
Rasha Shrourou – Birmingham City University
2020
Richard Aina - Architectural Association
Ayanna Blair-Ford - Royal College of Art
Hunter Doyle - Architectural Association
Amber Godfrey - Royal College of Art
Cora McLean - London School of Architecture
2019
Shawn Adams - Royal College of Art
Laura Keay - Bartlett School of Architecture, UCL
Dor Schindler - Architectural Association
Declan Wagstaff - Edinburgh School of Architecture and Landscape Architecture
Rosa Whiteley - Royal College of Art
2018
Thomas Badger - London School of Architecture
Larry Botchway - Royal College of Art
Love DiMarco - Architectural Association
Naomi Rubbra - Bartlett School of Architecture, UCL
Dominic Walker - Bartlett School of Architecture, UCL
2017
Roberto Boettger - Architectural Association
Samuel Coulton - Bartlett School of Architecture, UCL
Laurence Flint - Bartlett School of Architecture, UCL
Anna Malicka - University of Westminster
Jack Sardeson - University of Cambridge
2016
Jordan Green - Cardiff University
Aidan Hermans - Royal College of Art
Matthew Lucraft - Bartlett School of Architecture, UCL
Nathan Su - Architectural Association School of Architecture
Daniel Tang - London South Bank University
2015
Ruxandra Maria Gruioniu - Bartlett School of Architecture, UCL
Lilly Ingleby - University of Sheffield
Johnny Lui - Royal College of Art
Alexander Mills - De Montfort University
Charles Proctor - Royal College of Art
2014
Thomas Glover - Royal College of Art
Keith Diplock - University of Kent
Lucy Moroney - Architectural Association
Rebecca Muirhead - Bartlett School of Architecture, UCL
Victoria Slater - University of Liverpool
2013
Laura Cannon - University of Dundee
Peter Garstecki - University of Westminster
Erl Johnston - Queen's University Belfast
Megan Passey - Oxford Brookes University
James Pockson - Royal College of Art