​RIBA Future Architects student mentoring scheme
We champion architects at all stages with education, professional development, support and opportunities for a better future.
Every year, we facilitate a mentoring programme for students of architecture, bringing practices into education to support the next generation. In 2022/23, 1200 students across 37 RIBA validated Schools of Architecture took part in our scheme, in collaboration with 314 Chartered Practices.
This flexible programme is a great way to gain invaluable experience in Practice, providing you with a unique insight into the profession and also helping build your network for the future.
"I'm so pleased to have had the chance of taking part in the RSAW mentoring scheme. I have begun to understand the continuity of what we learn in school and what will be done in practical works." Yuxi Xin, Welsh School of Architecture, Cardiff University
For architects, working within RIBA Chartered Practices, the Future Architects Mentoring scheme is an opportunity to connect with RIBA Schools of Architecture and support students of architecture to prepare for a life in architectural practice. By taking part, you will also be eligible to record this for CPD points.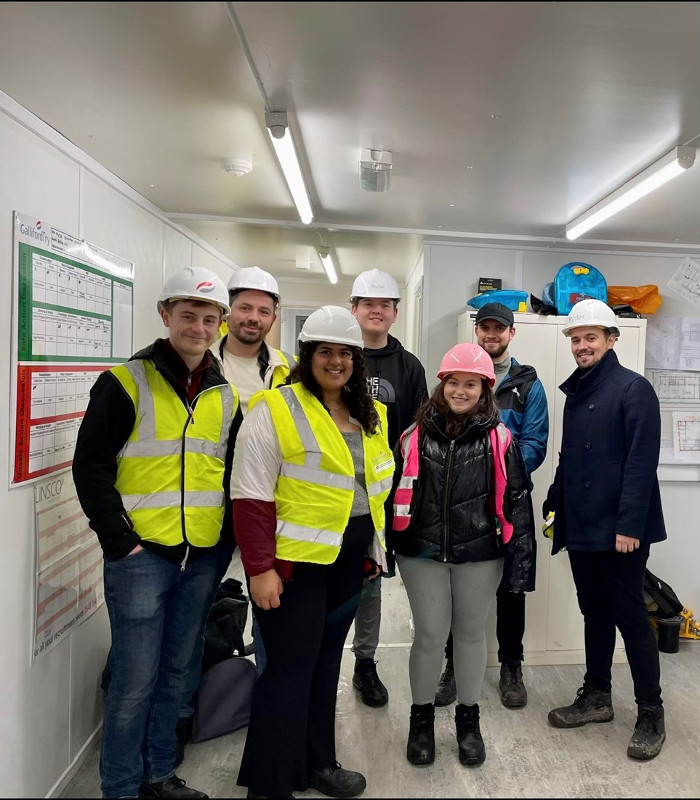 I'm an architecture student, how can I take part?
If you are a RIBA Student Member studying in England or Wales, or have recently applied for your RIBA Student Membership, then you will be eligible for this programme if your school and year group are taking part.
In 2023, a number of RIBA validated Schools of Architecture in England and Wales will be continuing with the current scheme. Each school offers mentoring to a different year group, please check below to find out if your year group is taking part.
In 2024 we will be launching our new global digital mentoring programme. This new programme is an excellent way to reach all students of architecture, offering an inclusive experience with enhanced access to resources and support.
Mentoring is a great way to gain invaluable experience and insight into the profession,
How does it work?

Generally, the programme consists of an initial meet and greet session, followed by three sessions (approx. two hours per session) with your architect mentor. The mentoring sessions will be run online, face to face, or hybrid.
As a mentee you will:
be introduced to life in practice and gain practical advice on working as an architect
have the opportunity to reflect on your goals and direction
develop key skills and access one to one support
gain advice and guidance on future employment and after successful completion of the scheme, receive a reference for CV inclusion
Mentoring will take place across the 2023/24 academic year with different start/end times for Universities. Applicants will be contacted in advance of your relevant semester with further details on how and when to register, along with timescales.
Registration for participating Schools of Architecture for 2023 only is now open.
Students taking part in the programme during 2023, please register your interest here.
How do I become a mentor?
If you are an architect working at a RIBA Chartered Practice and/or are a RIBA Chartered Member then you are eligible to mentor on this programme.
This year all mentoring sessions can be run online, face to face, or hybrid. Please note that you will still be able to work with multiple students as before, just let us know your preference so we can match you with mentees that have the same preferences.
As a mentor you will:​
Introduce students to the realities of practice, so that they're well-prepared for their year out​
Help them to think about their future career direction​
Give mentored students support and guidance from someone more experienced
Registration for 2023 only is now open.
Architects, please register your interest here
Mentoring is available for Part 1 Year 3 students, unless stated as Year 2.
List of participating schools and year groups for 2023:
University of Bath - Year 2
Birmingham City University
University of Brighton
Anglia Ruskin University, Chelmsford
Coventry University
University of Hertfordshire
Leicester De Montfort University
University of the Arts (Central St Martins), London
University College London The Bartlett
University of East London
Kingston University - Year 2
Ravensbourne University, London - Year 2
University of Westminster, London
University of Lincoln
University of Liverpool - Year 2
Liverpool John Moores University
London South Bank University
Loughborough University - Year 2
Manchester School of Architecture - Year 2
Newcastle University - Year 2
Northumbria University - Year 2
University of Nottingham
Nottingham Trent University
Lancaster University
Oxford Brookes University
University of Central Lancashire, Preston
University of Reading
University of Salford
University of Suffolk, Ipswich
Wolverhampton University
University of Cambridge
Want to know more?
For more information on mentoring at a particular school, please get in touch with the relevant regional contact below:
We champion architects at all stages with education, professional development, support and opportunities for a better future. Join us as a RIBA Student Member or view our Future Architects resource page.