​RIBA student mentoring scheme
Participating Schools of Architecture offer the scheme to undergraduate RIBA student members during the autumn and spring each academic year.
The mentoring scheme is intended to give students an insight into practice and to enhance their learning experience. It's run by RIBA regional offices.
Each academic year, around 1,000 students and 500 mentors took part in the RIBA student mentoring scheme.
How does the RIBA student mentoring scheme work?
RIBA student members taking part in the scheme are matched with mentors, and meet at an informal event at their School during the autumn. During that meeting, mentors and their mentees arrange to hold at least two meetings of at least two hours before the end of February the following year. These meetings must cover:
an introduction to working life at the practice
a successful project
follow-through of a current live project
The individual schools of architecture validate the mentees' participation in the scheme.
Can I be a RIBA student mentor?
Mentors can be chartered architects or work for a Chartered Practice. Through the scheme, RIBA student mentors should:
demonstrate design in practice
offer an insight into the business of architecture and experience of practice
provide support on professionally-related matters
introduce the concept of professionalism; and the value of a professional institute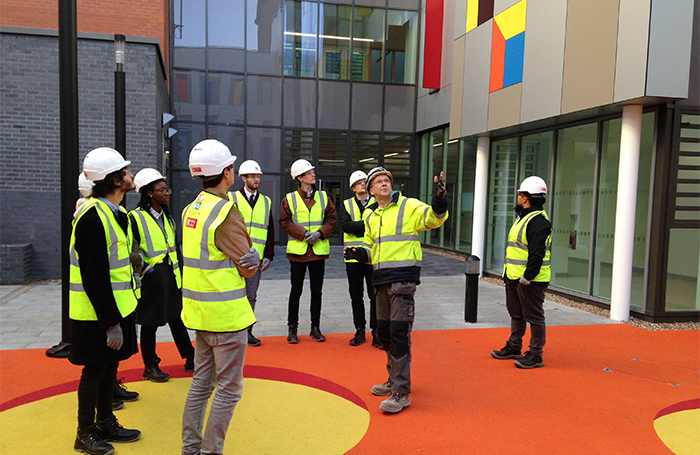 Mentoring is eligible for CPD points.
The list of current participating schools of architecture is at the bottom of the page. For more information on mentoring at a particular school, get in touch with the contact for mentoring in the RIBA regional office:
Can I be mentored through the RIBA scheme?
RIBA student members at participating schools of architecture are eligible to be mentored. If you're an architecture student, you can join the RIBA for free. Take a look through the list of the current participating schools of architecture, below. You need to apply to be mentored via your tutor, who will call for applications at the beginning of the academic year.
Most of the participating schools of architecture offer the mentoring scheme to third year undergraduates, as practical preparation for their year out.
These are the Schools of Architecture taking part in the RIBA student mentoring scheme:
Department of Architecture & Civil Engineering, University of Bath

(RIBA South West)

School of Architecture and Design, University of Brighton (RIBA South/South East)
Department of Architecture, University of Cambridge (RIBA East)
Canterbury School of Architecture (RIBA South/South East)
Central Saint Martins University of the Arts London (RIBA London)
Leicester School of Architecture, De Montfort University (RIBA East Midlands)
School of Art, Design and Architecture, University of Huddersfield (RIBA Yorkshire)
Kent School of Architecture and Planning (RIBA South/South East) Department of
Department of Architecture and Landscape, Kingston School of Art (RIBA London)
Lincoln School of Architecture and the Built Environment, University of Lincoln (RIBA East Midlands)
School of Architecture, University of Liverpool (RIBA North West)
School of Art & Design, Liverpool John Moores University (RIBA North West)
School of the Built Environment and Architecture, London South Bank University (RIBA London)
Manchester School of Architecture (RIBA North West)
School of Architecture, Planning and Landscape, Newcastle University (RIBA North East)
School of Architecture, Northumbria University (RIBA North East)
Department of Architecture and Built Environment, The University of Nottingham (RIBA East Midlands)
School of Architecture, Design and the Built Environment, Nottingham Trent University (RIBA East Midlands)
School of Architecture, Oxford Brookes University (RIBA South/South East)
School of Art, Design and Architecture, University of Plymouth (RIBA South West)
Portsmouth School of Architecture (RIBA South/South East)
Department of Architecture, Ravensbourne (RIBA London)
School of Architecture, University of Reading (RIBA South/South East)
School of the Built Environment, University of Salford (RIBA North West)
Sheffield School of Architecture (RIBA Yorkshire)
School of Art, Design and Fashion, University of Central Lancashire (RIBA North West)
School of Architecture, Computing & Engineering, University of East London (RIBA London)
Faculty of Architecture and the Built Environment, University of Westminster (RIBA London)
Department of Architecture and the Built Environment, UWE Bristol (RIBA South West)