Corner plot commission: nimtim architects with artist Katie Schwab
Squaring the Corners by nimtim architects with artist Katie Schwab was the selected proposal for the corner plot commission. As part of the commission, proposals were sought from selected architectural practices to redesign neglected corner plots on the Becontree estate to mark its centenary.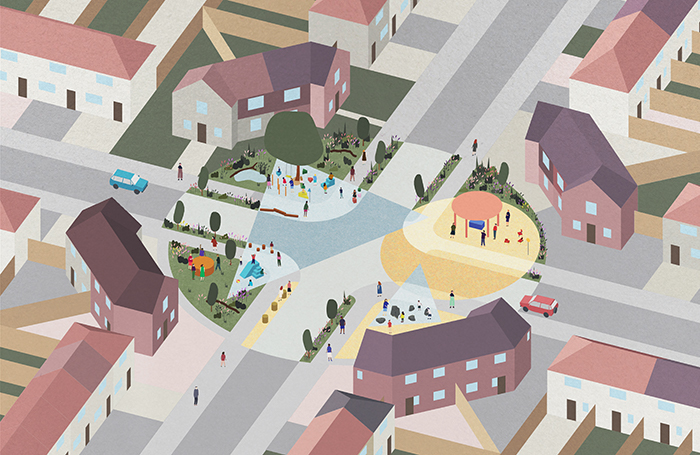 This proposal revives and reorganises Becontree's neglected corner plots as new civic squares for people to meet, rest, grow and play – or a combination of each. Building on the council's green grid, a series of new routes is imagined through the estate, adding a finer layer to enrich the existing masterplan. These routes help connect current amenities and improve the enjoyment of moving through the estate while providing a new identity for the green spaces that touch them.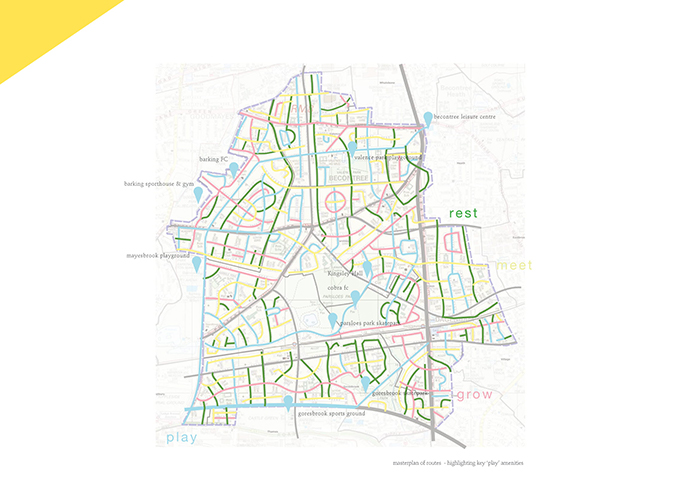 A junction of four corner plots creates one civic square. Each square suggests new activities and performs new functions by inviting residents to take ownership of them. Their designs borrow generously from geometries, colours, and materials within the estate – both in their original and current customised manifestations. With a strong focus on biodiversity, the ambition is to encourage the re-establishment of the original ecosystem of the heath, thus creating a part wild, part intimate public space: much smaller in scale than the large municipal parks, and much more social than the adjacent front gardens.
The proposal is developed with artist Katie Schwab, whose work on crafted interiors and textiles on the estate will inform the locally sourced material palette and the domestic, welcoming scale of these new civic spaces for Becontree.
About nimtim architects and artist Katie Schwab
nimtim architects' work is about people and the stories and ideas they bring to the projects they make together. By following a design process based on dialogue and co-creation, nimtim creates buildings that reflect the personalities and values of the people and communities that will live, work or play in them. They embed longevity and human connections by bringing people inside the extraordinary process of making and reimagining buildings and landscapes.
Katie Schwab works with installation, textiles, furniture and moving images to explore personal and social histories of education, migration and labour. Her research focuses on domestic textiles and civic design from the inter- and post-war period and the underrepresented work of women artists and émigré designers.
Read more about the shortlisted practices for the corner plot commission.