Corner plot commission: Studio Aki with Hayhurst & Co.
The Hundred Trail by Studio Aki with Hayhurst & Co. was one of the shortlisted proposals for the corner plot commission. As part of the commission, proposals were sought from selected architectural practices to redesign neglected corner plots on the Becontree estate to mark its centenary.
Taking inspiration from Becontree's past as an ancient Hundred, The Hundred Trail was conceived as a series of garden allotments, dispersed along a route which runs from one end of the historic boundary at the edge of The Gores, up to the White House, and beyond.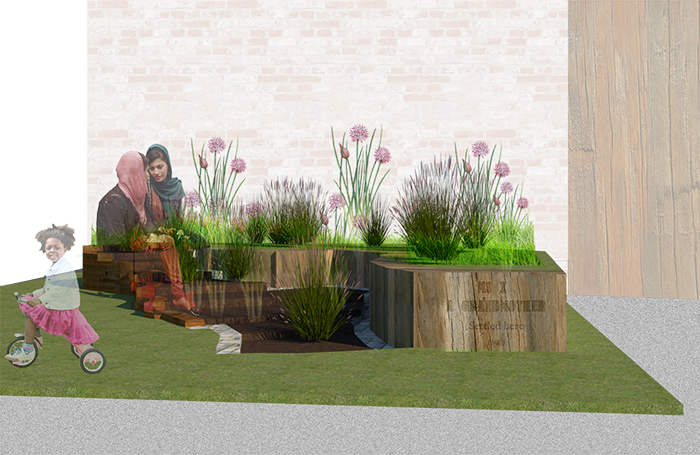 The trail was imagined as a treasure hunt, where each corner plot consists of planters that take their form from those of the ancient Hundred and incorporate found objects gathered by the community in their walls. Each site is named after a community member from recent history: a grandmother, a grandfather, a parent. As such the project draws on and celebrates the diverse histories of Becontree with personal stories retrieved from local collective memory. It is proposed that these are shared at public openings and storytelling performances at each site.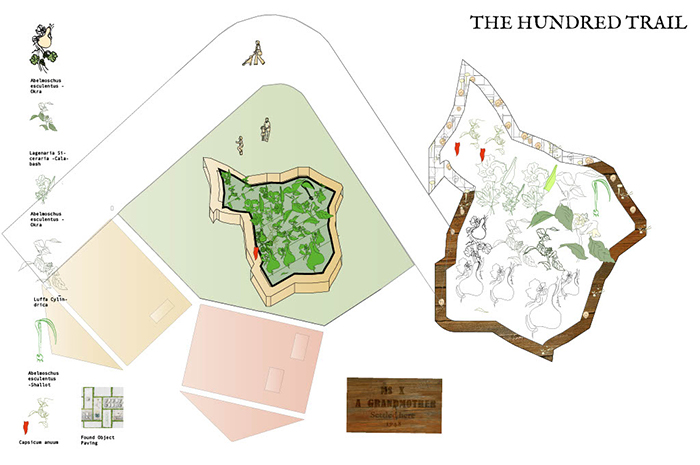 Biodiversity and culinary diversity meet in the planters which are conceived as mini allotments, home to edible plants from different parts of the globe to represent community diversity. They offer opportunities for local primary school children and community groups to participate in planting and harvesting, and intergenerational cooking sessions to share culinary knowledge.
The Hundred Trail represents multiple layers of Becontree's past and present, thus contributing to the creation of a new legacy.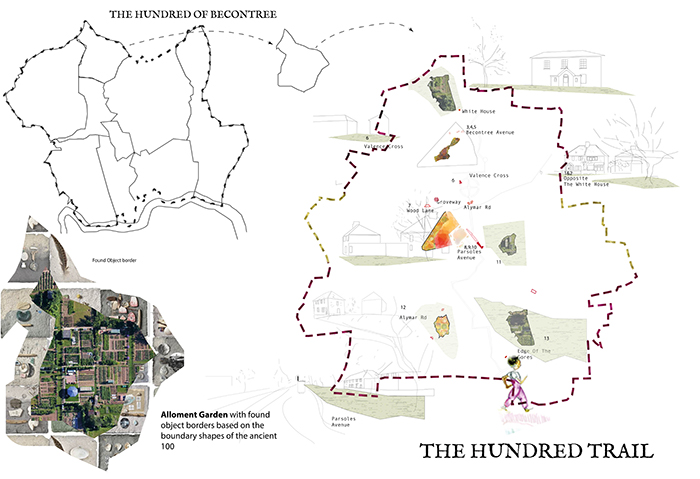 About Studio Aki and Hayhurst & Co.
Studio Aki, founded by architect and filmmaker Sarah Akigbogun, is a transdisciplinary architecture and research practice committed to creating socially engaged projects. Straddling the boundaries of architecture, art, engineering and moving image work, the studio strives to create beautiful spaces people and communities with love, with a strong interest in the use of narrative and storytelling.
Hayhurst & Co. is an award winning London based architectural studio established in 2004 by Nick Hayhurst and Jonathan Nicholls. They are interested in designing environments that enable and support communities, and spaces that respond inventively and pragmatically to patterns of life and physical contexts.
Read more about the selected and shortlisted practices for the corner plot commission.