Corner plot commission: Studio Gil with Tisserin Engineers
An Urban Playground by Studio Gil with Tisserin Engineers was one of the shortlisted proposals for the corner plot commission. As part of the commission, proposals were sought from selected architectural practices to redesign neglected corner plots on the Becontree estate to mark its centenary.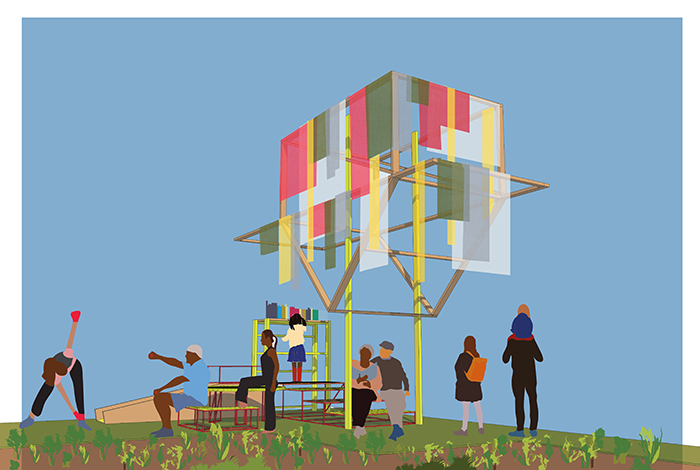 Through a series of playful interventions that together form a walking trail along the Becontree estate, Studio Gil's proposal consisted of three key uses: an urban playground for all ages, community infrastructure and facilities for food growing and food education. The walking trail intersected the Becontree estate in a north south axis to deliver multigenerational outcomes for the Becontree residents at various 'stations' or 'points of interest'. These stations would act as green spaces for multifunctional community infrastructure, drawing on 'the virtue of the vertical' to act as community beacons or pillars.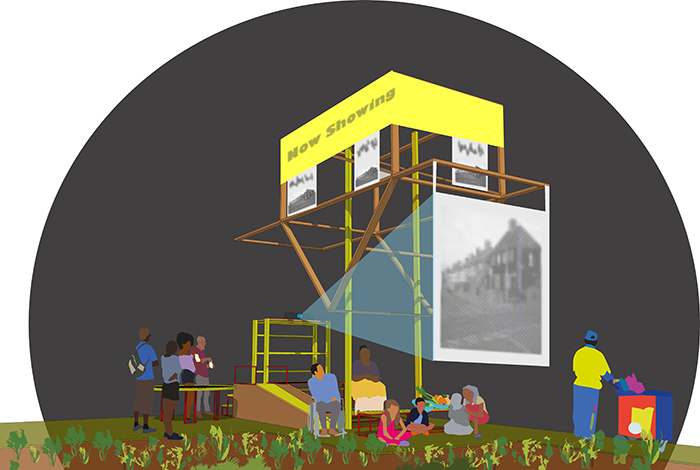 The proposed locations for the interventions were curated to be within a 50-minute walking radius of each other. No specific route was prescribed for the walking trial – it could be as leisurely or as intense as you want it to be. To empower and engage the local constituents of Becontree, Studio Gil did not prescribe the exact use of the stations either, but instead aimed to work with the Becontree community to establish their own outcomes and how this community infrastructure might best serve them.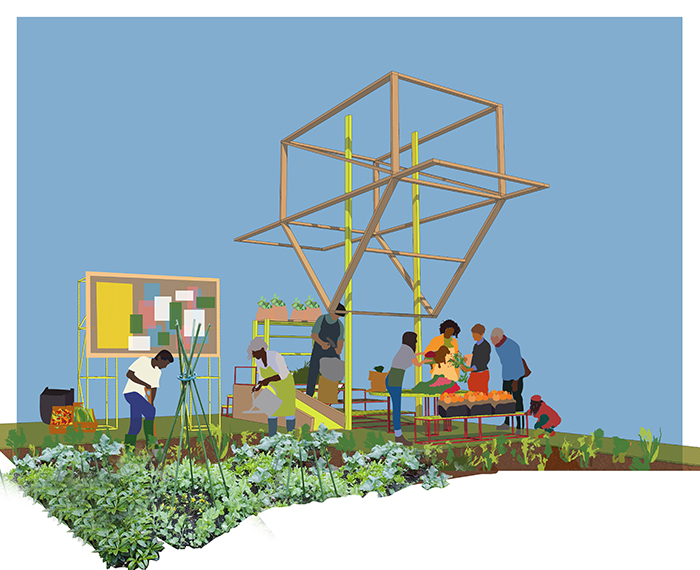 About Studio Gil and Tisserin Engineers
Studio Gil has crafted buildings in the UK and Latin America. Published in acclaimed international architectural press, the practice was shortlisted as one of three finalists for the International Emirates Glass LEAF Young Architect of the Year Award (2009), shortlisted for RIBA London Awards (2014) and featured in New Architects 3 (2016) by the Architecture Foundation. Recently, Studio Gil was selected by the Architects Journal as one of 25 Disruptor practices that are demonstrating an alternative approach to British practice through socially engaged work.
Tisserin Engineers are an emerging structural and civil engineer practice who believe in creating great buildings and reducing waste within the construction industry. They do this by focusing on low carbon and sustainable designs, closely collaborating with design partners, focusing on the client and teaching and mentoring the next generation of architects and engineers. Tisserin Engineers have recently worked on schools, churches, residential and community projects and are excited about their progression onto site during 2021.
Read more about the selected and shortlisted practices for the corner plot commission.