120 years of Berthold Lubetkin
Few architects have been so heavily associated with design for non-human inhabitants as Berthold Lubetkin, whose 120th 'birthday' falls on 14 December 2021. With Tecton, the practice he co-founded, he designed homes for penguins, gorillas, and elephants at zoos in London, Dudley and Whipsnade. Meanwhile, Highpoint One, the (human) apartment block Lubetkin designed in Highbury, north London, is considered one of the most influential residential projects in the UK. Lubetkin was awarded the Royal Gold Medal in 1982.
Alongside architects such as Erno Goldfinger and Walter Gropius, Lubetkin was among a number of European emigres to the UK in the 1930s, bringing modernism in tow. Tecton was founded the year after his arrival in 1931, and swiftly picked up commissions from London Zoo. Probably the best known is the concrete penguin pool with its cantilevered ramps, forming an elliptical platform designed to fully showcase its residents' capers. The lack of intermediate support for the ramps required a sophisticated engineering solution offered by Ove Arup, who seized the opportunity to demonstrate the potential of reinforced concrete, cast in a single slab.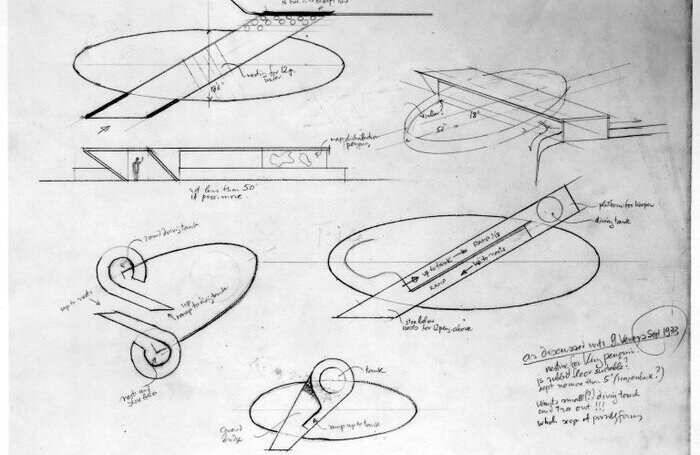 The resulting pool was a "most picturesque corner of London Zoo," approved the Illustrated London News in June 1934, with concrete ramps that would "not elude artists with an eye to 'pure form'". However, the pool's history has been chequered in more recent years. The penguins were relocated in 2004 after being troubled by an infection known as bumblefoot, attributed to the pool's harsh concrete surfaces. Contemporary zoo enclosure design now tends to include more spaces to which the animals can retreat away from the clamour of visitors. The pool is now Grade I Listed and can still be found at London Zoo, but is no longer considered suitable to house animals.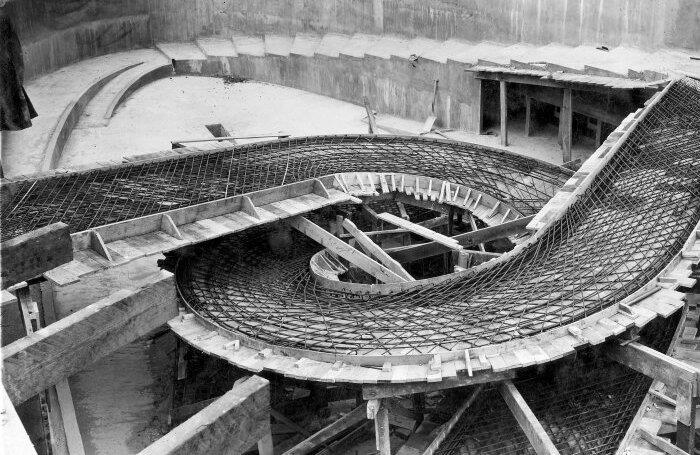 The penguin pool at London Zoo was preceded by another enclosure by Tecton. The gorilla house called for a convertible design that could alternate between open-air caging in the summer and an enclosed habitat during the winter months. A steel and timber screen could be rotated via cogs around the circular enclosure to enable this seasonal transformation.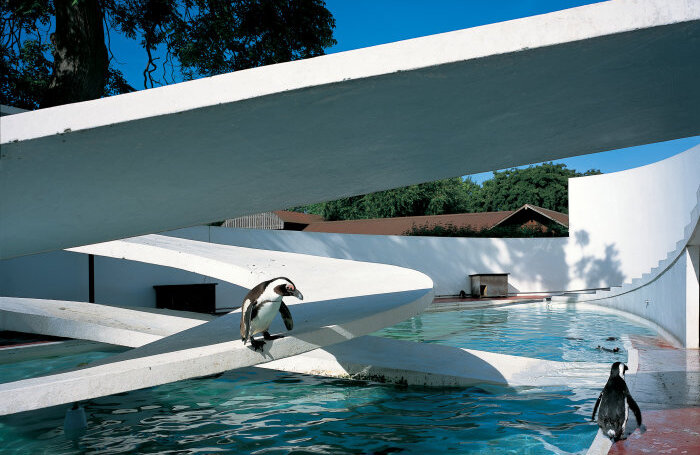 At Dudley Zoo, Tecton's commissions extended to twelve animal enclosures, housing bears, sea lions, penguins, apes, elephants, tropical birds and reptiles, as well as amenity spaces. The penguin enclosure at Dudley was demolished in 1979, but we can see how it looked thanks to photographs held in the RIBA Collections. It featured a series of 'floating islands', with a long observation window along one side.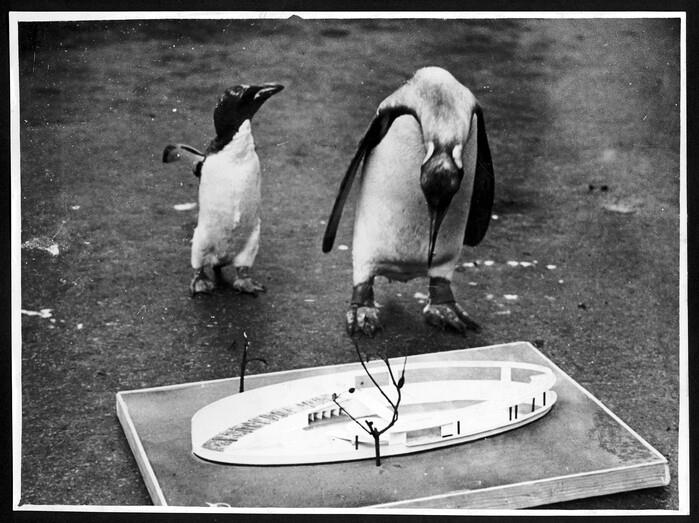 A habitat of a very different sort, Highpoint One was originally intended to house employees of its client, the industrialist Sigmund Gestetner. It 'stands on tiptoe and spreads its wings', wrote architect Anthony Cox in 1938, of the dramatic new north London apartment block designed by Lubetkin. Its cross-shaped plan imposed formal order on an awkward site, and the building achieved widespread acclaim from the likes of Le Corbusier, for whom it represented 'an achievement of the highest rank'. Highpoint One was closely followed by the neighbouring Highpoint Two, also designed by Lubetkin, with its curious inclusion of ancient Greek-style caryatids marking a departure from the austere internationalism of its precursor.
"Architecture can be a potent weapon... a committed driving force on the side of enlightenment, aiming however indirectly at the transformation of our present make-believe society, where images outstrip reality and rewards outpace achievement."
Berthold Lubetkin
A memorial to Lenin was perhaps one of the most curious things Lubetkin was behind. It was erected in Holford Square, London, in 1942 following campaigning from Lubetkin and the Foreign Office (Lenin had briefly lived in the square between 1902 and 1903). Lubetkin was fiercely political; papers relating to the protests and campaigns he was involved in can be found among archival material in the RIBA Collections. However, the memorial was quickly vandalised, prompting Lubetkin and members of Tecton to dismantle it with a crane and bury it beneath the square. The site later became Bevin Court, a housing development designed by Lubetkin and Tecton and named after Ernest Bevin (1881-1951), the Minister of Labour in the wartime coalition government, whose image replaced that of Lenin.
Find out more about Lubetkin and Tecton with our research guide highlighting material in the RIBA Collections.