For Ethel Day 2019, we celebrated women in architecture whose stories may not be well known. Here, we tell the story of Miriam Wornum, an artist and designer involved in creating 66 Portland Place.
Thousands of people walk past RIBA's iconic central London headquarters, 66 Portland Place, every year. Many of them step inside to find out more. When they do, they can hear some of the stories behind the building and the people who created it – one of whom was Miriam Wornum.
In 1898, Miriam Gerstle was born in San Francisco. Her parents, William Gerstle and Sarah Hecht Gerstle, were part of one of the city's wealthy families and they travelled all over the world – their only daughter, Miriam, joining them after she turned four.
From an early age, Miriam knew she wanted to move to England and, at 22, she travelled across the Atlantic to settle in London. In the early 1920s, she met architect George Grey Wornum at a tea dance, and they married in 1923.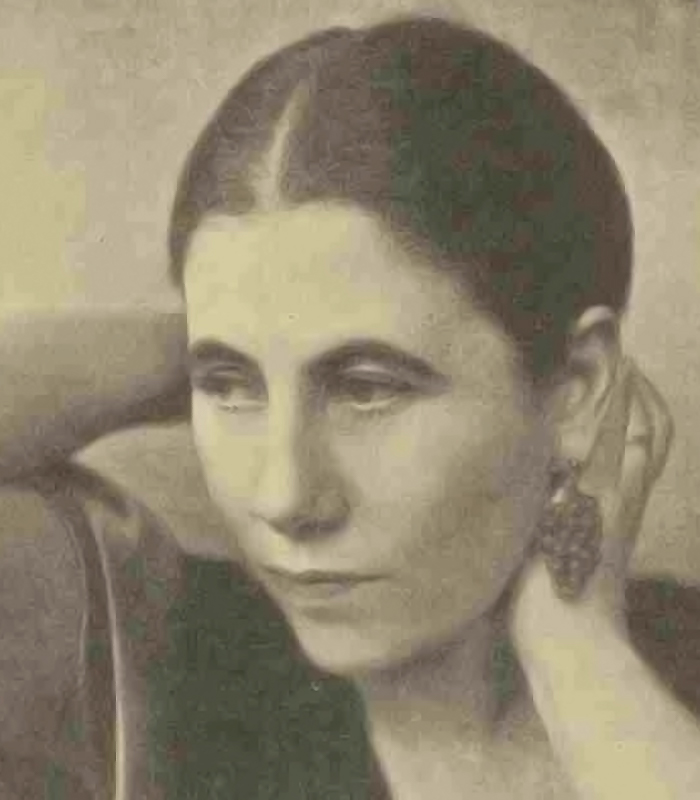 From the time they met, Miriam worked informally at Grey's practice. Throughout her life she painted, drew and wrote, and she helped Grey with design work on many of his projects. 66 Portland Place, which Grey won a competition to design in the early 1930s, was one of the buildings they worked on together. Miriam painted murals, worked directly on the Lutyens Room (which was the Members' room at the time), and the Library. She shaped the colour schemes throughout the building – her sketch of the Library from 1934 (below) shows the end of the stacks in a bright, vibrant blue, and her fabric 'RIBA' was bold stripes of green, pink, grey and brown.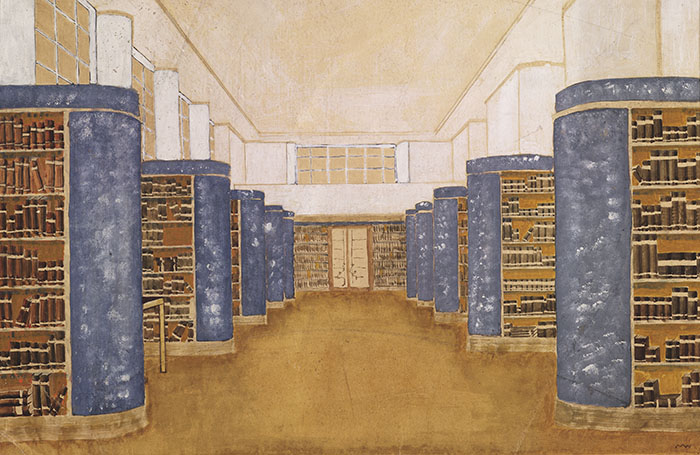 Over time, many of the design elements that Miriam contributed to the building have faded. The Library stacks are now more grey than blue, and the bold fabrics she created are gone. But there are other traces of Miriam throughout the building which have lasted. Artist James Woodford's representations of English architecture, carved into the first floor ceiling, use Miriam as a model for Perpendicular. Versions of her and Grey's children appear on the large metal doors at the very front of the building, and the couple's initials are also carved into the floor in the main foyer. There's hope, too, that some of the pieces which have gone could be restored.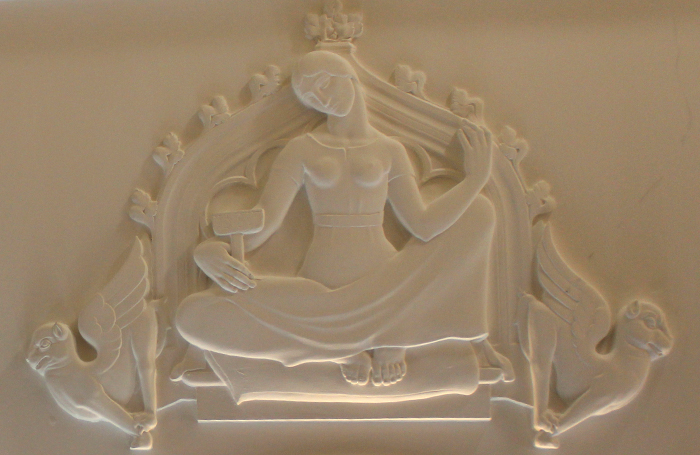 You can hear about the building of 66 Portland Place in Miriam Wornum's own words in our archival audio recording from the RIBA Collections, or find out more about 66 Portland Place on one of our guided building tours.
With thanks to Dr Neal Shasore for his help in writing this article.