Game, set square, match: Tennis in the RIBA Collections
Today, Centre Court at Wimbledon is probably the world's best-known tennis venue. The club, officially known as the All England Lawn Tennis and Croquet Club, was first founded in 1868 and moved to its present location on Church Street in southwest London in the 1920s. The stadium was originally designed by Charles Stanley Peach, and was the largest reinforced concrete structure of its day when opened in 1921 (Image 1). 
Since then, the club buildings have been adapted and extended on several occasions. In 1997, Building Design Partnership (BDP) replaced the No. 1 Court and added a new broadcast centre. In 2009, a retractable roof was installed over Centre Court, allowing play to continue if it rained.  

'Real' or 'royal' tennis (the precursor to the modern sport formally called 'lawn' tennis) is thought to have originated in medieval France and was popularised in England just a few miles southwest of Wimbledon, via the royal court. King Henry VIII was a keen player, and Hampton Court Palace has had a tennis court on site since the 1520s. Real tennis courts have no standard size, but usually cover a wider area than lawn tennis courts, with lofty ceilings to contain high volleys.  
A real tennis court was a prized facility among the grandest European palaces of the 16th and 17th centuries. Château de Fontainebleau, southwest of Paris, features the largest real tennis court, first built during the reign of King Henry IV of France, and rebuilt in the 18th century. Glimpses of the original court can be found in the RIBA Collections, where drawings dating from the 1600s (Image 2) capture its elevations and section.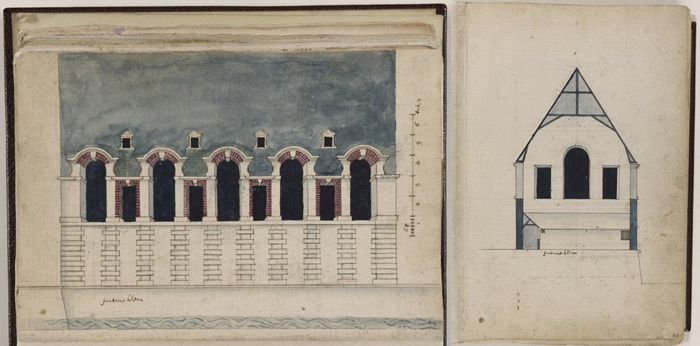 With tennis courts so desirable among wealthy patrons, architects were no doubt keen to hone their craft in designing them. Several measured drawings of 'Macon's Tennis Court at Paris' from the office of English architect Sir William Chambers can be found in our collections (Image 3), suggesting that Chambers was eager to study prominent examples of the genre across the channel. At the time (around 1772), Chambers had been commissioned to design a tennis court for the Earl of Pembroke at Wilton House, Wiltshire. The elusive 'Macon' whose tennis court was studied seems likely to have been the French tennis player who beat the British champion, Tompkyns, in a widely-reported match in 1767.  
In the 1790s, Italian architect Joseph Bonomi drew up ambitious proposals for William Henry Lambton, the Member of Parliament (MP) for Durham, northeast England. Bonomi's designs imagined a grand new house that would supersede the original Lambton Hall, set for demolition. His proposals include detailed drawings for a real tennis court in the grounds of the new house (Image 4). The grand, portico-fronted design featured a dedicated keeper's room and two dressing rooms. However, Lambton died in 1797, probably without seeing Bonomi's grand designs realised.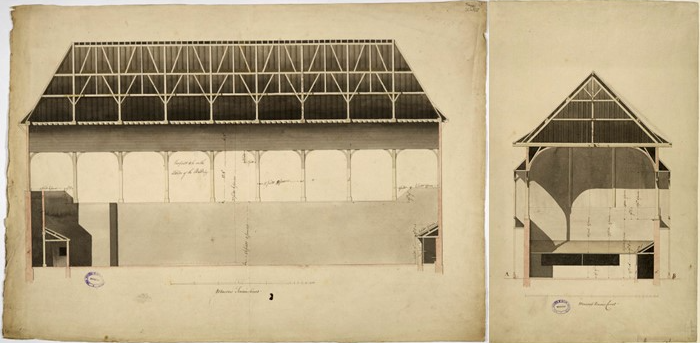 The following century saw the birth of lawn tennis, the game commonly played today. The modern game required a more standardised court, alongside its more codified set of rules. Matches could be played outdoors as well as indoors, meaning courts were no longer necessarily enclosed. Dedicated tennis clubs sprang up, while courts continued to be sought after features at prestige addresses.
One such can be found in designs for Witanhurst House (originally Parkfield) in Highgate, north London. This house might be mistaken for one of the 18th century estates where the English gentry once challenged one another to games of real tennis, but the current building was in fact designed in the early 20th century by George Hubbard. The neo-Georgian style of the house extended to its gardens. Landscape designs by Harold Peto show a picturesque loggia from which the client, Arthur Crosfield, could look out across his tennis courts (Image 5). The steep-roofed, classical outbuilding seems to nod towards the enclosed real tennis courts of the 17th and 18th centuries.  
Tennis courts were also embraced in a swathe of modernist private homes in the 20th century. 1930s examples pop up from Stephen Rowland Pierce in Hertfordshire; Maxwell Fry in Kingston-upon-Thames; and Farkas Molnar in Budapest. Even Highpoint, the apartment blocks designed by Berthold Lubetkin, included two tennis courts in the gardens (Image 6), perhaps as a draw for employees of Gestetner, for whom the first block was originally intended (though never used) as company housing.  
Tennis courts also crop up in some of the more ambitious public housing projects of the 20th century. In east London, the Golden Lane Estate designed by Chamberlin, Powell & Bon featured tennis courts alongside a pool and gym, in an 'urban microcosm' that aimed to promote wellbeing and social cohesion among residents (Image 7).  
For more stories about sporting design, check out our digital exhibit on the architecture of the Olympics on Google Arts & Culture. You can also find out more about the RIBA Collections and how to visit them. 
Further reading (available in the RIBA Library unless marked*): 
'The New All-England Tennis Stand' (Builder, vol. 123, July 1922) 
Edward R. Bill, 'Royal Tennis Courts' (Architects' Journal vol. 68, November 1928) 
Joan Vos MacDonald, 'High Fit Home: designing your home for health and fitness' (New York: Harper Design, 2005) 
Karl B. Raitz (ed.), 'The Theater of Sport' (Baltimore: John Hopkins University Press, 1995) 
Rod Sheard, 'The Stadium: architecture for the new global culture' (Singapore: Periplus, 2005) 
United States Tennis Association 'Tennis courts, 1982: construction, maintenance, equipment, guideline specifications' (Massachusetts: H.O. Zimman, 1982)