21 July 2022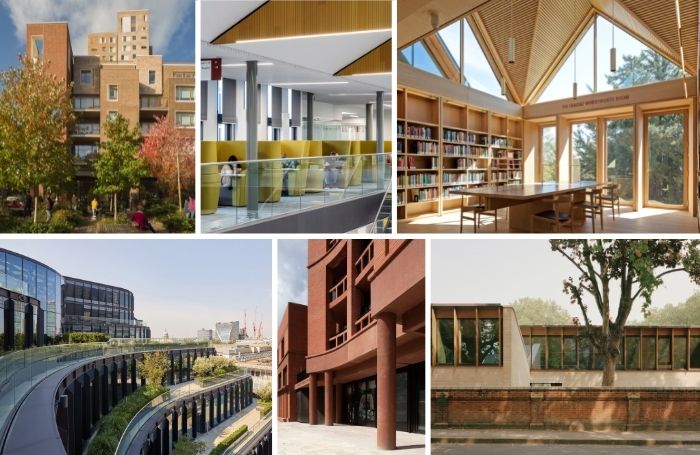 The Royal Institute of British Architects (RIBA) has today (Thursday 21 July) announced the six buildings contending for the coveted 2022 RIBA Stirling Prize, awarded to the UK's best new building. Now in its 26th year, the RIBA Stirling Prize is the highest accolade in architecture. 
The six new buildings in the running to be crowned the UK's best are: 
RIBA President Simon Allford said: 
"As we grapple with housing, energy and climate crises, these six projects give cause for optimism, each offering innovative solutions to the challenges of today and the future. From major capital city regeneration programmes to new visions for higher education, they all share the ambition to deliver generous architecture fit for a low-carbon future. 
Four of our shortlisted schemes provide new spaces to interact and learn. These formal and informal settings – schools, colleges and community centres – epitomise how to design for sustained community benefit. They are joined by ambitious new housing developments on compact and complex sites that set a benchmark for investment in high quality, desirable urban homes. 
All six buildings are informed by close consultation and collaboration with clients, contractors and the community. The result: outstanding and welcoming architecture that lifts the spirit of all who engage with it. 
All six are also underpinned by their understanding of construction's responsibility to mitigate and adapt to our climate crisis. From the reuse and upgrade of existing buildings to the conscious specification of low-carbon materials and technologies, to the thoughtful design of hybrid, flexible spaces – these schemes consider their environment and give generously to their community. 
In their architects' attention to detail, and their clients' determination and commitment, these six projects distinguish themselves and represent the best of UK architecture today. Together they demonstrate the power of exceptional architecture to enhance lives. My congratulations to everyone involved." 
The winner of the 2022 RIBA Stirling Prize will be announced on Thursday 13 October 2022 at RIBA, 66 Portland Place in London. 
ENDS 
Notes to editors: 
For further press information contact Isabel.Campbell@riba.org +44 20 7307 3763 
Images of all the shortlisted projects along with jury citations can be downloaded here: https://riba.box.com/v/2022RIBAStirlingPrizeShortlist  
First awarded in 1996, the RIBA Stirling Prize is the UK's most prestigious architecture award. Given to the architect of the building thought to be the most significant of the year for the evolution of architecture and the built environment, the RIBA Stirling Prize is judged on a range of criteria including design vision, innovation and originality, capacity to stimulate engage and delight occupants and visitors, accessibility and sustainability, how fit the building is for its purpose and the level of client satisfaction. 
Previous winners of the RIBA Stirling Prize include: Kingston University London - Town House by Grafton Architects (2021); Goldsmith Street by Mikhail Riches (2019) Bloomberg by Foster + Partners (2018); Hastings Pier by dRMM (2017); Newport Street Gallery by Caruso St John (2016); Burntwood School, London by Allford Hall Monaghan Morris (AHMM) (2015); Liverpool Everyman Theatre by Haworth Tompkins (2014); Astley Castle by Witherford Watson Mann (2013); Sainsbury Laboratory by Stanton Williams (2012); Evelyn Grace Academy (2011) and MAXXI Museum, Rome (2010) both by Zaha Hadid Architects; Maggie's Centre at Charing Cross Hospital, London by Rogers Stirk Harbour + Partners (2009); Accordia housing development by Feilden Clegg Bradley Studios/Alison Brooks Architects/Maccreanor Lavington (2008). 
This is the first time Panter Hudspith Architects and Mae Architects have been shortlisted for the Stirling Prize. Three of the practices have each been shortlisted three times before – Hopkins Architects in 2001, 2006 and 2011; Reiach and Hall Architects in 2015, 2016 and 2017; and Niall McLaughlin Architects in 2013, 2015 and 2018. Henley Halebrown was shortlisted in 2018 for Chadwick Hall, University of Roehampton. 
The Royal Institute of British Architects (RIBA) is a global professional membership body that serves its members and society in order to deliver better buildings and places, stronger communities and a sustainable environment. Follow @RIBA on Twitter for regular updates.