20 October 2022
Architects are now more pessimistic about future workloads than at any time since the financial crisis of 2009 – outside lockdown. This is the stark finding of September's Future Trends Survey.
In the capital, nearly a quarter of practices expect workloads to contract in the coming three months. Confidence in private housing, which had seen a post-Covid boom, has fallen rapidly.
Brexit, inflation, rising interest rates, post-Covid recovery, the war in Ukraine, and crumbling market confidence in UK fiscal policy all continue to weigh down on the UK economy and the construction sector.
It is likely that there will be a contraction in architects' workloads in the coming months, and into next year. Architects need to urgently review their practice's business plans to ensure resilience through a likely downturn. It is worth reviewing the recommendations given in RIBA's Business and career resilience hub.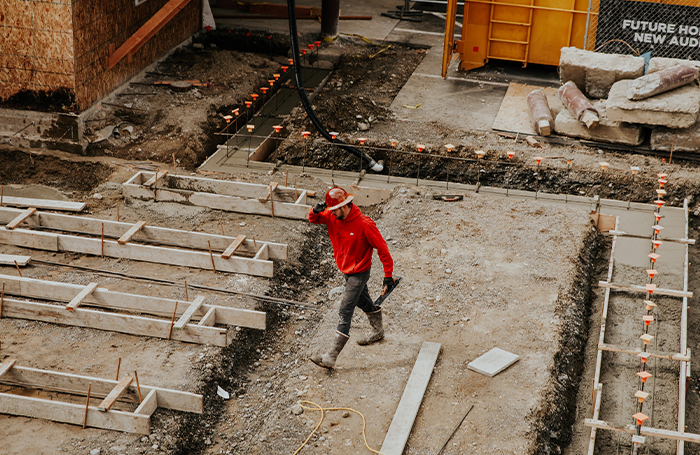 By taking decisive and informed action now, practice leaders can ensure the survival and regeneration of their businesses.
Choices open to our government and society can help sustain the architects' market, the built environment, and the long term health of our communities and country. By investing in the thermal performance of our housing stock, focussing on creating truly affordable homes (with secure tenure), and requiring ongoing, incremental reductions in the embodied and lifetime carbon costs of buildings, the economy will grow, and the future better secured.
Construction sector forecasts that foresaw a growing sector earlier in the year are being downgraded. Noble Francis of the Construction Products Association notes:
"Over the next 12 months, the rapidly rising cost of living, the slowdown in economic growth and falls in consumer confidence and spending will undoubtedly impact on private construction investment going forward."
The Bank of England forecasts the UK to enter recession later this year and UK output to fall from the final quarter of 2022 to the close of 2023. Growth after that will be sluggish. An already weakened outlook has been exasperated by a government fiscal event, designed to promote growth but resulting in a loss of market confidence, a weakened pound, an increase in interest rates, and emergency intervention from the Bank of England.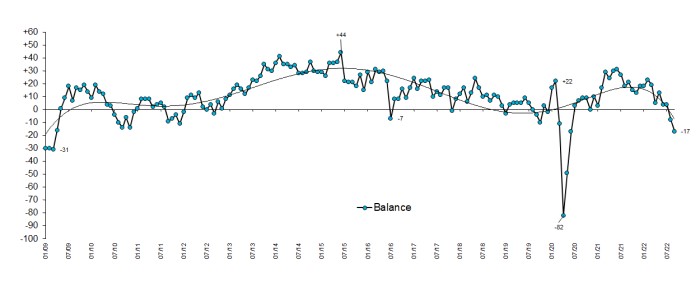 Interrelated challenges are coming together to work against architects and the wider construction sector:
Construction product prices have been rising, particularly among energy-intensive products. The cost of fabricated structural steel, for example, has risen 24% in the 12 months to July 2022, and pre-cast concrete products by 25%. Post-Brexit, and acutely in early October, the value of the pound has deteriorated. This means the price of imported products will increase further. UK manufactured products will not be exempt, as higher input prices feed through to prices. Rising product prices naturally inflate project costs. Though improving, product availability remains an issue.
Private housing commissions, which provide many practices with most of their practice revenue, are set to decline. Residential is a sector that saw many practices through the pandemic as clients 'raced for space'. The Future Trends Private Housing index was at an all time high of +42 in May 2021 and in September 2022 stands at -17, suggesting that there is a contraction to come.
Interest rates are rising globally, but UK rates are rising particularly quickly. The Bank of England base rate is up, and so too are mortgage prices. The market expectation is that they will rise further. The increased cost of borrowing is likely to reduce demand for housing and so reduce the number of new builds. Households, already hit by increased (though subsidised) energy prices, will have to spend more to meet raised mortgage payments, so will have less money to spend on small scale domestic work. Increased and uncertain borrowing costs are also likely to hold back investors and developers in the non-housing sector, as capital investment becomes more expensive, and 'Return on Investment' unclear.
Public sector spending may too be under threat. With the cost of tax cuts needing to be met and the cost of government borrowing rising rapidly the government may well be looking for areas to cut; not least to reassure the markets. While current spending is the obvious target, capital spending may also come under fire. Planned investment in schools, hospitals, and infrastructure may yet be cut. New work may be shelved to finance critical repair and maintenance. Even if nominal spending levels are maintained, its real value will continue to be eroded by project cost inflation.
Post-Brexit issues remain. There are currently 44,000 construction vacancies in the UK. The shortage of construction workers, particularly skilled tradespeople, is increasing project costs at the same time as delaying project delivery. Suitably qualified architectural staff are also hard to find.
Construction costs have been affected by labour shortages and supply chain issues. Construction output prices have risen by 9.3% in the 12 months to June 2022 with new housing costs rising over 12% and private commercial work by almost 9%. RIBA receives reports of rising and often unpredictable project costs, deterring clients from making enquiries and then from moving from the design (and costing) stages to planning and delivery.
Delays in the planning process continue to frustrate the timely delivery of projects. Architects report applications that once took weeks now taking several months and delays across regions and project types. Net nutrient neutrality is compounding the issue in certain areas.
PII premiums are increasing, while additional exclusions reduce the range of projects that practices may work on. Another threat to practice prosperity and viability. Here, RIBA is seeking solutions by carrying out a 'Professional risk and PII market review' that aims to improve PII cover and availability and to get premiums at an affordable level for members and their practices.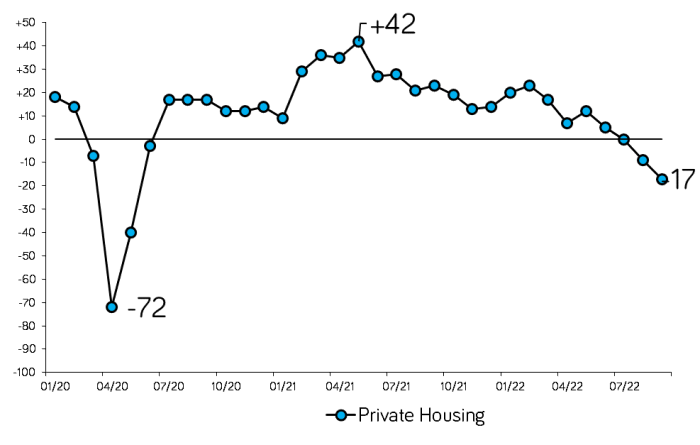 We face a challenging market. At the same time, these challenges can be alleviated in ways closely aligned with the concerns of architects.
To invest in and create a sustainable, resilient built environment is to address the issues we face. Investment in buildings is an investment that stays in the country. With 40% of greenhouse gas emissions coming from the built environment, the solution seems not to subsidise fossil fuels and deregulate their extraction, but to invest in sustainable, low carbon homes and buildings, both new and existing. This is how we can equip ourselves not just for this crisis, but the big one that is rapidly approaching.
RIBA is here to help. We will continue to update our business and career resilience hub, while closely monitoring the economic situation and promoting our policy positions.
Whilst tough times may be ahead, through the 2008 financial crisis and the pandemic, practices have proven themselves able to navigate the most difficult economic territory. Practice resilience is called for again.
Adrian Malleson, October 2022