Ahead of the RIBA Charles Jencks Award ceremony and winner's lecture on Monday 4 November, we look back at the award and the life of its patron Charles Jencks, who sadly passed away on 13 October.
Responding to the news, RIBA President, Alan Jones said:
"Charles Jencks will be remembered for his extraordinary ability, unremitting drive and inspiring ambition. His career as a cultural theorist was prolific and influential and his work as co-founder of the Maggie's charity is an incredible legacy. He encouraged leading architects from around the world to create a series of exceptional cancer care centres. He leaves behind 24 Maggie's Centres, which will bring comfort, respite and care for years to come.
The RIBA worked in partnership with Charles for many years. We were honoured to have been trusted by him with a generous donation in 1992, which set up an endowment fund for the RIBA Charles Jencks Award.
Next month we were due to share the stage at the presentation of this year's award - he will be sadly missed.
Our thoughts are with Charles's family."
Find out more about Charles, his work and his legacy in RIBAJ's obituary by Hugh Pearman.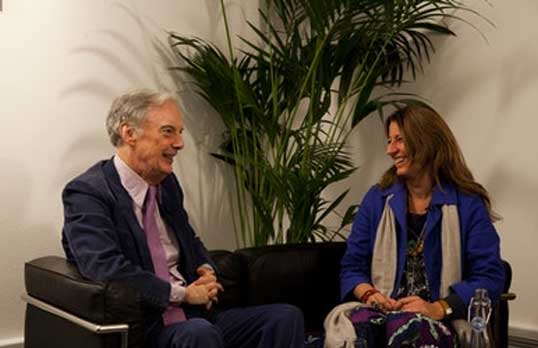 The RIBA Charles Jencks Award was established with prize money awarded to Jencks from the Nara Gold Medal in 1992. This was kindly donated to RIBA to set up an endowment fund, and in 2003 the remit of the fund changed to create the annual award as we know it today. Given to individuals or practices that have recently made a major contribution simultaneously to the theory and practice of architecture, its previous recipients include architects such as Zaha Hadid, Benedetta Tagliabue, Herzog & de Meuron, and Níall McLaughlin.
This year, the award will be presented to Ensamble Studio, a practice with offices in both Madrid and Boston. Works include Hemeroscopium House and Reader's House in Madrid, The Truffle in Costa da Morte, Telcel Theater in Mexico City, Structures of Landscape in Montana (USA) and, more recently, Ca'n Terra in Menorca and Ensamble Fabrica in Madrid.
Speaking about winning the 2019 RIBA Charles Jencks Award, Débora and Antón said:
"We have found an ever expanding field for exploration and invention in architecture: one where every built work is just the beginning of the next project to come, in constant evolution and full of creative uncertainties. One that has the enormous potential to transcend our own actions and become part of bigger ideas, bigger endeavours, and greater communities. The RIBA Charles Jencks Award has a challenging mission and a humbling list of recipients, so winning it is as surprising as encouraging. We receive it with great happiness and gratitude, eager to do much more and much better."
Hear more from Ensamble Studio at their winner's lecture in the Jarvis Hall at RIBA on Monday 4 November 2019 at 6.30pm.