20 November 2023
In celebration of UK Disability History Month 2023, RIBA is proud to spotlight the theme of disability, children, and youth.
This special focus brings attention to the vital role that architecture and design play in creating accessible educational environments for children and young people with disabilities. 
At Bowman Riley, we have had the privilege of working on projects that enhance access to educational settings, and that demonstrate our commitment to creating a more inclusive educational environment for people with disabilities.
In this blog, I explore the brief and objectives, the accessibility measures adopted, collaboration with end users, and the broader message for architects designing inclusive educational spaces. 
From outdated to accessible: Brooklands Community Special School
The Yorkshire Children's Charity asked Bowman Riley to contribute to their Great Yorkshire Build Initiative, a project to improve the outdated and inadequate facilities at Brooklands Community Special School in Skipton, North Yorkshire.
The project delivered state-of-the-art school facilities, creating environments where staff feel re-energised to teach, and children feel excited to learn.
The project refurbished the school's early years classrooms, providing wheelchair access to the external play areas, a new fully inclusive sensory room, and a specialist rebound therapy centre within a bespoke new building.
The school was transformed into a welcoming and fully-accessible space, ensuring that children with disabilities can thrive.
A vital update: Sandside Lodge School
At Sandside Lodge School in Ulverston, Cumbria, Bowman Riley was appointed by Seddon to be their design partner for a new school, through the North West Construction Hub. This was on behalf of Cumbria County Council.
It replaced a building that was no longer fit for purpose with a teaching environment for 80 pupils, aged from two to 19 years old. These students have complex learning difficulties and disabilities, such as autism, physical disabilities, and sensory impairments.
Understanding needs and user-centric design
On these projects, it was crucial to understand the unique needs and wishes of young people with disabilities.
We conducted comprehensive research, engaged with specialists, and listened to the experiences and challenges faced by the end users. Through extensive engagement with the end users, we established what was critical to the success of each project.
This participatory approach resulted in spaces that are not only accessible, but also cater to the preferences and needs of young people.
Empowering through education: removing barriers for children and young people with disabilities
Architecture has the power to create an environment that encourages people to thrive.
In an inclusive educational setting, individuals can learn, grow, and develop their full potential. By removing barriers and fostering a supportive atmosphere, architecture becomes a catalyst for empowerment.
To remove barriers for children and young people with disabilities at Brooklands School and Sandside Lodge, we considered the following fundamental design principles in each scheme:
Sensory design
For learners with sensory sensitivities or processing disorders, special educational buildings should incorporate sensory-friendly design elements to help reduce anxiety and overstimulation.
At Brooklands School, we designed zonal and adjustable lighting throughout the learning environment, controlled according to the type of teaching activity taking place. Soft finishes and furnishings were also specified and strategically placed to absorb excessive noise where required.
At Sandside Lodge School, colour was a key design tool used to stimulate different sensory responses, according to the type of environment.
Warm colours were used in areas of high activity, such as the soft-play room. Pink, being neither warm or cool, was used in some rooms for its calming and sedative effects.
Green and blue colours help to relax the nervous system and promote a feeling of well-being. Therefore, these were used extensively throughout the school, but especially within the general teaching areas.
Each floor was colour-coded to increase legibility and wayfinding throughout the school.
Accessibility and inclusivity
Specialist educational buildings are designed with a focus on accessibility.
At Sandside Lodge, we had the opportunity to develop the levels around the site to provide easy access for all users, but especially those with physical impairments.
Within the building, we designed wide circulation spaces, large elevators, and wider doorways to ensure ease of movement, reduce physical barriers, and promote a sense of belonging.
At Brooklands School, single doors between the classrooms and external teaching areas were replaced with full-width bi-folding glazed doors. This helped to improve natural light within the building, while also allowing unhindered transition to the external teaching and play areas.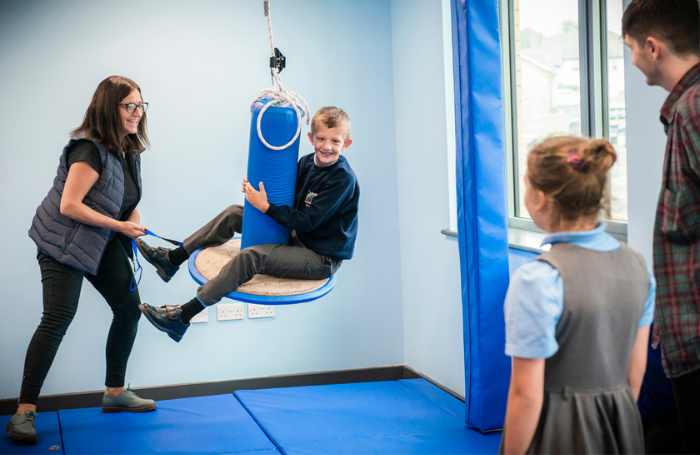 Flexibility in design
Educational buildings for learners with disabilities should be flexible. This is to allow spaces to be adapted to meet the specific needs of different students and to accommodate changes over time.
At each of our schools, the spaces are designed free of obstructions. They use lightweight building systems that can easily be adapted to suit the changing needs of the school over time.
We worked extensively with specialist care equipment suppliers at Sandside Lodge to design a discreet, full-coverage, overhead hoist system between all classrooms and adjacent spaces. This was also included within the hydrotherapy pool and medical, physiotherapy, and sensory rooms to ensure a fully-inclusive learning environment.
Specialised facilities
To provide young people with a supportive learning environment that motivates and engages, it is essential to consider the specialist facilities required for their needs.
At Brooklands School, we designed a dedicated rebound therapy centre for its 80 pupils. This aimed to provide therapeutic exercise promoting strength and coordination, as well as helping to develop communication skills and alleviating anxiety.
Through early engagement with end users at Sandside Lodge, it was clear that the inclusion of a hydrotherapy pool would be critical to the success of the project.
Hydrotherapy is a part of alternative medicine, occupational therapy, and physiotherapy that involves water for pain relief and treatment. The temperature of the pool water helps the body and muscles relax, helping to heal injuries and improve circulation and respiration.
We worked closely with specialist care providers to design a state-of-the-art hydrotherapy centre for the young people at the school and those within the wider community.
The impact on users
Donna Stretton, Headteacher at Sandside Lodge School, said:
"The new Sandside Lodge School building offers a huge range of additional experiences and opportunities for our students. We now have the space to be creative and provide an even more personalised approach to learning.
"The specialised rooms such as Sensory Movement and Regulation, Experience Room, and Thrive Play allow the staff to support students with all aspects of their development, including physical, sensory and emotional, in a more accessible way.
"The students have waited a long time for this building but it's been well worth the wait."
Fran Cracknell, Headteacher at Brooklands School, said:
"I've wanted to have a facility that would allow us to offer rebound therapy to our pupils for many years, but it was never achievable – until now.
"I'm thrilled and gratified that the Great Yorkshire Build will make such a difference to our pupils, their families, and our dedicated staff. I thank all those taking part."
An inclusive society
Architecture holds a pivotal role in creating an accessible and inclusive society.
By designing educational spaces that empower young people with disabilities, we contribute to a world where everyone - regardless of their abilities - can learn, thrive, and contribute to their communities.
As architects, it is our responsibility to ensure that our designs break down barriers, remove obstacles, and inspire the next generation.
To commemorate Disability History Month 2023, let us continue to work towards a more inclusive world where young people with disabilities can access education without limitations. Architecture can play a leading role in this transformative journey.
Together, we can build a more inclusive, diverse, and accessible future for all.
About the author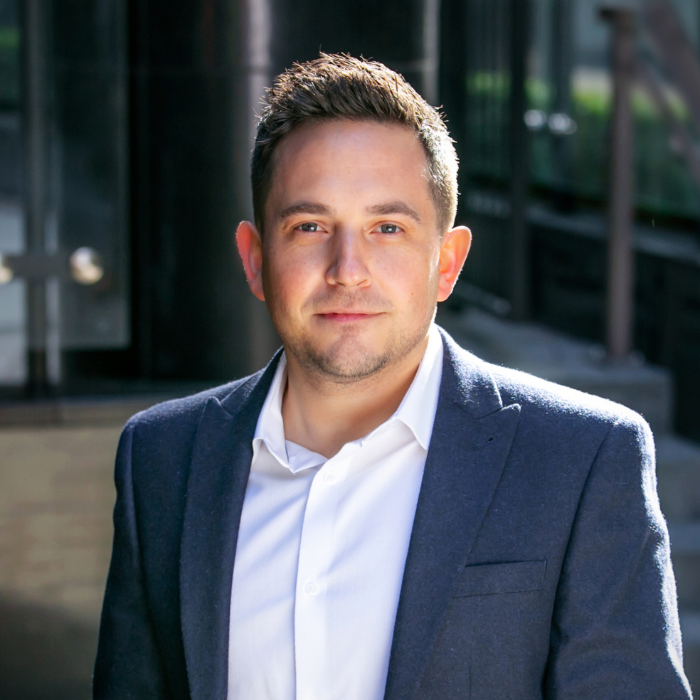 Craig Mewse is an architect and Associate Director at Bowman Riley.
He takes a logical, objective approach to all his projects, with the ability to quickly turn ideas into concrete and practical plans. 
Craig is particularly known for his expertise in the education sector. His work encompasses a deep understanding of the challenges and requirements of designing environments that cater to diverse learning styles and abilities. 
He specialises in creating innovative and inclusive spaces, tailored to the unique needs of individuals with special educational requirements.
His track record includes designing the new Sandside Lodge SEN School in Ulverston, Cumbria, and the refurbishment of Brooklands SEN School in Skipton, North Yorkshire, for which he was awarded the 'Outstanding Contributor Award' at the 2023 Yorkshires Commercial Real Estate Awards. 
Throughout his career, Craig has demonstrated a passion for creating spaces that foster inclusivity, accessibility, and functionality, ensuring that education facilities are aesthetically pleasing and optimised for enhanced learning experiences. 
Outside of the education sector, Craig designed an extension to the Skipton Building Society's head office. He recently helped obtain planning consent on the conversion of the listed Bootham Park estate in York into a new retirement community.
Craig joined Bowman Riley 13 years ago. 
Established in 1968, Bowman Riley is an award-winning team of architects, conservation architects, building consultants, and interior designers based in Leeds, London, and Skipton. 
The 70+ team members work on projects in the commercial, education, energy, healthcare, hotel, leisure, industrial, residential, and retail sectors across the UK.