22 August 2019
One of the most prohibitive barriers to entry for a practice wishing to turn developer is money. Buying a site and building on it requires substantial funding that is a challenge for even established developers to secure. However, some practices are finding alternative paths to development: one of which is the 'collective custom build'.
The idea is that, rather than going it alone, a practice will enlist those interested in being future residents as co-developers, working alongside the construction team they appoint. It is an arrangement popular in Germany, where it is known as 'Baugruppen' (literally meaning 'building groups'), under which banner numerous self-builders have come together as co-developers to build their own condominium-style apartments.
John Kinsley, Director of John Kinsley Architects, is the designer and moving force behind one of the first such developments in the UK. Like many an architect's first forays into development, the idea began with the search for a new home for himself.
He had located an available 400m2 vacant site in Edinburgh and set about recruiting a group of stakeholders to co-finance and develop it themselves. He did so by advertising the opportunity on a local website; then pitching it via an evening presentation to 18 people in a nearby café, explaining the costs and an estimated time frame.
Eventually, the team of co-developers was condensed down to four wholly committed families. A limited company was formed with a director from each family: the company purchased the site, then employed Kinsley's practice as designer plus a contractor. The latter was given a budget of £883k, including a 5% contingency, to deliver the open-plan apartments.
Funding was secured via a mortgage from the Ecology Building Society.
Once completed, the individuals who contributed would of course be free to stay or sell as they would be in any other private development.
Kinsley will be presenting more information about the benefits and challenges of collective custom builds at the conference Guerrilla Tactics: Understanding the Developer Mindset at the RIBA in London on Tuesday 5 November.
He is keen to point out the clear added value to the future owner in coming on board as a co-developer. For one thing, they can customize the project. After the contractor completed the shell and core, they could make their own bespoke arrangements with the contractor, or even take on some of the interior work themselves.
Furthermore, the future residents would end up with a significantly cheaper apartment, as the usual profit considerations of a conventional developer did not apply: they were more or less buying at cost.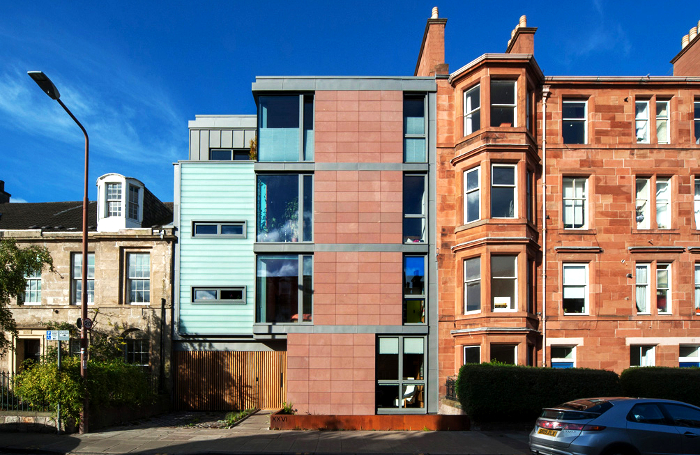 For a practice, there are also notable benefits of a collective custom build. It allows for a larger development project than a practice could finance on its own. With multiple stakeholders, the degree of risk and commitment is spread and shared. The practice could also choose to own and sell on as many or as few of the completed apartments as it could afford to.
The architect is at the centre of the process, from helping develop the brief right through to completion, researching and providing advice on finance and development funding along the way. Kinsley describes the arrangement as 'architect-plus', but affirms he can accommodate the additional roles within his design fees because they have not been squeezed by any part of the chain.
Kinsley also points out the design quality control that the arrangement allows. The bespoke apartments achieve Passivhaus standards of air tightness and insulation and have mechanical heat-recovery ventilation (MHRV).
He was also able to offer everyone predictable build costs and speed up construction by opting for a cross-laminated timber frame and having prefabricated panels manufactured in Spain and shipped over.
The Self-Build and Custom Housebuilding Act 2015 places a duty on local councils in England to maintain, and pay regard to, a register of people interested in self-build for their main or sole residence. Kinsley's first collective custom build has attracted interest from councils and politicians of all political shades for its self-funding model.
"I have tried to show them the advantages in not selling land to those who will produce the lowest quality housing that is acceptable, but selling it to people who want to invest for the long term and be proud of what they have built," he states. "It has got to be better for the community."
Kinsley will be presenting more information and advice about collective custom builds at the RIBA's conference Guerrilla Tactics: Understanding the Developer Mindset, which takes place on Tuesday 5 November 2019 at the RIBA, 66 Portland Place, London W1B 1AD.
Tickets are now on sale, with discounted early bird rates available until 1 September 2019.
Thanks to John Kinsley, Director, John Kinsley Architects.
Text by Neal Morris. This is a Professional Feature edited by the RIBA Practice team. Send us your feedback and ideas
RIBA Core Curriculum Topic: Business, clients and services.
As part of the flexible RIBA CPD programme, Professional Features count as microlearning. See further information on the updated RIBA CPD Core Curriculum and on fulfilling your CPD requirements as an RIBA Chartered Member.
Posted on 22 August 2019.