Creative fun this May half term for families, children and young people
29 April 2019
Looking for creative half-term activities this May? Get inspired with the RIBA's immersive workshops for children and young people. Drawing on our world-class architectural collection, our workshops enable children to develop their creativity and explore the world of architecture through imaginative and hands-on activities.
This season participants can take on the role of master planner to design cities for the future; explore interior design to reshape where we live, learn, work and play; and green the urban landscape to create spaces that work for both humans and animals.
Over the week (28 to 31 May) our architects and educators will introduce participants to what's involved in an architectural project as well as providing hands-on, practical activities to explore architectural themes such as accessibility, housing, sustainability and the environment.
Online booking in advance is essential. To book onto any of the workshops, please follow the Buy Tickets link on the event's web page.
Design Quest: architecture workshops for children aged 6 to 10 years
Our Design Quest series inspires younger children to use hands-on creativity and their imagination for a fun introduction to architecture.
Design Quest: We Built This City
Tuesday 28 and Wednesday 29 May 2019, 11am to 4pm
Over two days, learn about city master planning and the choices that architects and designers make to ensure our urban environments function effectively, before creating a large scale, collaborative 3D city map.
Design Quest: Superior Interiors!
Friday 31 May 2019, 11am to 4pm
Explore the places in which we learn, work, worship, live, relax and play and begin to think about each as an interior space. Participants will develop a mood board of ideas before creating a model that shows how the space works in practice.
Design Day: architecture workshops for children aged 11 to 15 years
Our Design Day series take architectural design a step further by providing context and knowledge of the built environment to spark creativity.
Design Day: Green Up the City
Wednesday 29 May to Friday 31 May 2019, 11am to 4pm
Consider how green spaces work in an urban landscape. Through research, sketch, collage and model-making, participants will investigate new ways to transform a city into an urban jungle that works for both humans and animals.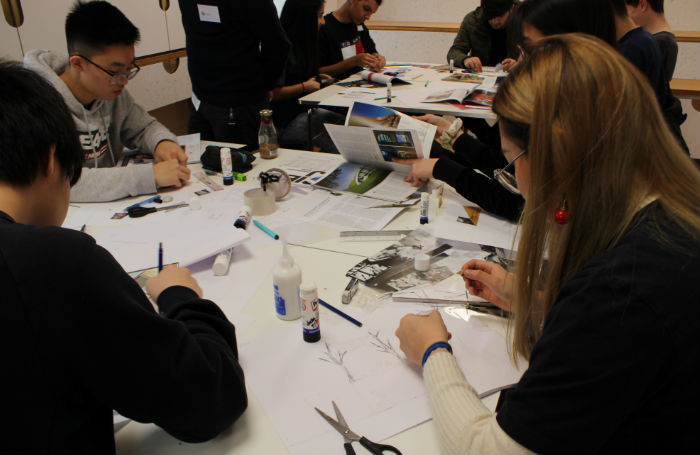 Skill Up: architecture workshops for children aged 15 to 18 years
Our Skill Up series invites participants to think critically, share their views on architecture and express themselves through creative practice.
Skill Up: Body Clock Architecture
Tuesday 28 May to Thursday 30 May 2019, 11am to 4pm
Thinking at both city-wide scale and for individual structures, participants will explore the ways in which buildings can be designed to celebrate the sun and improve our relationship with light while learning model making and creative collage drawing techniques.