Photograph of Bucklersbury House, City of London, 1957
We are celebrating London History Day with a week-long look at the changing urban environment around Number 1 Poultry, the subject of our current exhibition 'Circling the Square'. Every day this week, members of our Young People's Forum will choose an image from our architectural collections and tell us the story of one building.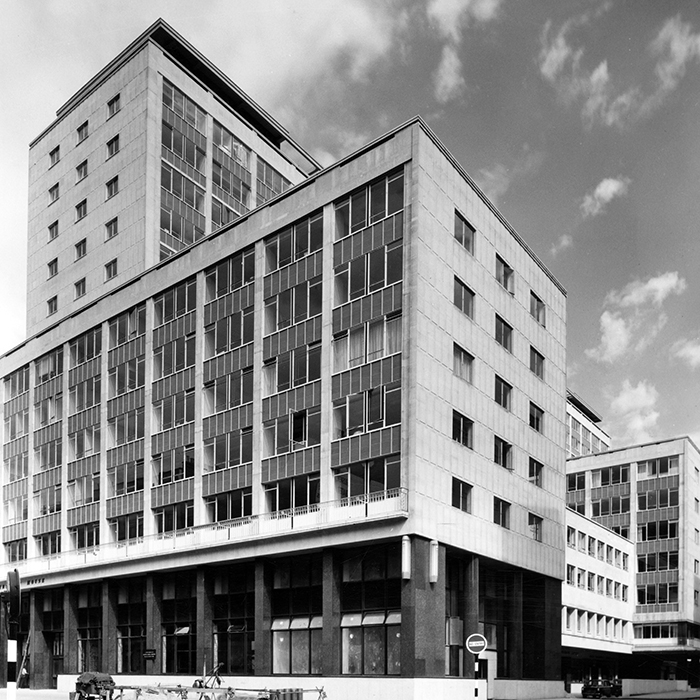 Before its demolition in 2010, to make way for Walbrook Square designed by Foster + Partners, Bucklersbury House had stood on its plot on Cannon Street for over 50 years. It was the first building to exceed the 30.5m (100 ft) height limit, coming in at 164m (538 ft), after the ban on buildings exceeding a height of 30m was lifted following the end of the Second World War. Despite being a distinctly Modernist building, its raised entrance incorporated the remains of the Roman Temple of Mithras discovered onsite during construction. An homage to what was there before it.
Image: Photograph of Bucklersbury House, Queen Victoria Street / Cannon Street, City of London, England, taken in 1957; image from RIBApix (number RIBApix (number RIBA75838)
Architect: Owen Campbell-Jones (b. 1894)
Photographer: Sydney W. Newbery (1894-1985)
Credit: RIBA Collections
Article by Hani Salih, 21 years old, Manchester University
30 May 2017
Discover more
This is just one of over four million items in our world-class architectural collections at the RIBA Library – it's open to everyone and access is free. Visit the library to explore our collections of books, periodicals, drawings, photographs and models:
Journal article:
Bucklersbury House; Architect: O. Campbell-Jones 'Builder'.
2 January 1959, pp. 8-14.
Photographs
Views of modern office buildings in Great Britain, 38 photoprints, including of Bucklersbury House, Walbrook, 1950s-1975
Record control no. P003630; Call/Ref. no. BM/OFF