Photograph of the Midland Bank headquarters, City of London, 1994
01 June 2017
We are celebrating London History Day with a week-long look at the changing urban environment around Number 1 Poultry, the subject of our current exhibition 'Circling the Square'. Every day this week, members of our Young People's Forum will choose an image from our architectural collections and tell us the story of one building.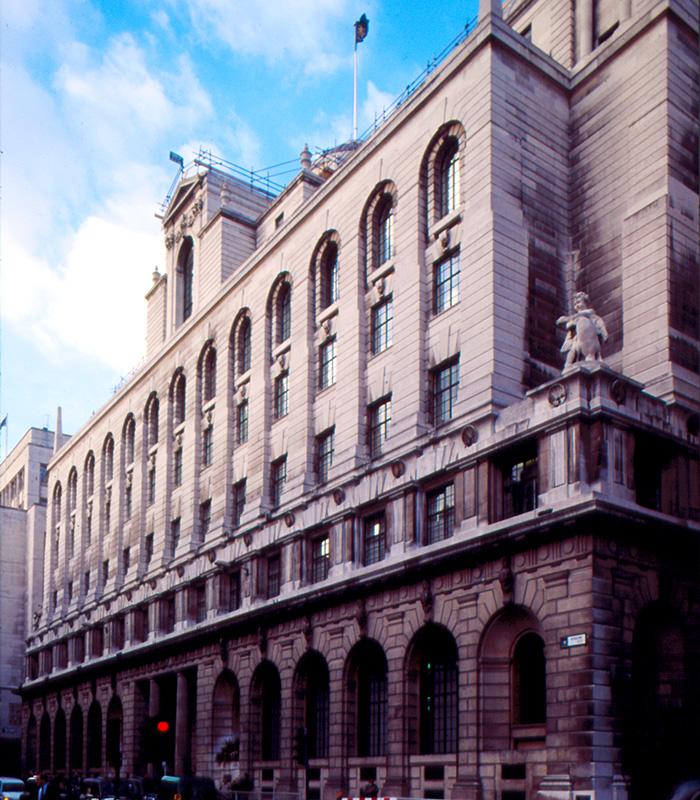 The former home to one of the largest banks in the world, the grace, majesty and power of the Midland Bank headquarters are still beyond comparison. Whilst an inherently functional building, the richness of the materials used were meant to reflect the dignity of the bank.
The alluring interiors have been featured in pop culture. Most notably, in the basement is the famous vault featured in the James Bond film 'Goldfinger'. The building oozes with 1920s luxury and Jazz-Age excess. It was vacant for over a decade before its renovation into a private members club and hotel called 'The Ned', named after the building's architect, Edwin Lutyens. Our fascination with this era continues.
Image: Photograph of the Midland Bank headquarters, City of London, England, taken in 1994; image from RIBApix (number RIBA2918-27)
Architect: Sir Edwin Landseer Lutyens (1869-1944)
Photographer: Joe Low (1954-)
Credit: Joe Low / RIBA Collections
Article by Saphia Al-Haboubi, 23 years old, studied architecture at Sheffield Hallam University
1 June 2017
Discover more
This is just one of over four million items in our world-class architectural collections at the RIBA Library – it's open to everyone and access is free. Visit the library to explore our collections of books, periodicals, drawings, photographs and models:
Book
Green, E., 1980
'Buildings for bankers : Sir Edwin Lutyens and the Midland Bank, 1921-1939'
London: Midland Bank
Shelved at 725.24.036.6(42):92L // GRE [BOX]
Drawings
Collection of drawings by Sir Edwin Landseer Lutyens for the Midland Bank headquartes, Poultry, City of London
Call/Ref. no. Lutyens [PA1619/LUT[171]1-4, 10, 12-15, 19, 25, 31-35, 38, 41-42, 45-50, DR77/1(1-25)]
Journal article
Ardmore bags 80 million pound job to transfrom Goldfinger bank into hotel.
'Building'. Vol. 279, no. 8847 (42), 24 October 2014, p.11.